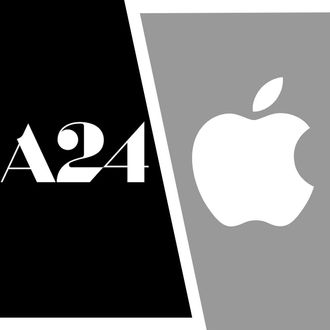 Most ambitious crossover event in history!
Photo: A24 and Apple
The indie studio A24 has made a name for itself in coming-of-age stories (a lot of them), tender emotional dramas, horror movies, and the spiritual turmoil of hot priest Ethan Hawke. Now the NYC-based company is getting even more big time. On Thursday Apple announced it has partnered with A24 on a multiyear agreement. As part of the deal, A24 will produce a slate of films for Apple.
Currently, Apple has a dozen TV shows in development, including projects with Damien Chazelle, Octavia Spencer, and Reese Witherspoon. A24 will give Apple a seat at the cool kids' table, but does this make them … A25?