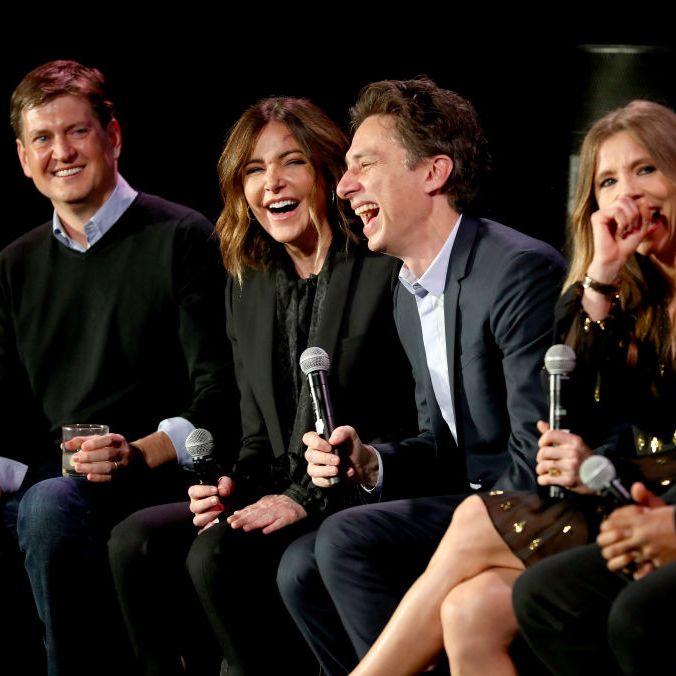 The cast of
Scrubs
at Vulture Festival.
Photo: Joe Scarnici/Getty Images for New York Magazi
At the Scrubs reunion panel during Vulture Festival Los Angeles, many stories were swapped about the origins of various jokes and which emotional arcs the actors recalled most fondly. Series creator Bill Lawrence also talked about a few story ideas that had to be cut once the show switched networks, and one character in particular that got hit by censorship was Roberto Maschio's proudly sexual and strapping Todd. "When we moved from NBC to ABC we were no longer allowed to show Rob in his banana hammock. We had to frame above his penis," said Zach Braff, with Lawrence adding, "In the Bahamas episode he comes out and flexes on the beach, and we had to blow up that shot because it showed the banana hammock."
But it wasn't just wardrobe that came under scrutiny. Lawrence also said the show had to scrap a whole story line about medical marijuana because the Disney-owned network didn't clear content about drugs. "We only shot one thing ever that Bill had to throw out," Braff told the crowd. "That many years ago they were like 'Medicinal marijuana? Get the hell out of here!'" And Lawrence had a conversation with studio reps about the issue that raised an … interesting moral hierarchy. "This is how screwed up network television is," he explained. "We had this story about getting medicinal marijuana for somebody who was having trouble with chemo and cancer. So to make a point, I said, 'What if the patient was a virgin and decided they want to have sex for the first time and Carla and Elliot wanted to go looking for a male prostitute for him?' They said, 'Oh, that's fine.' We could get a prostitute, just not medicinal marijuana." To think of all men in bikini bottoms and weed-based narrative arcs Scrubs fans missed out on in those Disney years!