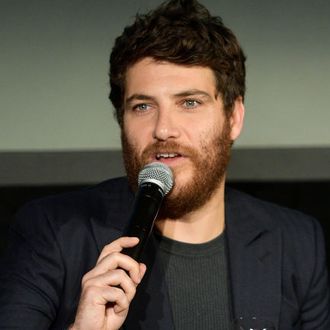 Adam Pally.
Photo: Matt Winkelmeyer/Getty Images for New York Magazi
Former co-stars and dear friends Adam Pally and Casey Wilson were upfront about their Vulture Fest L.A. event being a casual kickback sort of thing, going so far as to title the show "Adam Pally and Casey Wilson: An Excuse to Hang Out: An Evening of Music, Comedy, and Friendship." Were this freewheeling, baptism-by-fire approach to entertaining not immediately clear from the moment Pally brought out a large bottle of tequila for the audience to enjoy, the crowd likely caught on by the time Wilson pulled out a prescription bottle to take a mood stabilizer in front of the audience.
The already comically slapdash show only went further off the rails when the two brought out guests Chelsea Devantez and Yassir Lester, both former co-stars and friends of the hosts. Taking advantage of the projector-connected laptop on stage, Lester pulled up an already infamous clip from the 2018 Shorty Awards in which Pally spent ten minutes insulting the awards from the presenter's podium. Despite Pally's protests, the video was played in its near entirety, with occasional pauses so that he might add color commentary and additional details.
Pally revealed that singer Betty Who, who dragged him away from the mic mid-rant, was not actually sent by Shorty Awards producers, but rather a drunk observer who took it upon herself to intervene. (If you're wondering why Betty Who was at the Shorty Awards, she was presenting the "In Memoriam" segment.) Pally remarked that as they got offstage, security guards quickly pulled Who away and he was suddenly surrounded by the Queer Eye guys, who briefly made him feel like a hero before a second security detail showed up to escort Pally and his wife out of the building. Talk about a happy ending.
Relive the memory in the video below. Pally's segment begins at 1:28:40.