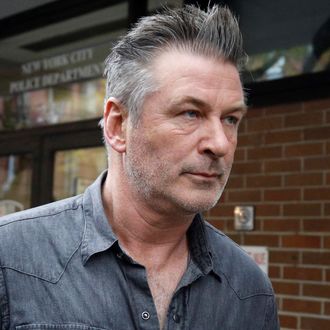 Alec Baldwin.
Photo: Anadolu Agency/Getty Images
Just 20 minutes after Alec Baldwin punched a driver in a scuffle over a parking spot earlier this month, he told a police officer that the driver was "an asshole" and admitted to pushing him, according to allegations in court papers made public Monday.
The paperwork, called a Voluntary Disclosure Form or VDF, was released today shortly after Baldwin's arraignment in Manhattan criminal court on a misdemeanor attempted assault charge and a harassment violation related to the alleged November 2 spat, which took place at about 1:30 p.m.
Baldwin sported a plum polo shirt, dark pants, and black wayfarer-style glasses during his appearance and said nothing to reporters when asked questions on a wide variety of topics, from his response to the allegations to upcoming Saturday Night Live appearances.
According to the complaint against Baldwin, released shortly after his appearance, Baldwin's accuser told police that he "observed the defendant push me and then strike me across the left side of my face with his closed right hand, resulting in pain to my face."
Legal language in the complaint states that "the defendant, with intent to cause physical injury to another person, attempted to cause such injury to another person; the defendant, with intent to harass, annoy and alarm another, subjected that person to physical contact and attempted and threatened to do the same."
But the VDF contains far more colorful information about the alleged row.
At about 1:50 p.m., Baldwin allegedly complained about the driver to an officer on the scene, saying of him, "he's an asshole. He stole my spot. I did push him," the VDF states.
Baldwin's lawyer, Alan Abramson denied these allegations during the minutes-long appearance in court.
"Mr. Baldwin is a public figure whose reputation has been damaged by media reports that claim that he punched a man on a New York City Street," Abramson groused to Judge Sandra Roper. "There is incontrovertible video evidence that has been turned over to the District Attorney's Office that proves beyond all doubt that Mr. Baldwin never punched anyone."
"Mr. Baldwin did not commit any crime and we are confident that once this matter is fully investigated, it will be resolved swiftly and appropriately in court," Abramson also said.
Baldwin has a lengthy rep for letting his anger get the best of him. The actor allegedly hit New York Daily News photographer Marcus Santos in 2012. Santos claimed Baldwin punched his face when he and his now-wife Hilaria picked up paperwork at the city Marriage License Bureau on Worth and Centre Streets downtown, the News reports.
In 2013, Baldwin got into yet another disagreement with a photog, allegedly slamming the lensman against a parked car several days after his daughter was born.
Just one year later, police charged Baldwin with disorderly conduct for allegedly talking back to officers who stopped him after biking the wrong way. Those charged were tossed, according to the News.