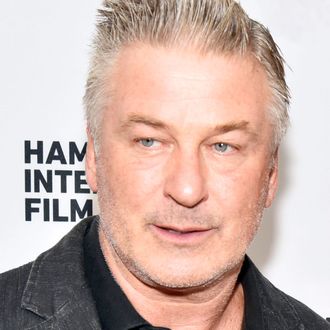 Not the face!
Photo: Eugene Gologursky/Getty Images for Hamptons International Film Festival
Alec Baldwin was arrested today in New York City following a dispute over a parking spot, the NYPD has confirmed to Vulture. A police spokesperson said that an officer responded to a call at 28 East 10th Street at 1:30 p.m. on Friday. When the officer arrived, he observed a 49-year-old male who was "conscious and alert with an injury to his jaw." Baldwin, 60, who was present at the scene, was taken into custody. The officer then called for an ambulance to transport the man to a local hospital, where he is in stable condition. Charges are pending, police said. The actor was taken to the 6th Precinct station house in Greenwich Village. Baldwin was previously arrested in 2014 for bicycling the wrong way down a street.
Update, 3:30 p.m.: President Trump has weighed in on Baldwin's arrest.
Update, 4:48 p.m.: Baldwin has been released from police custody following today's arrest. According to an NYPD spokesperson, the actor has been charged with assault in the third degree and harassment in the second degree after punching someone during a dispute over a parking spot. He received a desk appearance ticket and was released, and will need to appear in court at a later date. Meanwhile, ABC says The Alec Baldwin Show will air according to schedule on Sunday at 10 p.m., according to The Hollywood Reporter. He has also made the front page of the New York Post.
Update, 7:35 p.m.: Baldwin is disputing the facts of the earlier reports via his foundation's Twitter account.
Update, November 3: Wojciech Cieszkowski, who the New York Post has identified as Baldwin's alleged victim, was approached by the outlet at his home in Pearl River, New York, this morning. "You know, sore, but I'll be fine," he said when asked about the scuffle, unwilling to go into any further details. Cieszkowski also said he's seen Baldwin on SNL "a few times." The Post reported that the same car involved in the incident, a Saab, was parked in Cieszkowski's driveway.