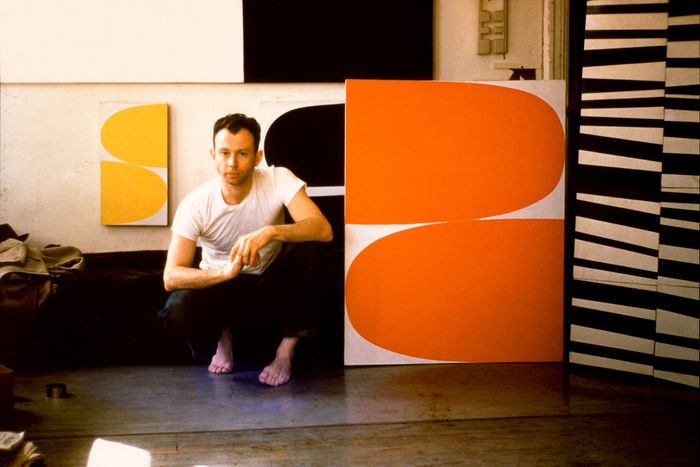 Ellsworth Kelly in his Broad Street studio, 1954.
Photo: Courtesy Ellsworth Kelly Studio
Ellsworth Kelly was studying at the Ecole des Beaux-Arts in Paris just after World War II when he met the already established American artist Alexander Calder, born 1898, who was already in his early 50s. Kelly, born in 1923, was about half his age and just starting out. Despite their age difference, they became friends, engaging in a "sublime dialogue," according to Dominique Lévy, co-founder of Lévy Gorvy Gallery, home to "Calder / Kelly," an exhibition dedicated to their surprising decades-long rapport.
Ideas of space and distance, the void left by movement, drove both of their works. Lévy notes that they didn't engage in a mentor-mentee relationship but shared a comity propelled by a common conception of the world.
"The beauty of the friendship is the kinship of two different generations going at these very, very strong principles in a complete different way," Lévy says. "In a complete freedom but embracing each other's vision, really."
Lévy worked closely with Jack Shear, the late Kelly's husband, and Sandy Rower, Calder's grandson, on the exhibition, which opens November 9. It features three dozen paintings and sculptures created over 50 years as well as letters they sent one another, and gifts they exchanged. It spans all three floors of the gallery, and is arranged nonchronologically, with each floor dedicated to a different concept. One floor focuses on amorphic shapes while another encourages viewers to meditate on shadows, nature, and the power of monochromy with works in predominantly blacks, whites, and grays. The third floor explores intimacy and scale.
"There's really no artist historical or intellectual link I'm trying to create here," Lévy says. "It's more emotion."