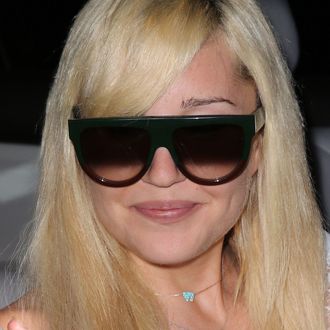 Amanda Bynes.
Photo: David Livingston/Getty Images
Amanda Bynes has reemerged from her college cocoon for an in-depth new check-in with Paper. In a new profile, she reveals that she's now approaching four years sober (mazel!) and has elaborated on the addiction that led to her very public meltdown. At 16, Bynes says she started smoking weed, but didn't begin abusing the drug until later in life. That combined with over-usage of Adderall, she claims, sparked a "drug-induced psychosis" and what sounds like body dysmorphia that forced her to retire from acting after she could no longer look at herself onscreen. "It affected my brain in a different way than it affects other people. It absolutely changed my perception of things," she explains. Leaving Hollywood caused her to then fall deeper into a hole of drugs and, worse (according to her), Twitter. It's her behavior on that app (never forget her Drake, uh, thirst) for which she's most regretful and has issued a full apology:
"I'm really ashamed and embarrassed with the things I said. I can't turn back time but if I could, I would. And I'm so sorry to whoever I hurt and whoever I lied about because it truly eats away at me. It makes me feel so horrible and sick to my stomach and sad. Everything I worked my whole life to achieve, I kind of ruined it all through Twitter." But, she adds, "it's definitely not Twitter's fault — it's my own fault."
Bynes, now finishing up her degree at the FIDM this month, says she intends to return to acting. And if her own résumé won't get her through the door again, let this do the convincing: She gave us Channing Tatum. Believe it! According to Bynes, she launched Channing Tatum's career by getting him the part of her love interest/eye candy in She's the Man. (A film she unfortunately says also inadvertently triggered a "deep depression" over her appearance in drag.) She explains, "I totally fought for Channing [to get cast in] that movie because he wasn't famous yet. He'd just done a Mountain Dew commercial and I was like, 'This guy's a star — every girl will love him!' But [the producers] were like, 'He's so much older than all of you!' And I was like, 'It doesn't matter! Trust me!'" Okay!