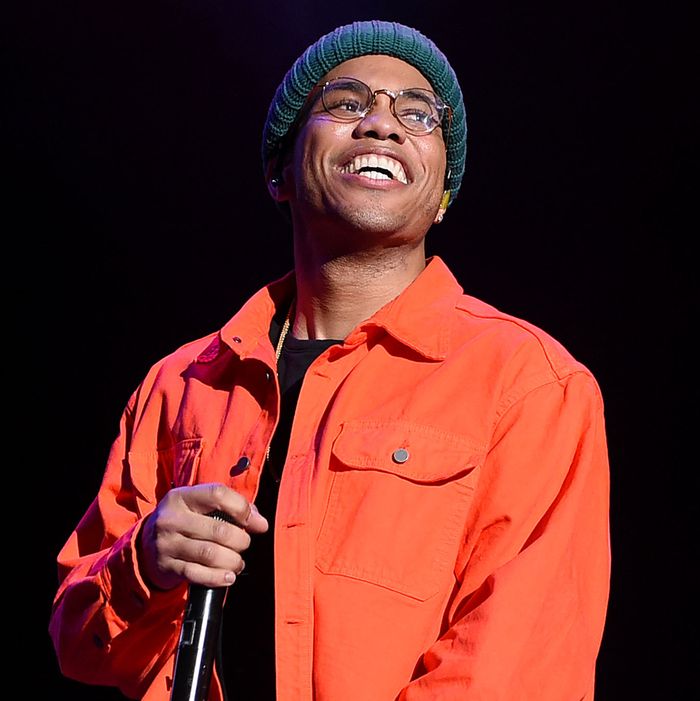 Photo: Kevin Winter/Getty Images for LiveNation
Last album cycle, Los Angeles singer, rapper, producer, and drummer Anderson .Paak set out to cross-pollinate two very different kinds of West Coast musicality, as he embraced the thick, heady textures of TDE-era L.A. hip-hop/soul on his 2016 breakthrough solo album Malibu, and then circled back with producer Knxwledge in tow for that same autumn's Yes Lawd!, a slick synthesis of old-school R&B melodicism and Low End Theory production values. .Paak's earliest mainstream exposure came a year prior, on Dr. Dre's surprise comeback album Compton, where the younger performer got a chance to shine on sweeping, cinematic productions alongside Kendrick Lamar, Marsha Ambrosius, Jill Scott, and Eminem. It makes perfect sense that Dre, the patron saint of the West Coast thump, would take a shine to a hands-on player and a formalist like .Paak, who occupies a world profoundly shaped by the sound and morality of G-funk. Dre getting onboard as executive producer and collaborator for .Paak's new album Oxnard is a no-brainer. But do the good doctor's formulas still work?
Like Stranger Things 2, Oxnard is a follow-up that aims to be bigger and achieves it at the cost of some of the narrative compactness of its predecessor. Oxnard feels more lush and lively, but where Malibu treated its grooves like vehicles to drive engaging storytelling, the new album sometimes gets too cozy in its own woolly, psychedelic textures to care about continuity. "Headlow" is a gorgeous production with exquisite vocals and instrumentation whose plot is covered in the first ten seconds: "This lady is giving head on I-95 at the toll." The road head story never really advances. The couple's antics create a traffic jam, and the next song kicks off. "6 Summers" opens wishing a promiscuous out-of-wedlock daughter on the president and cuts a hard left into verses pleading for the White House to reconsider its attitudes on gun control. "Smile/Petty" is a two-parter that spends its first half wondering why a woman doesn't trust the main character, and then delivers a flurry of insults in the back end that make her suspicions seem reasonable.
On Oxnard, Anderson .Paak portrays a figure that's half an unrepentant player and half a lover and a thinker wondering why we all can't just get along. It's a bizarre schism; the gangsters and pimps of West Coast rap history thrived by flouting morals and standards, and the great moralists searched for a simpler way of life than crime and division. .Paak's new songs split the difference and are best received as a kind of dramatization of the ways our divergent methods of processing impossible situations keep us from the easiest solutions. The question of whether this is the intended reading or just a symptom of .Paak's dueling interests in heady conscious rap and crass gangster poetry is a prickly one that never gets an answer. But there's nothing inherently sinister in the conflict. The late, great 2Pac records were animated by his allegiances to two masters, to his desire to change the world and to his craving for revenge against his enemies. Oxnard plays at this kind of self-aware imperfection in songs like "Saviers Road," where .Paak muses about what legal and illegal hustles he'd be involved in if he missed his calling in music, and "Tints," where he sings about needing the windows in his vehicles to be blacked out, ostensibly to avoid prying paparazzi, but really, as the outro suggests, to conceal shady activities going on inside.
Ultimately, Oxnard's gift is bridging cross-generational hip-hop ideologies and vamping over beats that sound fantastic in and out of headphones. "Anywhere" coaxes a flawless verse out of Snoop just by having himself remember the moment hip-hop saved him from a life of crime. "Cheers" remembers Mac Miller and other friends .Paak has lost, then calls in Q-Tip for an emotional tribute to Phife Dawg. .Paak is a great utility player, and it shows when he gets time in with someone more seasoned. The backbone of the personal reckoning in "Saviers Road" is a slick 9th Wonder sample chop. The kooky polyrhythms Dre slides him on "Who R U?" and "Mansa Musa" result in sharp, boisterous raps. The doctor's involvement in a new album is usually a signal — like the silent, somber Watcher in a Marvel comic, a character Dre invoked in his own 2001 album — of a moment of some consequence. Dre ushered Eminem, the Game, and Kendrick Lamar into their rap stardom in a similar fashion, and it would stand to reason that he has stepped out of boardroom duties this time to tell us that Anderson .Paak is his next superstar ward.
But the story of Oxnard — and Malibu and Venice, the other two pieces in the loosely connected "beach trilogy" that the new album closes out — is that Anderson .Paak is both a formidable talent and a work in progress. Oxnard exhibits growth in its sonic architecture, especially in the carefully tailored rhymes, sweeping vocal harmonies, and wigged-out instrumental passages that give these songs, and the album by extension, the exhilarating unpredictability of a trip along a winding superhighway. It also exerts pressure on .Paak as a writer to match the depths of the powerful low end booming underfoot. Anderson .Paak is pushing himself, but he gets a little lost in the sauce sometimes. It's a very good sauce.