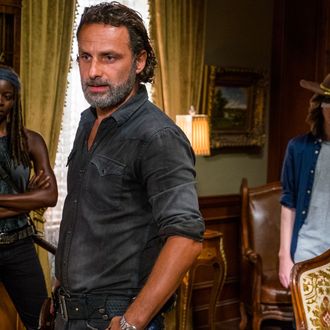 Photo: Gene Page/AMC/© 2016 AMC Film Holdings LLC. All Rights Reserved.
Wow, looks like Rick Grimes hasn't been through enough after all. On the heels of Sunday night's Walking Dead episode, in which Andrew Lincoln's character takes his previously announced leave from the zombie drama, AMC announced Lincoln as the lead in a "series of AMC original films to continue the story of Rick Grimes" currently in development. If you don't want spoilers for tonight's Walking Dead, and therefore the future of Walking Dead, go ahead and stop reading now!
Okay, they're gone. According to AMC's press release, the first feature-length Walking Dead installment will pick up after tonight's episode, in which Grimes is wounded but in the process of being rescued via helicopter. The movie will subsequently "explore the story of where Rick is taken and what he faces in a new corner of the zombie apocalypse." It's probably not a spoiler to say it's almost certainly even more zombies. The film, written by the network's chief content officer Scott Gimple, will potentially begin production as early as 2019.