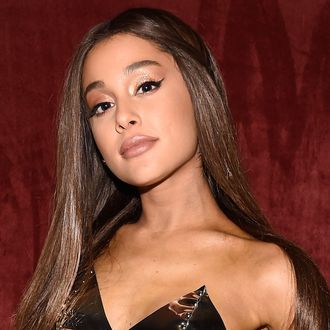 Ariana Grande.
Photo: Kevin Mazur/WireImage
Sweetener, just like her engagement to Pete Davidson, is so last month, folks. Because in a Saturday morning Twitter-palooza, Ariana Grande confirmed the name of her next album will be none other than Thank U, Next, a phrase that had previous life as one of her recent social media disses against Davidson. "No drags, no shade, just love, gratitude, acceptance, honesty, forgiveness … and growth," she tweeted among other musings, teasing a few things about what to expect with her fifth album: 1) Thank U, Next will be the album's title and leading track 2) A single will be coming out "soon" and 3) Grande's jumping "straight in" to the album's creation. To this we say … uh, thank you.
Update, 9:15 p.m.: TMZ is reporting that Grande will release her single, "Thank U, Next" at 11:00 p.m. EST, exactly half an hour before SNL. The song will reference Davidson as well as Ariana's deceased ex-boyfriend, Mac Miller.