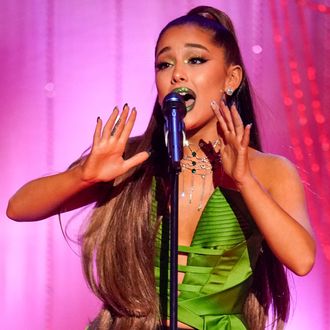 Her name is Ari.
Photo: NBC/NBCU Photo Bank via Getty Images
In the breakup Olympics, Ariana Grande's going for gold. Or platinum. Or hell, even diamond if her fans have their way. Ari's splendid kiss-off to all the boys she's loved before, "Thank U, Next," has debuted at No. 1 on the Billboard Hot 100, becoming her first-ever No. 1 song and 11th top-ten single. (She previously reached No. 2 with "Problem," and No. 3 with "No Tears Left to Cry" and "Bang Bang.") It's also one of the rare pop songs to top the charts in this rap-dominated year (think Drake's insane multi-month run at No. 1 for three different songs).
Ari's latest hit, which broke a whole host of previously broken streaming records (hence, the No. 1) upon its surprise pre-SNL release, is the first by a female artist to debut at No. 1 since Adele's "Hello" in 2015. She becomes the first woman in chart history to have the lead single from each of her first five albums debut in the top ten. And, according to Chart Data, she is also only the fourth female artist to hit No. 1 this year — along with Cardi B (twice), Beyoncé, and Camila Cabello — but is the first to do it completely solo. Because your girl Ari's a free agent, baby. A single Pringle. A one-woman show. A goddamned independent lady. Thank u, male placeholders whose sole purpose is to provide fodder for breakup anthems. Who wants next?