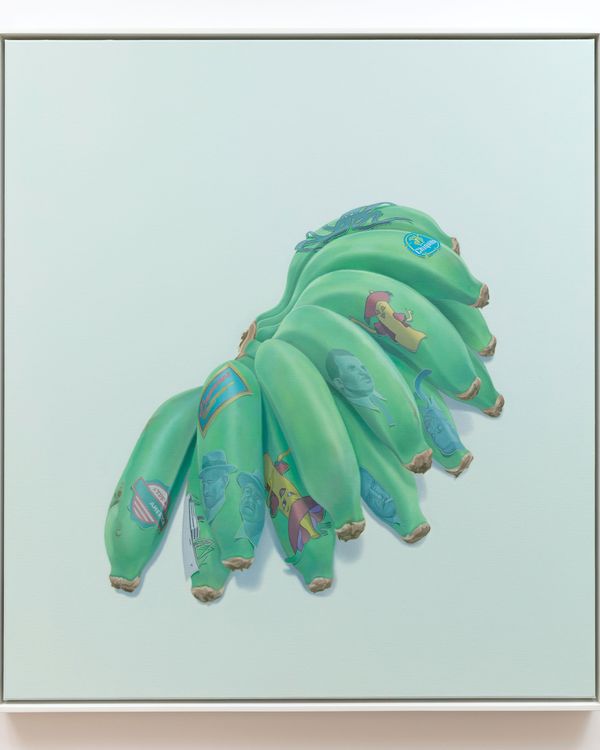 Jake Kean Mayman,
El Pulpo.
Photo: Courtesy of the artist and Stellar Projects/Photo: Michael Underwood
About a mile from the Venice Boardwalk — with its drum-circle artist vagabonds selling mandala paintings by the sand, preening gym rats flexing at Muscle Beach, and T-shirt vendors trying to hold ground against the green wave of weed dispensaries — there's a tiny, skylit A-frame garage behind a 1920s bungalow that was, until just recently, filled with deceptively muted, almost decorative history paintings, which nonetheless are anchored in an examination of the dark underbelly of American foreign-policy initiatives in Central America, from the CIA-orchestrated 1954 Guatemalan coup d'état to the Reagan administration's regime-change efforts in Nicaragua, not to mention the problematic scenarios NAFTA has caused north and south of our southern border. They all deal with the long-standing national flash points that Donald Trump, master marketer, has exploited so deftly.
"The overlying theme in the work is how fear and anxiety fuels the American psyche," says Jake Kean Mayman, the 38-year-old Marina del Rey native behind these works, which are now the subject of a solo show, "Existing Structures," opening across the country at Stellar Projects in New York.With his slightly salted bouffant and penchant for the archetypal beach-bum uniform (faded T-shirt, shorts, flip-flops), Mayman could easily be confused for an L.A. cliché: just another comfortably underemployed actor or model off duty. That would be a mistake. Before this conspiracy-inspired NYU grad started painting in earnest, he spent five years assisting Raymond Pettibon, the ur-political punk-agitator of the L.A. art scene.
"Raymond delves into history all the time and is a borderline conspiracy theorist, so that was a huge education," says Mayman. "More than taking art cues from him, I took cues as to how to better understand the world. I found a niche in geopolitics because I was always fascinated by the rumors that swirled around presidents."
After Pettibon moved to New York in 2012, he gave Mayman a year's severance, which allowed his former assistant the time and space he needed to formulate how to make paintings that tackled the hidden histories he devoured without feeling (and looking) didactic. Initially, Mayman's paintings — which garnered spots in group shows around L.A. at the Pit, Rosamund Felsen Gallery, and the Santa Monica Museum of Art (now ICA LA) — were monochromatic and didn't reach too far below their surface. "I work from historical imagery, and a lot of that is black and white, so the colors early on would parallel the subject matter," explains Mayman. "When you're dealing with shot callers in certain points of history, it's all old white men, and these subjects are very dark, so I found that color was an inviting doorway into this darkness."
Illustrating this point are a half-dozen pen and ink studies scattered around the paint-stained studio carpet — of dancing Chiquita bananas; "the father of public relations" Edward Bernays, who repped the United Fruit Company; Guatemala's democratically elected president Jacobo Árbenz Guzman; Carlos Castillo Armas, the military dictator who replaced Guzman in the coup orchestrated by Bernays; Cold War CIA director Allen Dulles; and his older brother John Foster Dulles, secretary of State under Eisenhower — all of which he wrapped around pickle jars to get the perspective for El Pulpo, an epic still life depicting these Cold War icons like tattoos on the skins of a fulsome hand of bananas. (The United Fruit Company, now Chiquita, was nicknamed as el pulpo, "the octopus.") With a palette that might best be described as neo-noir, Mayman's cast of political characters becomes dynamic op art spectacles who dissolve into bleeding pastel backdrops (of veridian hue, cerulean blue, quinacridone rose, Payne's gray) perhaps invoking the settings of Bukowski and Pynchon novels. It draws you in to consider subjects you might otherwise overlook for aesthetic (or apathetic) reasons.
"I'm trying to make a point about specific issues that we're dealing with in contemporary times, and I try to organize the topics so everything is interrelated," says Mayman. The artist organized his 2017 solo debut, "The Earth Dies Screaming," at L.A.'s Night Gallery around the "overzealous anti-communist policies" of Ronald Reagan during the Cold War via luscious oil paintings of, for example, Kay Griggs, a former Marine colonel's wife who famously dished about military assassin squads and government-led drug-running operations, being consumed by a technicolor blazer; and Nikita Khrushchev's wife, Nina, writing a letter amid a graphical interface that could have jumped out of an early Dire Straits video.
Fears of a menacing Russia and unrest south of the border happen to be back in the news, but Mayman has been obsessed with them for a long time.
"While I did not specifically mention Honduras when making this body of work, it's important to note that the migrant caravan we're seeing move toward the U.S. border now is due to the destabilized economy and political violence caused by the military coup of 2007, an event that was fully supported by the Obama administration's State Department. The U.S. operates out of major military bases in Honduras, we financially support the Honduran National Police who overthrew the elected leader, and Chiquita Banana Corp. was very displeased with the democratically elected leader at that time, as he was reforming labor rights that would significantly cut into Chiquita profits," says Mayman.
"This is a story that has repeated itself many times in almost every Central American country. The U.S. supports leadership that is best for its vested interests, and if the people elect a leader who is not sympathetic to our interests, we orchestrate his ouster, even if it is to the detriment of these citizens' quality of life," says Mayman. "It's amazing to me that Americans are so fearful of this migration when we used anxiety and fear to destabilize these countries, and now that instability has become the source of our own anxieties and fears. The chickens are literally coming home to roost."
Mayman's show began its roost on November 1.