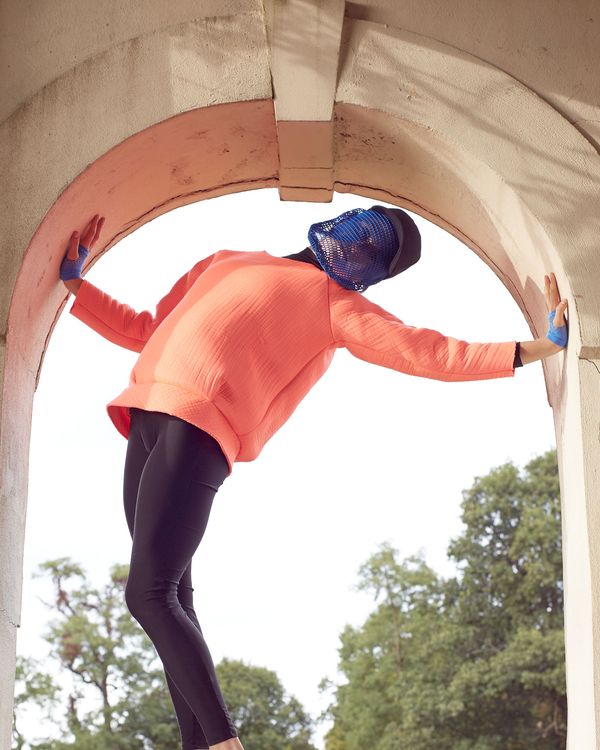 Photo: Rose Nestler, Gynmasia (2018), video still. Image by Robin Stein. Courtesy of BRIC and the artist.
In her solo exhibition "Gymnasia," opening at BRIC on November 28, sculptor Rose Nestler ruminates on the ancient gymnasium and its progeny: wrestling, gym class, the smugly disciplined CrossFit bro, possibly even toxic masculinity. Walking into Nestler's snug studio space in the Brooklyn Army Terminal, I'm greeted by oversize twin amphorae — eight-foot-tall riffs on the iconic vessels given as trophies to athletes in ancient Athens. Nestler's trophies, though impossibly large and imposing, are also soft and pliable, rendered as giant hollow tubes of spandex, neoprene, and athletic mesh. Neon green and orange figures splay across them, diving, stretching, and flexing in a sea of black. Impossible for Nestler to move on her own, the hulking amphorae nearly overwhelm her studio, a white cubicle bedecked with sketches, shelves of ceramic sports bras and smaller fabric forms, and a wall-mounted TV for Nestler's extensive video work.
Unsurprisingly, Nestler was something of a teenage jock, a Seattle-area rower who relished the sound of her coach barking through a bullhorn, the blood crusting her legs after a rough practice — that is, being treated like a man. "My identity was wrapped up in this ideal of being masculine," she says. At the same time, she valued sheer exertion not because it could make her into a man, but that it could make her into nothing at all. "When you're exercising and pushing yourself to your physical limits, you actually shed your identity as an other completely," Nestler says. "You transcend. Whereas I think cis men are in a constant state of transcendence. There are certain access points, and sports is one of them."
The other main component of "Gymnasia," a video installation, features loops of neon-clad men wrestling on a gym mat, a chorus that recites reams of sports idioms, and teams of dancers moving through aerobicslike routines. This was the first time Nestler had choreographed dancers, a logical progression for a sculptor and "really physical person." Filmed at Bard College's Blithewood Garden, a neo-Greek tableau of columns and promenades, one segment features a set of four dancers flexing and strutting together, "inspired by bodybuilders posing," according to Nestler. Clad in coral and royal-blue sweatshirts, black tights, and white sneakers, Nestler's dancers wouldn't look out of step in an Equinox, if not for the anonymizing, netted masks covering their faces. She directed her dancers with commands like "strongman!" (which means "the puffing and posing") and "flocking!" (the repetitive motions they make in pairs). She leaps up to demonstrate, flexing her arms and rotating as if in sync with an invisible partner.
Moving into dance first occurred to Nestler last year, while working on her show "Strange Business," a collection of fat, metallic fabric sculptures that evoked control-top pantyhose. "Everyone kept saying, 'I want to put these on. I want to wear them,'" she recalls. "And I knew that I needed someone to wear them who was going to be really good with moving their body and knowing what was going to work and what wasn't." Nestler knew a dancer, a cousin of her husband's she was "obsessed with," and whom she persuaded — along with a couple friends — to don costume versions of her control tops for a video accompanying "Strange Business." Those same dancers later worked with Nestler for "Gymnasia."
"I think it's the ultimate delight as a sculptor to have your costume that you made worn by someone who really knows how to move," Nestler says. And while she's made some logical connections — sculpture to dance, wrestling to masculinity — there are still some divides she struggles to bridge. "Sports and art never really intersect," she says with a laugh. "It's just not cool."