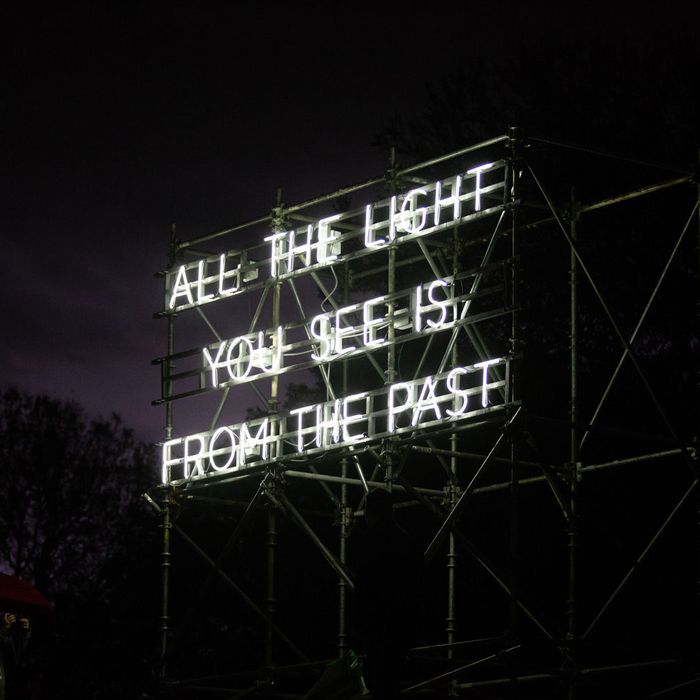 All The Light You See
by Alicia Eggert at Aurora, a public art event in downtown Dallas on November 3.
Photo: Courtesy of Paperlyte
Dallas is not afraid of spectacle. It's also a serious art city with its discerning collectors and well-regarded museums (there are shows on Ida O'Keeffe and Günther Förg right now.) But even locals who don't ever make it into the museums can enjoy the Aurora public art showcase downtown, which has been quietly upping the ante since 2010. Last weekend was its latest iteration.
Co-founded by Dallas artists Shane Pennington and Joshua King, along with founding director of the Dallas Arts District and former city council member Veletta Forsythe Lill, the one-night event bills itself as "an open-air, urban playground of new media art." This year's edition — the theme was "Future Worlds" — marked the first time local, national, and international curators were brought together. Aurora director of programming Monica Salazar, who is based in Berlin but grew up in Texas, brought together fellow Berlin curator Nadim Samman and the former chief curator at the Dallas Contemporary — now the head of Creative Time in New York — Justine Ludwig along with Dooeun Choi and Danielle Avram to elevate its profile on the international stage
There were 17 light-, video-, and sound-based installations around Dallas City Hall and the adjacent convention center. In spite of a flash thunderstorm that dampened the mood momentarily, the November 3 festivities lured thousands of curious spectators downtown.
"Future Worlds" dazzled, entertained, and aggravated. There was a text-based light installation All The Light You See by Texas-based Alicia Eggert and an ephemeral sculpture of billowing smoke titled Freisetzung by Berlin-based Fabian Knecht. In teamVOID and Youngkak Cho's Circulation, the audience was invited to interact with a pair of KUKA robots programmed with mischievous personality matrices. Two participants at a time were tasked with helping recover and return ladles of water from the plaza's fountain — often to humorous effect.
Simon Mullan's automobile-powered soundscape continuous power was another highlight, engaging bewildered audiences. A communion of eight motor vehicles in various stages of disrepair blasted searing sonic compositions — a dramatic sensorial display that conjured Blade Runner-visions of a rodeo dystopia.
It's a balancing act to maintain curatorial integrity and conceptual criticality while being accessible and popular. At Aurora, there seems to be more of the same big fun art that has been pervading the art world for several years now. But what it lacked for overall message it made up for with flash and sensation.