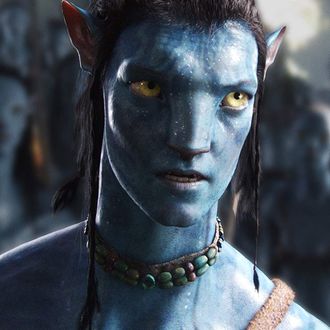 More Avatar!
Photo: Twentieth Century Fox
Our long national nightmare is over. More news about the only sequel more hotly anticipated than Call Me by Your Name 2 has arrived: the Avatar sequels. The BBC has "seen documentation" confirming the titles for the four (yes — four!) Avatar follow-ups. Are you ready for Avatar: The Way of Water, Avatar: The Seed Bearer, Avatar: The Tulkun Rider, and Avatar: The Quest for Eywa? Well get ready, because they're coming!
Last week Avatar star Sigourney Weaver confirmed that they've finished shooting the second (The Way of the Water) and third (The Seed Bearer) installments. "I'm not interested in developing anything. I'm in the Avatar business. Period. That's it. I'm making Avatar 2, Avatar 3, maybe Avatar 4, and I'm not going to produce other people's movies for them," James Cameron once told the New York Times. Prepare to be watching Avatar movies almost every Christmas for the rest of your life: they're due December 2020, December 2021, December 2024, and December 2025.