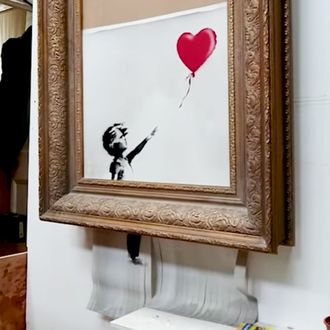 Photo: banksyfilm via Youtube
What was supposed to be a well-attended, by all means normal exhibition of Banksy's artwork in Brussels this month has turned into something reminiscent of the Von Trapp Family Singers' after-dark car escape. As reported by The Guardian, an "unauthorized" retrospective of the artist's work throughout the past decade — located in an empty supermarket in a posh area of Brussels — was ordered by Belgian authorities to immediately close, owing to Banksy apparently not approving of the exhibition, which displayed 58 of his most popular artworks. As such, a Belgian court signed off on every single work to be seized, which were all clandestinely packed up and "driven away at midnight to an unidentified secure location," pending a court date in the new year.
The Guardian also reports something even more outrageous: The exhibition had been going on for months in various international cities, but the respective courts couldn't get their act together in time to seize the artworks until now. And not only that, but Banksy's former manager, Steve Lazarides, is one of the exhibition's organizers, which shouldn't be great for his ego.
Stanislas Eskenazi, the lawyer for the organization who held this Brussels exhibition, said his clients were simply caught up in a "crazy" story sold to them by Lazarides. "My clients are two very nice people. And they have been shitting it," he explained. "English lawyers can be very aggressive. We don't know who has the rights to display the art and we don't want to know. We don't want anything to do with it. My clients were freaking out." As for Banksy, his opinion on the exhibition is somewhat wishy-washy, although he did express annoyance this summer when the Moscow leg of the tour charged about $25 per ticket. He later released a statement due to receiving many inquiries about Lazarides: "Hmm. Not sure I'm the best person to complain about people putting up pictures without getting permission."