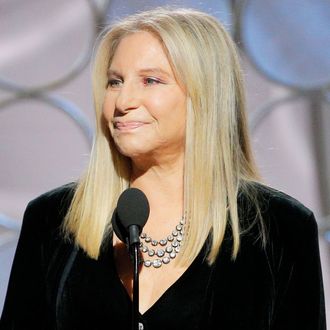 A fan of the latest trends.
Photo: Handout/NBCUniversal via Getty Images
Barbra Streisand's new album is full of anti-Trump music that also happens to sound surprisingly like a lot of pop you might hear on the radio right now. According to her, that's on purpose. In an interview with the Los Angeles Times, in between reading from whole pamphlets about politics she wanted to discuss, Barbra said that two of her songs "Don't Lie to Me" and "The Rain Will Fall" were inspired by, of all things, the Weeknd. She'd heard his song "Starboy" at some point — "It must have been some awards show" — and decided she liked it. "I didn't even know what the hell he was saying," she said (with the Weeknd, just assume it's about drugs, Babs!). "But the vibe was great. I loved the sound of the music — the pattern of it. I thought, 'That is really cool.'" Now, we're just one step closer to Barbra knowing about the existence of Bella Hadid.