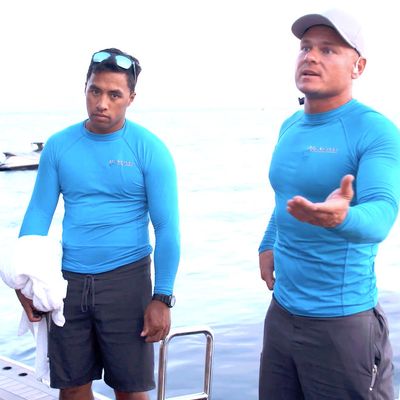 Chandler is the man from the New Yorker short story "Cat Person," and this episode is here to prove it. Incapable of empathizing? Check! Fond of diminishing women? Check! Massive solipsist? Ding-a-ling! Special interests include eating ice cream, feeling sorry for himself, and walking around slowly with mugs.
We open with Captain Lee yelling at the deckhands for depositing the guests and their two toddlers in the surf, surrounded by jagged coral heads and sharks, without towels or water or a boat. Lee says it's all Chandler's fault. Chandler's face instantly contorts to the slack-jawed, wide-eyed expression he gets when he has indeed messed things up very badly, but finds himself incapable of summoning a shred of the maturity that someone of his age and work experience ought to possess. He's all, "Am I supposed to tell them to unload stuff?" And Lee shuts him right down because, you dodo, you're supposed to be there to unload the stuff. Lee curses and threatens to "make some changes" by the time the charter ends if they don't pull their heads out of their asses and stop leaving guests to flap about helplessly in the sea.
Adrian and Caroline have a brush with one another in the kitchen and Adrian reiterates that he doesn't want Caroline dragging her anger and negativity into his food and protective aura of good vibrations. He manages to present the guests with stuffed mushrooms and various meats for their "rock-star party." Only rich people dress up in tutus for no apparent reason other than they don't have to worry about cooking or cleaning their own showers.
The next morning, two disasters begin to unfold as soon as the crew sets about their not-hard morning tasks. First, Caroline has to serve part of the breakfast. The guests ask for orange juice and she betrays her incompetence with singular panache, rambling about how she has to squeeze fruit before scurrying away to rummage and do nothing. The guests observe, "She's just running back and forth and she never knows anything." Master Pearson, the toddler, later asks her, "Which way are we going?" Which would seem to be a simple thing to answer, partly because it's a toddler asking, which means she could have satisfied him by saying anything, because toddlers are not seeking perfectly accurate navigational information. But instead she freaks out and says, "You're asking the WROOONNNGG person." She serves at least one guest a "terrible" Bloody Mary, and, when Kate wakes up, that lady is like, "Kate, did you make the Bloody Mary" And Kate's like, no. And the lady is like, "Can you make a bloody Mary?" with desperation creeping into her voice. Like, I have an excuse to drink at 9:30 in the morning and dammit, Caroline is not going to mess that up for me by serving vodka and tomato juice before disappearing to aimlessly forage for unsqueezed oranges!
The second disaster is the beach dinner, an elaborate luau with a roast pig on a spit and a tablecloth and everything. Lee calls Chandler to his office early that morning to make sure he's not going to fuck it up. Chandler goes to the kitchen, ostensibly to plan things with Adrian, but really to make it known how stressed out he is about having to both give the guests a Jet Ski to ride around on that afternoon and set up for the dinner. He writes down a list of things that have to go to the beach and presents it to Ashton and Ross, who are like, okay, fine, but don't we have to take the slide out because it's not anywhere near dinner time? Even Josiah is like, why are they packing the evening's ice now when the guests need the sea trampoline?
Chandler and Rhylee have a wonderful Jerry Springer-style fight after he accuses her of dropping towels on deck. They get in each other's faces and curse, with a lot of genuine anger — I half-expected security guards wearing all black to dash into the frame and for the next segment to be about a pregnant 11-year-old.
Ross and Chandler run some stuff to the beach and notice there's a lot of coral between the yacht and the shore, prompting safety concerns. Back at the boat, Ross explains the situation calmly and professionally to Lee, who says not to worry, they'll just execute the dinner during daylight hours. He then confirms with Josiah that the guests will be ready by five o'clock because he can't "have these guys out in the shit at night, they'll sink one of the fucking boats." True facts!
Seven handkerchief dresses later, the guests are ready to go. Getting from the boat to the beach is treacherous because the concrete pathway that leads to their dead pig is slippery, and these people have been drinking since breakfast. Chandler carries one of the women to the path so she doesn't have to wade in the shallows, and, even though he's traversed this terrain all day and knows the danger of said path, he steers her right onto it. She promptly eats it and falls in a painful-looking and very embarrassing way — like only her joints manage to crash into the concrete. Ashton smirks and says Chandler is managing to drop both the ball and the guests. Ding-a-ling!
Lee decides to have the deck crew return to the boat and shuttle the guests in vans to the dock for pickup to avoid Chandler's shipwrecking the children in the coral. Lee tells Caroline to make drinks to serve when the guests step back onto the boat. Caroline seems to consult a recipe taped to a cabinet, but then just gives up and pours them champagne. She has already proclaimed herself incapable of serving drinks to ten people, and true to form, stumbles with her tray, shattering glass all over the deck. As the guests close in on the yacht — shoeless, because shoes are not allowed on boats — Caroline leaves the glass shards in the dark where no one can see them, and returns to her aimless rummaging through cabinets. Meanwhile, Master Pearson steps aboard right onto her bed of glass. He bleeds and cries.
Since Kate and Josiah have to clean up the beach picnic by themselves and Caroline can't function, the primary has to tend bar himself. Caroline sees what has happened to the small child, and makes it all about her. She says she feels sick, and Lee tells her to calm down. Well, the guests did seem more upset about Adrian's mahi-mahi than their little child stepping on broken glass.
When Kate and Josiah get back to the boat after cleaning up the beach dinner, she has to serve the guests drinks because no one else on the crew is capable of interfacing with them. Before she learns about the glass, she says in the kitchen, "At least 90 percent of the guests are okay." And Adrian, a savage bitch who, remember, despises Caroline, remarks, "80 percent." This forces Caroline to relay that she greeted the guests with a nice sandy bed of glass shards. Kate says, "Flesh wounds are not five-star," and banishes Caroline to folding laundry.
Kate loses it with Lee because she's had to do everyone's work all night with no help. Lee forces the deck crew to work for Kate until she has things under control. Ashton likes it because he hasn't been managed all season and is yearning to be managed! He sits with Caroline, who is slurping up noodles, and folds white linens with her. "I feel like these need to be ironed," he says, which kills me, because of course she wouldn't iron the linens. She's probably going to serve them a gluten-free cupcake in the morning using a napkin with a dried noodle stuck to it.
Kate sends the crew to bed, except for Chandler, who decides to serve himself ice cream as slowly as possible. Kate asks if he's making her dinner because she hasn't eaten yet, and he's like no, I'm making ice cream for myself. Kate tells him that now is not the time for ice cream, he has to get his work done. An exchange ensues in which Chandler proudly refers to himself as a "big boy" and Kate mockingly also refers to him as a "big boy." And Chandler says Kate is "not my boss" and calls her "a glorified housekeeper." He accuses her of "disrespecting" him multiple times, which is a word I hadn't heard this much since I last watched Jenny Jones in middle school.
The next morning, the guests finally leave, bestowing $20,000 in tip money on Captain Lee, which seems GOOD, given that the ineptitude of the crew led to one-fifth of them bleeding during the trip.
After the tip meeting, Lee calls Kate to his office to witness a conversation he needs to have with Chandler. And then Chandler gets called up and the episode ends, which is torture, because we've been watching this show for hours to see Chandler get his ass handed to him and now we have to go into Thanksgiving with nothing resolved. Yet, as amazing as this episode was, next week's might be even better, because it seems to include sex in a van, someone getting fired (Rhylee?), and, hopefully, Chandler's long-awaited demotion. Yay!