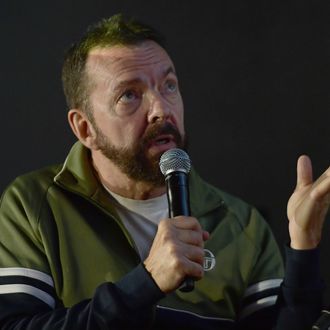 This is not Benedict Cumberbatch. This is Alan Ball.
Photo: Matt Winkelmeyer/Getty Images for New York Magazi
On the tenth anniversary of True Blood's debut, the show's creator, Alan Ball, came to Vulture Festival Los Angeles to watch the pilot episode with fans and share some memories about the making of the breakout HBO hit.
Jaws dropped when Ball talked about how difficult it was to find the right actor to play smolderingly attractive vampire Bill Compton, and described how the search took him to London, where one of the actors he met with was none other than Benedict Cumberbatch. Let's think about that for a minute: The man we've come to know and love as Sherlock and Dr. Strange almost played one of TV's sexiest vampires. (Sadly, Ball didn't reveal why Cumberbatch didn't land the part.)
More fun facts we learned:
• Anna Paquin read for the role of Sookie Stackhouse five times before the producers were convinced she could play Southern enough. Ball casually mentioned that Jessica Chastain also auditioned for the role of Sookie, while an underage Jennifer Lawrence auditioned for a "were-panther girl" in season three.
• Talking about the Sookie/Bill chemistry that evolved into the real life relationship and marriage between Anna Paquin and Stephen Moyer, Ball said he told Paquin that when Bill stares at Sookie in the scene at Merlotte's near the end of the first episode, "she has to feel it in her vagina." And apparently, she did!
• Watching the late Nelsan Ellis's first scene as Merlotte's chef Lafayette in the pilot episode, Ball reacted, "Oh, Nelsan. It breaks my heart. I'm usually not a fan of actor's ad-libbing but he ad-libbed this entire scene and I stood back and went, okay."
• The pilot episode was shot entirely in Los Angeles at the Warner Brothers backlot, Malibu Canyon, and the Disney ranch. Production hung lots of Spanish moss to make it look more like Louisiana.
• Ball revealed that after the pilot was shot, HBO spent six months deliberating if they were going to put it on the air. Apparently, it didn't feel like "an HBO show" — "it was too pulpy, too genre," Ball said. That, of course, didn't turn out to be the case, as True Blood wound up changing the definition of what it meant to be "an HBO show." Noting that the channel's two biggest hits are now Game of Thrones and Westworld, Ball summed it up, "HBO owes me a lot."