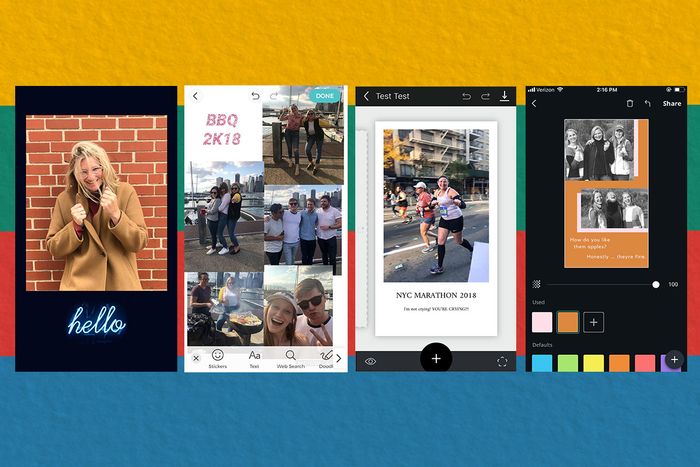 Use these third-party apps to up your Instagram Stories game.
Photo: Vulture
Out of a bizarre sense of loyalty to Snapchat, I was a late adopter of Instagram Stories. But once I caved, I caved hard. I love a good Story. The more creative the better. The more "aesthetic" the better. Mix your fonts. Create a narrative using entirely emoji. Screenshot a rainbow pattern, draw over it using the black paint tool, and then use the eraser to write a colorful message. If I see you doing something cool … I'm going to copy it. This is, after all, the true spirit of Instagram Stories, which openly aped Snapchat and then beat it at its own game.
There's a certain style of Instagram Stories that is popular among influencers. It's a lot of clean lines and diptychs and captions written in fonts that don't come standard on the app. I assumed, wrongly, that these influencers were building these Stories themselves using Photoshop, a skill I possess only in the loosest sense of the word, and by that I mean a skill I possess in theory because I have the program on my computer. But that's not the case. Turns out all you need to con the world into thinking you're living the influencer life are a couple of free apps and some patience. This list is by no means exhaustive, but here are four apps, in no particular order, to get you started. Instagram's most-followed user, Selena Gomez, uses our first pick. If it's good enough for her, it's good enough for me.
Unfold
Unfold gets points from the start for being stupidly easy to use and not requiring new users to make any sort of account. Just download and go. Inside the app, you'll tap the plus sign at the bottom of the page to begin building your Story. (You can give it a name — like "That Time I Ran a Marathon and Bragged About It a Lot" — to help keep them organized.) From there, you'll be shown a number of template options, including ones for single images, ones for clusters, and ones with captions. (Unfold, like all of the apps on this list, also has paid options. I am not about to shell out money for this when the free options work just fine.) You can customize the colors and font and can add multiple slides to your Story until you reach your desired length. From there, and here's where the stupidly easy comes in, Unfold lets you upload directly to your Instagram Stories. You can also download the Story to your camera roll and upload it from there, but this is much simpler.
Storyluxe
Storyluxe also doesn't require a log-in and offers a wider array of free slide designs. My personal favorites were black backgrounds with neon designs that you just slot your content into like the chill person you are. (Look how chill! She's leaning against a brick wall! Her hair is a mess! Chill person, party of one!) Storyluxe doesn't let you create full Stories and upload directly to Instagram, so you have to create the slides individually and export them to your camera roll. Still, very easy to use. The app offers a monthly subscription version that updates the template options weekly, if you are so moved. I was not so moved. The free options were more than sufficient to make my Instagram Stories better without spending any money.
Canva
You're going to need to create an account to use Canva, using either an email address or your Facebook. Inside the app, which offers templates for all sorts of posts, look for the section devoted to Instagram Stories. You'll notice most of the sample text and images are related to businesses. Ignore this. Canva works just as well for a personal brand as a real one. Once you select a template, you'll add images and captions. You can customize the fonts and colors and what have you by tapping different sections of the slide. (Canva, unlike the other two apps we've mentioned, is a little trickier to maneuver but is still simple enough, once you've figured out how to replace the font box you accidentally deleted with your fat thumbs.) To post to Instagram, you have to save the image as a PNG to your phone.
Pic Collage
Pic Collage does a whole bunch of things, but I prefer its most literal use: the collage. Open the app and tap "FREESTYLE," which pulls up a white page. You can add and overlap as many photos on the page as you'd like, plus stickers and text. When you save the image, it'll have a watermark in the bottom right-hand corner. You can pay to remove this, or if you're cheap like me, you can color over it with the paint tool when you upload the image from your camera roll to your Story, and nobody will ever know. (Heads up, the free version of Pic Collage comes, unsurprisingly, with pop-up ads. They're annoying, but also … you're not paying for this app.)