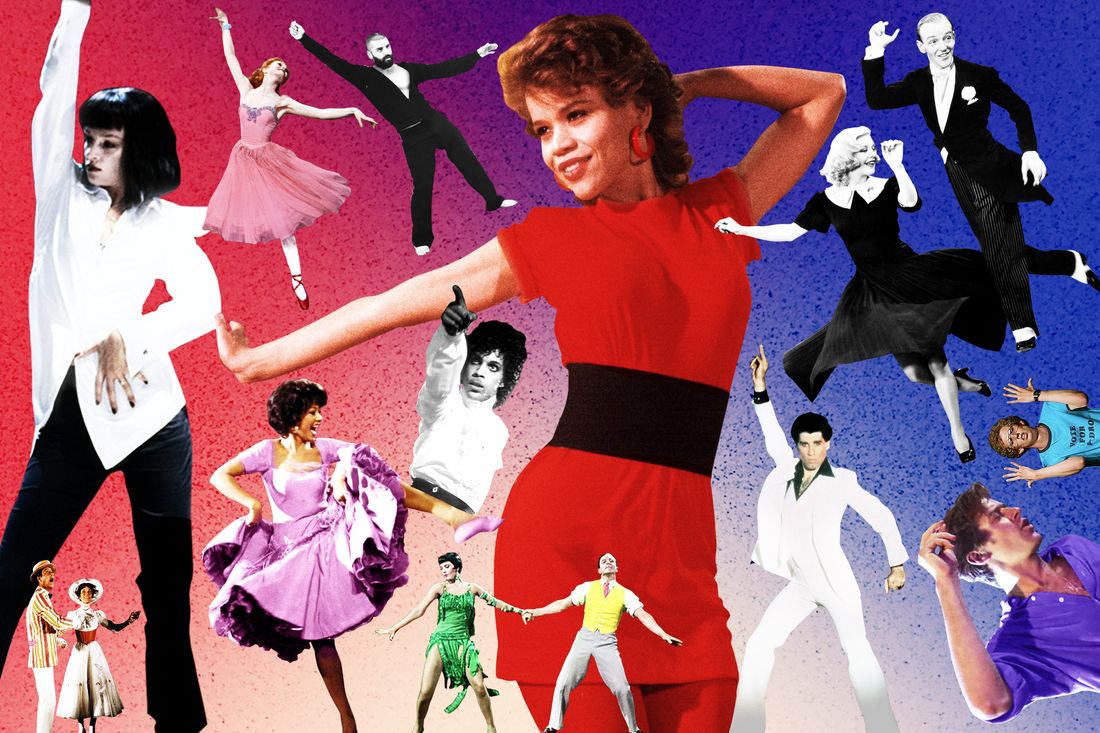 Photo-Illustration: Emily Denniston and Maya Robinson/Vulture
This weekend, Luca Guadagnino's maximalist reworking of Italian horror classic Suspiria jetés into wide release. Dakota Johnson stars as an American ballerina attending a prestigious academy in pre-reunification Berlin, tutored by severe instructors giving her a faintly Satanic vibe. (Perhaps it has something to do with all the meat hooks?) The Damien Jalet–choreographed dances stand out as the most gripping sections in the film's dense two-and-a-half hours, in particular the fiendish group piece titled "Volk." Johnson and her company, draped in red cords, cycle through razor-edged poses metaphorically — and then literally — coursing with brutality. For the sinister higher-ups, their charges' perspiration serves as nourishment. At the Markos Dance Academy, movement is the essence of life.
Dance can be an intense communion between the mind and body, though it doesn't have to be. Even as the rest of the film rapidly fades from my memory, I can clearly recall the scene in Michael Haneke's Happy End featuring a karaoke rendition of Sia's "Chandelier" with an emphatic onstage accompaniment, if only for its extraordinary banality. In the selections below, characters move as a plea for help, as an elated outburst, as a rebellion against authoritarianism, and as a prelude to murder. Dance torments, soothes, stimulates, and challenges, often managing many at once. It predates language itself, some scholars clocking its advent around 3300 B.C. It's no great stretch to say that dance must be included in whatever expansive definition one might form of "human nature."
In the following attempt to assemble cinema's 50 greatest dance scenes, I prioritized breadth: of era, of genre, of tone, of country. An elite handful double up on appearances — Vincente Minnelli, Gene Kelly, Denis Lavant, Fred Astaire, and Stanley Donen — but the full range of movers and shakers comprises A-list movie stars, dancers' dancers forgotten by history, and rank amateurs giving it their best shot. This canon goes heavy on the musicals, as it must, so take special note of the entries cherry-picked from other realms of storytelling. A film will often place something of great significance in these intimate acts of self-expression, a key unlocking a character's inner workings. And finally, as is the case with all lists, this should be the beginning of a conversation, not the end of one. Stretch those hammies and step up to the barre.
50. "Rain on the Roof," Paddington 2 (2018)
He might be a bear, but marmalade enthusiast Paddington is first and foremost a very good boy. His starring vehicles imagine a world willing to meet him halfway, where kindness can be a currency and compassion can always save the day. The might of his upbeat optimism even overpowers the machinery of the prison-industrial complex in a credits scene that rejoins the villainous thespian Phoenix Buchanan (Hugh Grant) as he makes the most of his time behind bars. He leads his fellow jailbirds in a peppy selection from Follies, and though the contrast of hardened criminals doing jazz squares technically qualifies as a "joke," we're just happy to see them happy. That's how Paddington would want it.
49. "Old Time Rock and Roll," Risky Business (1983)
Who among us hasn't slipped on a pair of tube socks and attempted to slide across a waxed hardwood floor while Mom and Dad were away? The inevitable realization that it's impossible to get as much distance as good son Joel Goodson fits right in with Tom Cruise's trick-of-the-light persona, an illusion far too charming to ever be real. The movies had to first invent him, and that big bang of charisma takes place the second he convulsed his tighty-whitey-clad tush off of the couch. He's a rock star home alone, someone who's got showmanship down to such a precise science that he doesn't even need an audience to work up the mojo. A star, as it were, is born.
Armie Hammer says that he was nervous when the cameras started rolling, but just look at Oliver's punum as he cuts a rug on a balmy Italian night: clean, easy un-self-consciousness. The scene that launched a thousand memes won over the public not only because Hammer is absurdly, conspicuously handsome (though that's a big part of it), but because his Oliver brings the same goofy abandon to his moves that he does to his romance with Timothée Chalamet's Elio. When we're wrapped up in passion, we stop worrying about looking cool or playing it aloof.
He's sprung and he doesn't care who sees, from the adjoined bedrooms where he and Elio play chicken with their bodies to the dance floor, where they let it all out.
47. "(I've Had) The Time of My Life," Dirty Dancing (1987)
It's all about the lift. Go right to 3:23, when Patrick Swayze hoists Jennifer Grey aloft like an offering to an almighty higher power. A person doesn't even need to know the cursory outline of Footloose to know the lift and intuit its meaning; we've got floor seats to the realization of a teenage girl's hunkiest daydream, as the world melts away and Baby gets lost in Johnny's sure-handed, supportive grip. Who gives a fig if her dad doesn't approve? That's the whole point, that their love can outshine parents or society or even, for a couple seconds, gravity. Grey takes a couple half-steps before taking a flying jump into Johnny's waiting hands, an act of faith rewarded with trust.
After two-ish hours of vividly imaginative testicular torture, the punishment gluttons of Jackass go out in a blaze of showbiz glory. Paying homage to classics past, from Gold Diggers of 1933 to Buster Keaton's Steamboat Bill Jr., they barrel through soundstage sets mimicking the swimming pools, cattle ranches, and city blocks of an Old Hollywood back lot. It's a certified triumph, and deceptively clever for a home movie cooked up by a gang of card-carrying idiots. They place their magnificent self-harm in a creative tradition closer to musical theater than the DIY skate tapes that inspired them, arguing that their willingness to extend the physical form to its limits — and their commitment to entertainment above all else, including good taste — puts them in league with history's finest hoofers. They're not entirely wrong.
"As a matter of fact, I rather feel like expressing myself now, and I could certainly use a release!" Audrey Hepburn's full of firecrackers and ready to pop off. Clad in an all-black beatnik ensemble complete with matching turtleneck, she gets her ya-ya's out in explosive fashion, scrunching herself up and stretching herself as big as she can go. The elaborate choreography betrays the control she has over her steps, but the feeling that she could shake apart at any moment makes Hepburn shine. She twists and writhes like she's under the sway of the music, showing her companion the visceral relationship between the dancer and the dance. And to whom is she giving this impromptu lesson? Why, none other than Fred Astaire.
Marilyn Monroe may not have been the best actress of her generation, or the best dancer, but she was without a doubt the best at being Marilyn Monroe. That's really all that this showstopper requires of her, to be her unattainable bombshell self, though that's no small order. With a smile wide enough to crack a cheek, she sunbathes in the adoration from a fleet of well-heeled suitors pantomiming suicide for a chance at her hand, only to demure their attentions for sturdy, dependable karats. Of course you want her, but the reason she's Marilyn goddamn Monroe is that you can't have her. "Living desire object" is a thankless role that she nonetheless plays with conviction, as shiny and coveted as the precious stones glinting all over her neck and ears.
43. "Baby, I'm a Star," Purple Rain (1984)
There will only ever be one Prince, and the send-off from his quasi-autobiographical Minnesotan origin story finds him at his Princiest, strutting back and forth across the stage he knows full well that he owns. Every kick, every twirl, every flip of the hair is a grace note calibrated by a consummate professional who treats movement the way a jazz saxophonist treats improvisation. Note that director Albert Magnoli never gets closer to Prince than a medium shot; we must always be reminded that he is on the stage's pedestal, being screamed over by his throng of admirers. He's seen.
He lives inside his own heart, Matt Damon.
42. A private session in the back room, Showgirls (1995)
It's not for nothing that the only passable-quality video embeds available for this specific scene come not from YouTube, but from Pornhub and XVideos. (Happy Googling!) As the carnivorously ambitious Nomi Malone, Elizabeth Berkley doesn't leave anything to the imagination in this full-frontal frenzy, writhing on yuppie Kyle MacLachlan until he makes a mess of his shorts. Are her spasms of erotic hysterics over the top? For sure, if only to illustrate director Paul Verhoeven's mixture of bemusement and contempt for the excesses of late-20th-century American culture. In the neon-lit Sodom of Las Vegas, as in the no-holds-barred business of dirty dancing, there is no top to go over. To anyone dismissing Berkley's heroic go-for-broke turn as "bad acting": You wouldn't know good acting if it was grinding all over your crotch.
41. "The Lady in the Tutti-Frutti Hat," The Gang's All Here (1943)
Plenty of selections from the kaleidoscopic oeuvre of choreographer turned director Busby Berkeley could've taken this spot. He electrified dozens of features with his dizzying routines in which arms and legs form shapes and swirls, like marching-band drills on aphrodisiacs and ecstasy. But only one of them features the singular presence of Carmen Miranda, resplendent in her produce-bedecked headdress. The icon leads a squadron of fair fruit maidens in a dance so highly suggestive that the scene is apocryphally said to have been banned in her native Brazil. She grins through the innuendo and the chipper fetishizing of her nationality as if she knows that her performance, and indeed, she herself will one day be reappraised and given her due by camp enthusiasts. If this is all a joke, she's in on it.
40. "Jolly Holiday," Mary Poppins (1964)
Dick Van Dyke: unforgivably bad with cockney accents, consummate pro with the ol' soft-shoe. He tippity-taps his way into a chalk drawing with the noted English nanny and her ruddy-cheeked wards, joining her in a sweet duet about the privilege of her company with accompaniment from a coterie of cheerful cartoon animals. Walt Disney was said to consider Mary Poppins among his greatest successes as a producer, and I suspect that this scene might be why, as it successfully bridges the gap between the animation he made his dominion in Hollywood and the live-action that he could never fully conquer. For one brief shining moment, it seemed like the buoyant Disney spirit could survive in the hostile environment of real life.
39. The full transformation, Black Swan (2010)
It was the wise Michael Sembello who once defined the "danger zone" as the space "where the dancer becomes the dance," and in this scene, Natalie Portman provides compelling support for his assessment. She plays ballerina (and likely paranoid schizophrenic) Nina Sayers as a girlish woman in the grip of forces she cannot hope to tame: first doubt, as she beats herself up for not attaining perfection; then desire, as she gets in touch with her id in the fetching form of Mila Kunis; and finally mania, as she surrenders to the darkness in her mind and allows herself to be consumed by it. Her metamorphosis into a majestic CGI bird-creature puts her personal development into phantasmagorical visual terms. She achieves her final form only in death, mastering Swan Lake to the fullest extent by absorbing it.
The year is 1972. It must be 100-degrees Fahrenheit in the Israeli desert. You've got a long-haired hippie wig strapped onto your head, you're probably working for scale, and a sweaty dance instructor keeps yelling at you to keep the energy up and smile. I consider the chorus members in this adaptation of Andrew Lloyd Webber's New Testament rock opera to be American heroes, because in conditions that would have driven ordinary mortals to heatstroke, they are out there earning every blessed cent of that money. This Act One standout is unmatched for sheer hustle, each and every dancer throwing their entire selves into their herky-jerky movements. They want to show a dreamy Christ that he's got their undivided devotion, and there's no holier way to do that than laying themselves at his feet in hard-won exhaustion.
As the video embedded above rightly states, these are the greatest opening credits in movie history, pretty much a living wonder of the world — the Colossus of Rosie. As the firestarters of Public Enemy lay out a guerrilla-rap war zone on the soundtrack, Perez flexes all over a veneer of the Brooklyn brownstones director Spike Lee calls home. She flexes harder than anyone has ever flexed or ever will flex again; she's the Gene Kelly of flexing, flexing hard enough that she looks ready for a fight even when she's not rocking the boxing gear. It's a confrontational start to a confrontational film, jagged and hot with righteous anger.
36. "The Way You Make Me Feel," Center Stage (2000)
The Step Up franchise and the rest of the date-night dance-flick set got most of their moves from this teen-geared drama and its cousin film Save the Last Dance. They all regard dance as a commitment and activity, exploring tensions relevant to an audience presumably well-stocked with junior movers and shakers figuring out a class-life balance. A Michael Jackson–scored routine playacting the plot of the film in miniature (hope you like love triangles!) negotiates the gaps between classical and modern, personal and professional, one culture and another. Both Center Stage and Save the Last Dance vaunt movement as the great equalizer, crossing socioeconomic boundary lines to unite anyone with a sufficiently taut torso. The film goes out with a happy marriage of the old and new, succinctly symbolized in a particularly flashy tearaway costume change.
A curious viewer could spend years watching nothing but Bollywood movies and still only scratch the surface of all that the booming industry has to offer, so intimidated novices ought to start with the greatest hits. That distinction definitely befits Ramesh Sippy's three-hour-plus epic of cops and criminals, as well as the widely seen film's most widely heard song. Good-for-nothing bandit Gabbar (Amjad Khan, a legend of Hindi cinema) has stopped to rest his bones by a roaring fire with some partying villagers, and a bewitching local (the sex symbol known as Helen) catches his eye with her nautch steps while actor Jalal Agha makes a cameo appearance to twang the rubab. Other productions out of India would summon more extravagance in the scope of their dance numbers (keep on reading), but for out-and-out mesmerizing magnetism, nobody could touch Helen's powers of hypnosis.
34. Josephine Baker casts a long shadow, Zouzou (1934)
The present-day influence of Josephine Baker's sui generis style cannot be overlooked, from modern pop stars biting her flapper fashions to hip-hop instructors mimicking her bobbing head and rubbery limbs. Her primary legacy may be that of the first black movie star, but even in the comparably tolerant France, that honor had to be filtered through a lens of Western exotification. Wearing a skirt of bananas and little else made her a name on the revue circuit while nodding to the same imperialist relations hinted at in Carmen Miranda's Tutti-Frutti clip, and in the scene above, Baker's exaggerated movements teased racist Jazz Age stereotypes. Like Miranda, Baker got a leg up on everyone else by owning the bit, using her celebrity and the authority it afforded her to craft a career she could be proud of.
33. "I'm about to tear up the fuckin' dance floor, dude," Ex Machina (2015)
The element of surprise can be a powerful thing. Oliver Cheatham's 1983 single "Get Down Saturday Night" comes out of nowhere in Alex Garland's sci-fi thriller, an ambush no less unanticipated than the sight of Nathan (Oscar Isaac, a mad scientist by way of Steve Jobs) peeling the skin off of his suspiciously quiet assistant (Sonoya Mizuno). Having seen too much, Caleb (Domhnall Gleeson) acts as a petrified audience surrogate, unsure whether this impromptu disco get down will be interrupted by further violence. Like us, he holds his breath, confused and amused and afraid all at once. Just as we identify with Caleb, Garland and Nathan are joined in their purpose, springing a fleet-footed sneak attack for no other reason than keeping their captives off balance. From there on out, all bets are off.
32. "A Lot of Livin' to Do," Bye Bye Birdie (1963)
Ah, to be young and bristling with spite-horniness. Teenyboppers Hugo and Kim (Bobby Rydell and a radiant Ann-Margret) have just called it splitsville, and can't wait to prove to the other how over it they are by striking up with someone else. Once Kim's cycled through the steps du jour, twisting and shaking and mashed-potato-ing cribbed from American Bandstand, in steps Conrad (Jesse Pearson) to lead his flock of groupies in a modified cha-cha like a snake charmer. Never mind that Ann-Margaret and Rydell were both in their 20s during shooting. The unwieldy adolescent lust hanging in the air drives them wild with a bubbly abandon specific to the high-school years, or rather, the rose-colored teeangerdom dreamt up by the cinema.
Jennie Livingston's DIY documentary tore open a portal to New York's underground drag ball scene, where alpha queen "mothers" lord over groups of expert voguers to this day. Reigning supreme among them was Willi Ninja, so called because "ninjas hit hard, they hit fast, they're an invisible assassin, and that's what we are." The boast isn't made idly; he thumbs his nose at laws of physics and biology with a routine that sees him contorting his body into elastic, angular shapes while at one point seemingly hovering above the floor. All the while, he's a model of stoicism, serving lethal face while letting his act do all the talking. Posterity has enshrined Paris Is Burning as a snapshot of a particular time and place, but for the late icon Ninja, taken too soon by the AIDS plague, it doubles as a worthy obituary.
30. "We'll Make Hay While the Sun Shines," Going Hollywood (1933)
Non-diegetic dance sequences tend to burst forth out of emotional extremes, offering a character a reprieve from everyday humdrum by suffusing their environment with their own feelings of joy, melancholy, desperation, what-have-you. In this swooning musical from Raoul Walsh, ingenue Marion Davies falls into a dream where her crush on crooner Bing Crosby takes oneiric wing, except that it only transports her back to the same humdrum most try to escape. Her fantasy imbues ordinary domesticity with razzle-dazzle, likening the wholesome act of making a home and tilling the land to a night on the vaudeville stage. The flailing, vaguely unsettling scarecrows do-si-do-ing with her are just white country gravy.
29. "Take Off With Us," All That Jazz (1979)
It is the great paradox of Bob Fosse's career that musical theater is unabashedly dorky, unless he's the one doing it. Fosse refashioned Broadway movement as slinky and sexy, minimalist and dangerous, gritty and raw. His addictions and many entanglements formed the basis for this Felliniesque work of confession, and his unmistakable choreography reached its most refined form just as he got his directorial bearings. This early number from the show-within-the-film cheekily dubbed "Airotica" supplies a textbook example of Fosse's method, blending '60s stewardess and BDSM aesthetics in a lascivious come-on inviting us to join the ensemble in a pansexual frolic. You don't get a pelvis-popping dance move named after you for nothing.
28. "Jailhouse Rock," Jailhouse Rock (1957)
There's an argument to be made that Elvis Presley ushered in the second half of the 20th century's pop culture with a swivel of his beckoning hips, and this rock-and-roll milestone makes a case in point. All it took was the faintest whiff of sexuality to send his legion fanclubbers into frothy-mouthed frenzies, and the gyrating title number inflates the King's ineffable screen presence to fainting-spell proportions. With his coiffure impeccably curled and his jeans taunting the clucking watchdog groups, he shake-slides across the soundstage as if he's coated the prison-industrial complex in Crisco. He's the bad boy and he dances like one, sneering while throwing his midsection this way and that with a boxer's balance of precision and brute force. Accept no substitutes.
27. Carnaval do Brasil, Black Orpheus (1959)
Directed by a Frenchman seeing the Brazilian favelas through the eyes of a visitor, Marcel Camus's reinterpretation of Orpheus and Eurydice's mythical courtship has a complicated relationship to its own racial politics. His ascription of supernatural whimsy to a politically turbulent area sometimes sanitized its setting, but his enthused, observational dance interludes faithfully bottle the exuberance of the carnaval season. Drinks are flowing, the band's kicking, and everyone's free to join the throng. And then there's siren Marpessa Dawn in the Eurydice role, twirling around without a care in the world, a woman undoubtedly worth the schlep to Hell. With all the unadulterated joy pouring out of the frame, one starts to see why Camus mistook Rio de Janeiro for the Elysian Fields.
26. Anna May Wong charms the colonizers, Piccadilly (1929)
Like Josephine Baker, the silver-screen idol Anna May Wong made strides as the first of her race to gain a foothold in the racist hotbed of Hollywood, and as with Baker, that identity was promptly caricatured as a collection of broad visual signifiers and reductive character traits. Indiana Jones and the Temple of Doom ironically scare-quoted the same Orientalism very much played straight here, but any regrettable subtext doesn't detract from Wong's poise and grace a single iota. Tragically aware of her station as a traveling curiosity to the gaggle of English rubberneckers, she mainly telegraphs sadness, covering her face with her hands in a clear sign of despair. Of course, the Westerners respond only with hoots and hollers.
25. "Megha Re Megha," Lamhe (1991)
An expensively-produced ensemble number is only as good as its gimmick, and in the highlight scene from his universally acclaimed Bollywood romance, director Yash Chopra has two. Anyone can stage a combination in the pouring rain, but it takes an uncommon inspiration to do so while sending half of the chorus girls sailing through the air on swings. The intersection of creative audacity and boatloads of money led to Babylonian displays of decadence such as this, in which Viren (Anil Kapoor) gets an eyeful of the lovely Pallavi (Sridevi) while getting the lay of the land around his new town in Rajasthan. He's going to end up as a match for her daughter, but for the time being, his astonishment for her runs strong and pure. Who wouldn't fall in love at first sight, when this is the first sight?
The bit in Hail, Caesar! where ScarJo squeezes into a "fish ass" as a bathing beauty with a secret pregnancy? She's doing Esther Williams, a world-renowned synchronized swimmer and the muse for some of Busby Berkeley's wettest and wildest contrivances. (And for the record, Channing Tatum's doing Gene Kelly in On the Town for "No Dames.") After establishing a reputation as Tinseltown's go-to-gal for seafaring stunts, Williams found the role she was born to play in Annette Kellerman, an Australian athlete-turned-actress who broke boundaries for women in sport as in entertainment. Berkeley put Williams's unique skill set through its paces, as she remains the picture of glamour all while slipping in and out of the pool. To this day, scientists cannot explain how a platform fringed with fully ignited sparklers could emerge un-doused from the water.
The musicals of Jacques Demy are cinematic dark chocolates, lovingly made confections that start sweet and end on a bitter note. Twin sisters Delphine and Solange (Catherine Deneuve and Françoise Dorléac) will grow intimately acquainted with discontentment by the end of the film, but first, they get to romp around the town square in effervescent bliss with a pair of strapping boys who are keen on picking them up. Norman Maen's choreography synthesizes perfectly with Michel Legrand's music, both of them as eager and weightless and fidgety with hormonal excitement as the chaste flirtation playing out onscreen. Love's a fickle mistress in Demy's estimation, tantalizing from just beyond arm's reach, but we can savor the little tastes we get during our flashes of untarnished happiness. For now, a cute boy and a sunny day will be more than enough.
22. "All These Things That I've Done," Southland Tales (2007)
So, to get you up to speed: It's 2008 (well, 2006's idea of 2008) and World War III has ushered in a surveillance state fueled by crypto-fascist hysteria. Our narrator Pilot Abilene (Justin Timberlake, playing against type and yet unmistakable as himself) takes the edge off all the PTSD he brought home from Iraq by dosing with "Liquid Karma," an intravenous drug that splits the difference between DMT and 2C-E. Halfway through a bizarre Bush-era satire in which director J. Richard Kelly makes it clear that anything could plausibly happen, he proves he's not joking around by inserting a surreal standalone Killers lip-sync with a full corps of sexy-nurse backup dancers. The scene's dumbfounding incongruity with the rest of the film somehow makes it more apropos, just another hallucinatory diversion in a run-time full of them. Just relax and lose your mind.
21. "Everybody Rejoice," The Wiz (1978)
As metaphors go, this one isn't the subtlest, but since when does any musical's Act II finale aim for subtlety? Having dispatched the Wicked Witch (Mabel King) and completed the odyssey from Harlem to the gleaming Emerald City of downtown Manhattan, intrepid Dorothy (Diana Ross) frees the Winkies from their sewing-machine slave labor in a loaded gesture of liberationism. The urban utopia only gains in potency for its straightforwardness, sticking a tableau of black excellence right in the blockbuster mainstream where everyone can see it. Songwriter Luther Vandross and music supervisor Quincy Jones wanted to leave audiences with a swell of hope for a brighter future. In time, both Judy Garland and Diana Ross's Dorothies learn the sad lesson that a place so loving and kind could only be a figment of their dreams. For the duration of this song, however, heaven feels a little closer to Earth.
20. Saraghina does the rumba, 8 ½ (1963)
It's like a scene out of a Norman Rockwell painting, if Rockwell was a thirsty little Italian boy. Federico Fellini's avatar, Guido, reminisces on a fond childhood memory of gathering with his friends to watch the local prostitute (Eddra Gale) cut a rug on the beach, and though this image goes down as his first taste of grown-up sexuality, he looks back on Saraghina as a totem of his juvenile innocence. Women confound and bedevil Guido in every avenue of his adult life, and so he pines for the simplicity of these younger years, before the fairer sex started sharing their opinions and having feelings and demanding things of him. Saraghina appeared to these boys at a point when they could afford to be immature and revel in that immaturity — a luxury that the put-upon Guido sorely misses.
19. "Elevator to the Gallows," Burning (2018)
The most recent entry on this list is also the most recent U.S. release, so in the interest of preserving the mystery, let's stick with the basics: Hae-mi (Jeon Jong-seo) has wedged herself in a love triangle between sympathetic slacker Jong-su (Yoo Ah-in) and well-to-do dreamboat Ben (Steven Yeun). She has no knowledge of what's going to happen to her, and yet as she winds through twilight to the mournful tones of Miles Davis, she affects the serenity of someone who's made peace with her fate. She bares her breasts in full view of both men with the confidence of someone who knows that she can't be touched, her aloofness all but lifting her to a transcendental plane. She'll return to the ground, but for a few captivating minutes, she's above it all.
18. Grace Jones casts her spell, Vamp (1986)
Go ahead, take a good look. As Queen Katrina, a part-time go-go girl and full-time vampire working for tips at a run-down strip joint, Grace Jones is here to be seen. Adorned with a network of hand-doodled designs courtesy of Keith Haring, she makes for a particularly exquisite object to be leered at by a trio of randy college kids. But this is Grace Jones, the Grace Jones — surprise, surprise, she's much more than they bargained for. She enacts the timeless seduce-and-ensnare with an otherworldly finesse, white pancake makeup and an orange fright wig rendering her more of an alien than a monster. And in case there was any confusion as to whether Jones fully owned her portrayal here, that's her singing on the soundtrack.
17. "The Lindy Hop," Hellzapoppin' (1941)
Hailing from Harlem's august Savoy Ballroom, Whitey's Lindy Hoppers elevated this frantic, acrobatic permutation of swing into a death-defying art form all its own. In H.C. Potter's gleefully unhinged, fourth-wall-crushing sendup of the Hollywood dream factory, concentric narratives-within-narratives spit the viewer out in the middle of a throw-down between Lindy-hop virtuosos like Al Minns, Frankie Manning, and Willa Mae Ricker. This is high-stakes dance, the fearless pros putting Cirque du Soleil to shame as they flip, lift, throw, and catch one another, always one slight error away from a snapped neck or a crushed ankle. Inexhaustible even when squeezed into a French maid getup, Manning looks like she could very well jump out of her skin.
16. "Girl Hunt Ballet," The Band Wagon (1953)
This film gets overlooked by posterity for being the Vincente Minnelli-Cyd Charisse collaboration that isn't Singin' in the Rain, but this one's got a secret weapon in Fred Astaire. He positively glides through this deconstructive film noir fantasia, suitably inhabiting the gumshoe archetype while simultaneously letting all the hot air out of it. Astaire had internalized the concept of dancing as acting; in the clip above, he plays off of his own voice-over, telegraphing a cogent series of expressions without missing a single beat. Critics have been known to draw liberally from the well of ballet comparisons when discussing kung fu cinema, but Astaire's white-belt martial arts reverse the scales. In this instance, he's Dick Tracy by way of Bruce Lee by way of, naturally, Fred Astaire.
15. "Hip to Be Square," American Psycho (2000)
There's really only one dance move in the most infamous sequence from Mary Harron's grimly hilarious lampoon of Reaganite Wall Streeters, when unstable investment banker Patrick Bateman (Christian Bale, homicidal and keepin' it upbeat) does a little wiggle after putting his new favorites Huey Lewis and the News on the stereo. In this scene, however, he's giving his own twist on a piece of choreography that long predates the New Wave. He dutifully goes through the motions of the slasher villain, laying the trap and adhering to his ritual. (Note that he has to pop a couple pills before he can work up the mojo to kill.) The steps are the same, but the spirit of the tune has changed, the poppy guitar licks of "Hip to Be Square" comically clashing with the gristle just out of frame. In this profane hybrid, Harron translates novelist Bret Easton Ellis's confluence of literal aggression with the ruthless hunger of '80s capitalism.
Spanning 17 minutes and multiple suites, the climactic ballet from Vincente Minnelli's magnum opus takes Gene Kelly on a highbrow tour through the music of George Gershwin and the paintings of Toulouse-Lautrec, Renoir, and Dufy, to name only a few. MGM coughed up nearly half a million dollars to bring Minnelli and Kelly's mad experiments in interdisciplinary art appreciation to life, bankrolling gargantuan sets and ornate hand-painted backgrounds. But the real stars of the show are Kelly's left and right feet, Shakespeare's quill and ink, heaven-sent instruments that sometimes appear to be operating independent of their owner. When he really gets cooking, Kelly can barely keep up with himself, pulled this way and that by his own legs as if they're willful dogs on leashes. The man's genius was in maintaining the illusion of holding on for dear life when he was, in actuality, in complete command. Best of all, he made it look so damned easy.
Hey, kids, you too can get in on the dance craze sweeping the nation! It's called the Pee-Wee, and all you've got to do is bend your knees, curl your hands into miniature raptor claws, and give 'em two shakes in front, two shakes in back. But for real — inclusivity was a significant part of the appeal for Paul Reubens's grey-suited Peter Pan, a man-boy delighted by nearly everyone and everything. No worries if he gets himself in hot water with a grumpy gang of bikers after domino-knocking their hogs over, plain friendliness and the universal language of music will save his bacon. He defuses the situation by being himself — making a party out of any room he happens to be in and extending an open invitation to all who are present. Anybody can be a part of his act, just yell the secret word: "TEQUILA!"
Just how seriously does writer-director Jared Hess want us to take Napoleon Dynamite, milk connoisseur and friend to llama-kind? His 15 minutes in the spotlight first scan as a rigorously committed deadpan bit from Jon Heder, and maybe it's just because he actually turns out to be a sensual, assured dancer, but the tater tot aficionado resembles a bona fide star until he awkwardly gallops off the stage. Hess condenses the film's arc into one compact package, introducing Napoleon as an easily-sniggered-at weirdo and gradually shading him in to expose sensitivity, vulnerability — y'know, humanity. Burdened for a decade by office-party parody and overexposure, the film's reputation is now on the upswing, and it proves its empathetic side when Napoleon splays himself open to share his art with his peers. (Plus, those moon boots are must-haves.)
11. The grand finale, Magic Mike XXL (2015)
When you're beholding the ne plus ultra of male-stripper movies with a group of rowdy friends, one or six rosés deep, there's a moment when it genuinely feels like the seventh art peaks at that convention in Myrtle Beach. To be specific, that moment is when Channing Tatum and Stephen "tWitch" Boss high-five while pantomiming intercourse on their respective dance partners. This sequel took the splendorous body-worship of the first installment and ran with it, all the way to a hedonistic Avalon governed only by the pleasure principle. Magic Mike XXL is a movie about people who live to make other people feel good, and that director Gregory Jacobs shares that noble mission is never clearer than in Mike's gloriously gratuitous goodbye. He leaves it all onstage (save for his underwear), groin-thrusting like he's never groin-thrusted before.
10. "Modern Love," Mauvais Sang (1986)
Frances did it, Marty did it, but Alex did it first. Director Leos Carax visualized the epitome of youth in revolt by sending a wiry Denis Levant on a sprint down the rue of his futuristic, disease-ravaged Paris. Alex kills time by having detached, unromantic sex with his crooked employer's comely lover (Juliette Binoche), and David Bowie's materializing on the radio sends that disaffected indifference spilling over into hyperkinesis. At first doubling over in apparent agony, Alex then breaks into a mad dash going nowhere in particular, the perfect analogue for a punk bursting with vitality and utterly devoid of direction. His destination makes no difference, at least not to him. He just needs to get all the excess energy out of his system.
9. Jack Rabbit Slim's Twist contest, Pulp Fiction (1994)
The prestidigitation of Quentin Tarantino is to render cool that which was previously uncool: novelty restaurants, the Watusi, John Travolta. He works his sorceries on a chronological basis, resurrecting long-since-expired pop-cultural cachet by returning his characters and audience to the heyday of the entity in question. Tarantino tapped Travolta with recollections of Saturday Night Fever fresh in his mind, certain that the capacity for greatness had not fled the actor, and he returned the favor by delivering the goods. The slickster audiences knew and loved inhabited Vincent Vega as a specter possesses a vessel, a potent hit of nostalgia emanating from the baggage his celebrity persona brought with it. As Vincent and flirtatious femme fatale Mia Wallace (Uma Thurman) lose themselves in a kitsch wonderland that apes the vintage flair of 8 1/2, Tarantino's stew of references falls into the background until all that's left is the electricity crackling between Travolta and Thurman.
What puts this above the brisk dress-swishing of "America," the greasy testosterone of "Jet Song," or the madcap hijinks of "Gee, Officer Krupke"? All of West Side Story quivers with the potential for tragedy, and at the dance requiring the Puerto Rican and Anglo-American factions to coexist on the dance floor, the powder keg nearly combusts. Choreographer Jerome Robbins essentially invents the street break-dance battle 20 years ahead of schedule with the face-off between the Jets and Sharks, the groups trading 16-bar segments instead of blows. Amidst the chaos, our Romeo and Juliet (Richard Beymer and Natalie Wood) single one another out and share the special kind of privacy one can only find in a crowd of hectic dancers. But even as partial-focus photography relegates their rival posses to the background, the coiled-spring tension between them persists, their fragile ecosystem teetering on the brink of all-out war.
7. "The Rite of Spring," Pina (2011)
The revered dancer, choreographer, and instructor Pina Bausch, whose life and works get a fitting tribute in Wim Wenders's sumptuous 3D documentary, advanced her art form by conceptualizing it as a holistic philosophy. To put it in the simplest terms, she preached that dance must be first understood and integrated into the dancer's very soul before it can be performed, and she put that idea into practice with this Stravinsky piece. On a stage layered with peat soil to evoke the base and elemental (complemented by the earth-tone, threadbare nightgowns), groups divided by gender stammer back and forth in anguish, their imperfections and dissonant movements all in service of a loftier cause than simple unison. Prostrating before their high priestess Bausch, they submit their own bodies as the sacrificial payment to enter conversation with the divine.
6. A special anniversary performance, Dogtooth (2010)
When my sister was young, she and her friends would spend hours in front of the mirror rehearsing routines they'd seen in movies or music videos; not unusual behavior for grade-school girls, as I understand. In Yorgos Lanthimos's Greek-language breakout, a dictatorial father (Christos Stergioglou) stunts the growth of his daughters (Angeliki Papoulia and Mary Tsoni) by sequestering them in their isolated home, and their arrested development rears its misshapen head as they put on a lo-fi recital for their parents. They shuffle back and forth, caged birds in the same genus as the accordion-playing Joan, until the little sis gets tired and the big sis busts out some salacious moves picked up from furtive viewings of her forbidden Flashdance VHS. Though her intent gets scrambled through the blackly humorous dialect Lanthimos has since spread to our shores, she's demonstrating her first defiant whims of independence. Like Alex Owens before her, she has no choice but to dance her way out.
5. "Pick Yourself Up," Swing Time (1936)
No cuts, no close-ups, no camera flimflammery whatsoever. Director George Stevens needed nothing more than Fred and Ginger, a whirlwind of spats and cravats wending their way across the floor in flawless harmony. In the sixth of their ten films as partners, they had hit their stride, bonded by the unalloyed trust of performers accustomed to one another's rhythms. It's somewhat rich that they play strangers who have never danced together — he's a gamblin' man with fancy feet, she's a big-city dance teacher he's fixing to swindle — in a scene that's entirely reliant on their alchemical rapport. Old hand Astaire pretends to be a newbie whipped into shape by Rogers's tutelage for the sake of her onlooking boss, and for a fleeting instant, even she looks shocked by how well they go together. Which, yes, she does backwards and in heels.
You can indeed tell by the way he uses his walk that he's a woman's man. (No time to talk.) As Bay Ridge bronco Tony Manero, Travolta projects self-assurance as we human beings can only wish to do, the very picture of machismo as he struts down the sidewalk in his eye-catching threads. It's all too put-together to be real, and Tony's sartorial swagger belies his dead-end job and cramped cohabitation with his family. On the illuminated proving ground of the discotheque quadrangle, however, he can pass as his most aspirational self and rule like an emperor. Men want to be him, women want to be with him, and viewers want to spend eternity in thrall of a peerless charm offensive.
The writing-producing-directing team of Michael Powell and Emeric Pressburger ravished audiences with lush dreamscapes of brilliant color and opulent design, and with the sprawling centerpiece of this Hans Christian Andersen adaptation, they stretched to a new, chimerical high. The fable of a ballerina (Moira Shearer) who found an enchanted pair of slippers and fell prey to the nefarious Shoemaker (Léonide Massine) provides the brain trust known as The Archers with magnificent scaffolding on which to hang their collection of Impressionist influences. They form the link between museum-favored masters such as Monet and Degas and New Hollywood upstarts like Brian De Palma and Martin Scorsese, erecting a gleaming rainbow bridge between stuffy high art and spectacle-oriented pop cinema. A world-class creative team mustered all of their talents for 15 entrancing minutes, and the result is one of the most overwhelmingly gorgeous passages in movie history.
2. "Rhythm of the Night," Beau Travail (1999)
There must be something about Denis Levant that makes esteemed French cinéastes want to crank their banger of choice up to 11. Director Claire Denis drops the needle on Corona's signature club-crusher for the Mauvais Sang star's other legendary dance scene, another sudden release of repressed verve. Except this time around, the cinematography traffics in stasis instead of motion, tidily corresponding to a deeper reversal at play: Levant unleashed all his rambunctiousness in the earlier role, but as Foreign Legion Sergeant Galoup, he can't bring himself to reckon with his sublimated homosexual urges. He and his men must channel their pent-up libidos into masculine activities such as wrestling, ironing, and, during the epilogue set in a Djiboutian party hall unstuck from the narrative timeline, stylized convulsions. Cast out of the military he held so dear, he'll never be able to face himself. Corona is his last refuge.
The pinnacle of Stanley Donen and Gene Kelly's creative partnership saluted fakery in its many forms; brick walls made of paper, dulcet vocals piped in to cover twangy screeching, stars rewriting their own backstories. Donen's forced-perspective camera games were made possible by a warehouse-sized set that goes on forever and somehow keeps getting bigger as he pulls back and Kelly scurries into the distance. Though Donen and Kelly have nothing but affection for all the artifice, their crowning achievement excels on the merits of that in it which is real. Specifically, the technical prowess of Kelly and his trusty right-hand gal Cyd Charisse, a pillar of truth in a palace of beautiful fibs.
Watch this scene as many times as you like, and you'll continue to find steps that elude comprehension — how does he pivot from there to there so seamlessly, why doesn't she fall over while leaning like that, how is it possible that they could anticipate every minuscule quirk of the other's movements? Singin' in the Rain gets its kicks pulling back the curtain on our entertainment demigods, but if it's all the same, I'd rather not know. They're practical effects that can't be faked — magic, as far as we're concerned.
And 20 more we couldn't go without mentioning …
"Diamonds," Girlhood (2015)
Disqualified at the finals, Strictly Ballroom (1992)
One last battle, Drumline (2002)
"Jump in the Line," Beetlejuice (1988)
A thoroughly choreographed prom, She's All That (1999)
"The Rich Man's Frug," Sweet Charity (1969)
"Maniac," Flashdance (1983)
"Follow in My Footsteps," Broadway Melody of 1938 (1937)
"Love Train," The Last Days of Disco (1998)
NOLA dance battle, Girls Trip (2017)
"The Electric Slide," The Best Man (1999)
Up on the table, 10 Things I Hate About You (1999)
"Aquarius," The 40-Year-Old Virgin (2005)
In the swing of things, Swingers (1996)
"Dance of the Hours," Fantasia (1940)
"Footloose," Footloose (1984)
At the Coco Bongo, The Mask (1994)
"No Dames," Hail, Caesar! (2016)
The last serving, You Got Served (2004)
"You Don't Own Me," First Wives Club (1996)