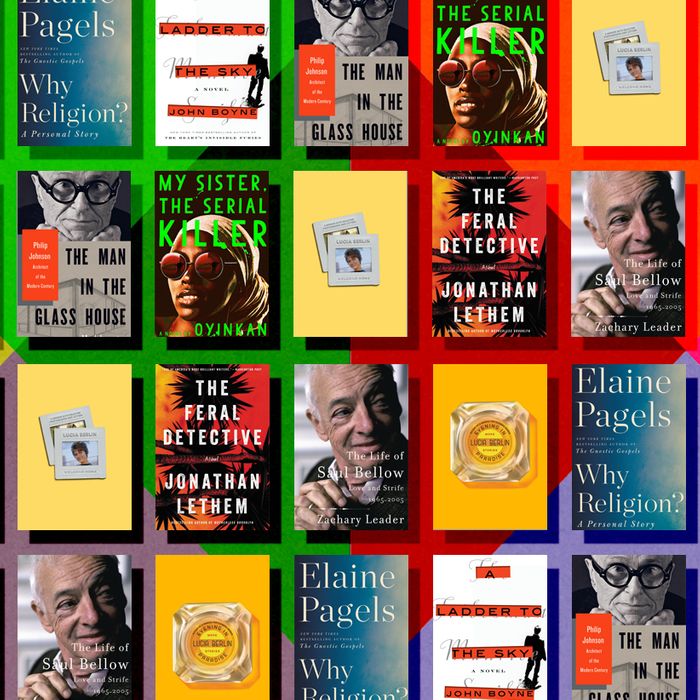 Each month, Boris Kachka offers nonfiction and fiction book recommendations. You should read as many of them as possible. See his picks from last month and next month.
In 1979, Pagels's The Gnostic Gospels, an analysis of "apocryphal" ancient texts, blew the doors of Christian dogma wide open. Several years later, the religion scholar lost her young son and husband in the space of a year — a fate worthy of one of her favorite subjects, Job. In clear, unsparing prose, Pagels enmeshes personal mourning, scholarly rigor, and one of the smartest modern testaments to the consolations as well as the inadequacies of spirituality. A small revolution in memoir to match the one she led in theology decades ago.
If you've come this far in the Berlin oeuvre, resistance is futile. The itinerant and troubled writer died in 2004, but more than half of her 76 short stories were published three years ago in A Manual for Cleaning Women, making her a posthumous literary star. Evening in Paradise produces 22 more tales, including a fictionalized version of Berlin's encounters with the famously louche cast and crew of The Night of the Iguana. Welcome Home comprises Berlin's fragmentary, unfinished memoirs, bringing into focus a writer whose life was as wild and tragic as her fiction. (Note: Both books available through the link below.)
One of the 20th century's great white male (Jewish) lions was a fine embodiment of the warning against meeting your heroes. Among the reasons the second half of his life is well worth examining (in part two of Leader's masterful biography) is the ways it diverges from the changing world. After 1964's Herzog made him world-famous, Bellow became more conservative and more imperious — especially toward women. Leader also shows how deeply biographical Bellow's novels were: ruthless autofiction in a gilt postwar American frame.
To say this is the biography Johnson deserves is no compliment to him. Gracefully and unflinchingly, Lamster depicts the long-lived American modernist poster boy as a man of great strengths inseparable from his even greater flaws — his hunger for self-promotion; his sympathy for the Nazis, notwithstanding his homosexuality, his flexibility with clients, and rigidity in style. Just as importantly, Lamster uses him to point up the amorality of the modernists — social visionaries with massive blind spots, indebted to power and money no matter who had it. (Spoiler alert: Johnson worked with Trump.)
The title character of this noir set in the hinterlands of California's Inland Empire is supposed to be Charles Heist, a rescuer of runaways who keeps injured wildlife (human and animal) in his office. But the designation ultimately belongs to the book's real protagonist, New Yorker Phoebe Siegler, who calls on Heist in search of a lost New York girl. She finds much more than that — warring factions of a former Utopian cult and, ultimately, her own feral spirit — in Lethem's triumphant return to the genre.
Maurice Swift may not be much of a novelist, but he inhabits a literary tradition going to back to Patricia Highsmith. Boyne's protagonist is Tom Ripley as literary climber, whom we first meet through the eyes of his first victim, an aging German author. Swift turns his older mentor's darkest secrets into scandalously thin fiction and never looks back; the only one who can see through him is Gore Vidal, in a supremely witty interlude. Boyne's novel is about high literature but has lower, juicier ambitions, at which it wildly succeeds.
There's something seductively flippant in the quite literal title of this debut set in Lagos, Nigeria, narrated by non-murdering sibling Korede. Her sister Ayoola has so far dispatched three boyfriends, with Korede, a nurse, assisting in corpse disposal. The stakes rise as a man Korede's crushing on begins dating Ayoola. As she puzzles out how to warn him off without exposing herself and her sister, another suitor enters the picture. Braithwaite brings wryness, lightness, and cool to the thriller game, along with an atmosphere that's unique in the genre.
Every editorial product is independently selected. If you buy an item through our links, Vulture may earn an affiliate commission.