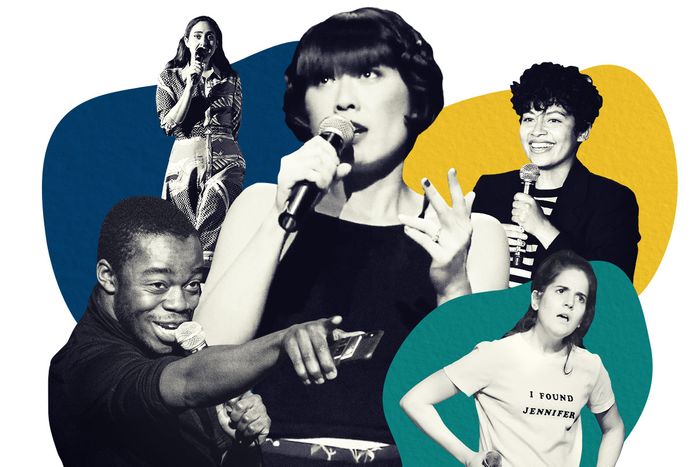 Demi Adejuyigbe, Catherine Cohen, Atsuko Okatsuka, Lorelei Ramirez, Ana Fabrega.
Photo-Illustration: Vulture and Photo by Getty Images
Vulture has been making this list, in one form or another, since 2013, always with an eye on giving readers their first look at their future comedic obsessions — be it Bo Burnham, Broad City, Michelle Wolf, Phoebe Robinson, or Thomas Middleditch. And no matter how worried we are that we tapped the scenes dry, when it comes time to do another list, there is another exhilarating group of comedic minds. This year was no exception, with comedy in New York and Los Angeles feeling more exciting than it has in years.
To make our list of 38 comedians – which features 21 comedians, duos, and groups – Vulture reached out to dozens of stand-up, improv, late-night and comedy-festival bookers, as well as development executives from FX, IFC, Comedy Central, Showtime, truTV, TBS, Adult Swim, Funny or Die, Midroll, HeadGum, Audible, and more. In total, the list tries to capture who the industry is talking about at this very moment. How and when each get their break is still to be seen, but you should know these comedians — and you will.
For those living in L.A., five of the selections from the list will be participating at a special showcase at Vulture Festival on Saturday November 17. Click here for more details.
Demi Adejuyigbe
Twitter: @electrolemon
Location: Los Angeles
While many are still trying to make sense of how to shoehorn comedy into various internet platforms and social-media networks, Demi Adejuyigbe seems to have the code figured out for making funny all across the internet. He is simultaneously a master parodist, an accomplished writer in all forms and places (@midnight, The Good Place, The Late Late Show With James Corden, Cartoon Network, The New Yorker), and successful podcast upstart (The Gilmore Guys and Punch Up the Jam). Recently labeled by Pitchfork as the "Weird Al of his generation," Adejuyigbe has made ripples across the web by expertly making songs about the 2017 Oscar Best Picture nominees as if they were done by Will Smith.
Astronomy Club
Twitter: @ClubAstronomy
Location: New York
Recently declared "Comedy Central's best new digital series" by this very site, Astronomy Club is both a hit web series and the collective name of the team behind it, whose highly accomplished roster includes Keisha Zollar, James III, Monique Moses, Jerah Milligan, Caroline Martin, Ray Cordova, Jon Braylock, and Shawtane Bowen. Writing and performing together since 2013, Astronomy Club stands out from other sketch teams for their unparalleled ability to weave nuanced and complex views on race and identity into commercially appealing sketches, a skill they've been honing in shows like their long-running Let's Talk About Race, Baby! and which they truly perfect in their latest effort for Comedy Central, an exploration of lesser-known historical heroes that's packed with both heavy political commentary, and more pound-for-pound laughs than most sitcoms.
Emmy Blotnick
Twitter: @emmyblotnick
Location: New York
If you don't know Emmy Blotnick by now, you haven't seen her hilarious late-night sets on both Conan and The Late Show (where she is now a staff writer), her Comedy Central half-hour in October, or the fact that she was a Just for Laughs New Face in 2018. She's blowing up, with good reason, after being a hardworking writer for @midnight and The President Show, among others. Her stand-up is delightfully awkward and intelligent, like your smartest friend hardly being able to hold back her own laughter while telling you a hilarious story about how she fell down a Wikipedia hole while researching the girl group Fifth Harmony (one of her best bits). Her material on dating is also refreshing, like how she's done going to "comic-book movies" until her mate sees it from her side. Look out for undoubtedly more Emmy in 2019.
Catherine Cohen
Twitter: @catccohen
Location: New York
Through sardonic jokes and songs, Catherine Cohen beautifully satirizes the idea of being the "It" girl and all the sociopolitical layers that come with it. It's that hyperspecific niche that has seen Cohen ascend up the ladder in New York City comedy, specifically with her solo show The Twist? She's Gorgeous. Cohen is a big part of a new wave in comedy, much of which happens in NYC, that blends a bit of musical theater, stand-up, and performance art in an act of mischievous subversion, which you can see in her live showcase Cabernet Cabaret at Club Cumming. Her solo show will be playing in London soon and probably, if we had to guess, several other major cities not too far from now.
Sonia Denis
Twitter: @sonideni
Location: New York
Former Chicagoan turned New Yorker Sonia Denis has been riling up crowds at comedy festivals and in the country's best indie rooms for years with her high-energy, highly charming brand of stand-up. The kind of comic who makes you feel like you're hanging with your funniest friend, Denis tackles topics from the well-worn (like the gentrification of Brooklyn) to the offbeat (like the financial health of the porn industry) with spirited insight and enthusiasm. While you may just be discovering Denis, she's been on the industry's radar for years, earning a spot on Comedy Central's Comics to Watch list back in 2016, co-starring in the Emmy-nominated web series Brown Girls in 2017, and being tapped to host — and head the writers room for — Refinery29's Facebook Watch talk show After After Party earlier this year.
Debra DiGiovanni
Twitter: @debradigiovanni
Location: Los Angeles
If you ask around, many a stand-up comedian who knows better will admit that they do not want to follow Debra DiGiovanni. She is a rare breed of comedian these days in that she lives up to a high laugh-per-minute ratio (an old and stringent industry standard) with her rapid-fire rhythm, delivery, zippy energy, and instantaneous charm. DiGiovanni has conquered the comedy circuit in her home country of Canada and has come down south to dazzle U.S. crowds. She certainly has done that wherever she plays, including on her special Single Awkward Female, album Lady Jazz, and in her debut late-night set in America on Conan.
Ana Fabrega
Twitter: @anafabregagood
Location: New York
Ana Fabrega's comedy is a unique blend of quiet observation and incredibly creative thinking that makes you almost envious of how her brain must work, as evidenced in the above clip from The Chris Gethard Show. You've probably seen her pop up on some of TV's other quirky comedies like Portlandia and At Home With Amy Sedaris or performing around New York with peers like Julio Torres (with whom she is set to star in Fred Armisen's upcoming HBO Spanish-language series Los Espookys, produced by Lorne Michaels). She was named a Just for Laughs New Face in 2017 and a Comedy Central Comic to Watch the year before, so expect to see more of her in 2019.
Marie Faustin and Sydnee Washington
Twitter: @MsReeezy and @JustSydNYC
Location: New York
Individually, Marie Faustin and Sydnee Washington are two of the brightest stand-ups in New York, with spots on most of the country's acclaimed "best of" lists and live shows between them — and when the pair team up, like on their podcast The Unofficial Expert, they're a legit powerhouse of charisma, shining through the smart banter and truly LOL-inspiring asides that arise as they explore very specific facets of human existence (like learning how to make small talk, or what it feels like to go bald). Faustin and Washington's ability to connect with just about anyone makes them natural hosts who draw as many laughs as actual facts from their expert guests, and their very real friendship gives anything the two touch an irresistibly genuine feel.
Megan Gailey
Twitter: @megangailey
Location: Los Angeles
In Gailey's Twitter bio, she lists "Indy-Chicago-NYC-LA, I'm tired" as her city. Truly, Megan's comedy does reach for both coasts as well as the middle of the country, where she was born and raised in Indiana. What's more amazing is that her comedy is still biting, timely, personal, and inviting all at the same time, in an attempt to buck the current stereotype of white women (and, with her expertise in sports, women in sports media to boot). This dynamic has taken Megan to touring the country as a stand-up, doing the NFL Network's The Checkdown, co-hosting the podcast Let's Talk About Texts! and part of the panel for Hysteria, and having a series currently in development at ABC.
Mekki Leeper
Twitter: @MekkiLeeper
Location: Los Angeles
It's been a big year for stand-up Mekki Leeper, who landed spots on the prestigious New Faces showcase at Montreal's Just for Laughs festival and on Up Next, Comedy Central's annual list of noteworthy up-and-comers — impressive credits for this fairly recent addition to the L.A. scene, transplanted from Philadelphia and still in his early 20s. While he's quickly earned acclaim for his stand-up, Leeper's becoming comfortable working behind the scenes, too, writing and directing the Comedy Central web series Resolutions, which premiered earlier this year, and contributing to last year's White House Correspondents' Dinner, a gig he surely earned thanks to his skill at putting the perfect amount of unexpected twists in the punch lines he delivers with just-above-deadpan enthusiasm.
Jamie Loftus
Twitter: @jamieloftusHELP
Location: Los Angeles
Calling Jamie Loftus a multi-hyphenate might not be good enough in describing how innovative and amazing she and all her comedy really are. Often, she ends up being the comedy equivalent of a gonzo journalist, too. A recent joining of the supposed intellectual organization known as Mensa by Jamie led her to uncovering the association's dark side and shining her satirical light on it. Aside from that, she has done an entire solo show about losing her virginity from several different POVs Rashomon style; taught herself animation and made a whole series of wonderful and dark non sequitur cartoons featured at Vice, Comedy Central, etc.; and co-hosts the acclaimed podcast The Bechdel Cast, revisiting films with a feminist eye. We should mention that Loftus does traditional stand-up, too, but it does involve her obsession with the fish god from The Shape of Water.
Jessica McKenna and Zach Reino
Twitter: @jessrmckenna and @zachreino
Location: Los Angeles
Separately, Jessica McKenna and Zach Reino are forces to be reckoned with, boasting credits that include starring in their own shows on Fox, Amazon, IFC, and CollegeHumor, as well as doing sold-out runs at the highly competitive Edinburgh Festival Fringe. Together, they are titans of musical comedy. Whether they're performing written work or improvising, McKenna and Reino have dazzled folks as the Zach and the Jess, in an ABC digital series Serious Music, and especially with their latest venture, Off Book: The Improvised Musical podcast. The weekly, completely improvised musical has quickly become another hit for Earwolf that, when done live, has packed houses and guests such as Rachel Bloom and Taran Killam. As a result, Off Book has been on a nationwide tour in the latter half of 2018.
Atsuko Okatsuka
Twitter: @atsukocomedy
Location: Los Angeles
Okatsuka, an immigrant to the U.S. from Japan, has really achieved that old-fashioned "American Dream" via "pulling herself up by her own bootstraps" in comedy. She has performed stand-up around the country and acts, writes, dances, often altogether in her woke live-show take on a game show, Let's Go Atsuko. Her stand-up is a pretty perfect distillation of the Japanese-American experience delivered as succinct observations in a cool, calm, collected manner. Thus, Hulu gave her an hour stand-up special that premiered this year, and she got to consult on Jena Friedman's masterfully dark Adult Swim special Soft Focus. On top of all of that, she has found a way to make twerking on Instagram an expression of living free in a time of uncertainty and divisiveness.
Larry Owens
Twitter: @larryowenslive
Location: New York
In addition to being a theatrical actor with musical chops, Larry Owens is one of New York's funniest new voices (and one of Time Out NY's comedians to watch in 2018). After training in improv and acting at the School at Steppenwolf in Chicago, Owens made his way to New York, where he performs regularly at bar and basement venues (he co-hosts Decolonize Your Mind at Union Hall), as well as theaters like Carolines, with his infectious mix of song and jokes about pop culture, diversity, and pretty much everything relevant in 2018. He describes his Twitter feed as being "queer intersectional graffiti on patriarchal media systems," which is accurate, but leaves out that he's one of the funniest people on the platform, especially when it comes to celebrity retweets. But like most comedians who have a musical act, Owens is best seen to be believed.
Lorelei Ramirez
Twitter: @PileOfTears
Location: New York
If we're being technical, Lorelei Ramirez is more of an artistic trailblazer than a straight-up comedian, and as much an advocate for others as a creator of compelling, offbeat entertainment. As host and curator of the monthly variety show Not Dead Yet and one half (with comedian Patti Harrison) of the podcast A Woman's Smile, Ramirez was racking up accolades in the visual and performance art worlds before she found herself perfectly cast in several cult hit shows (Cry of Mann, the Lynchian cartoon that Baltimore-based performance pioneers Wham City created for Adult Swim, and unpredictable public-access show The Special Without Brett Davis). She also creates her own beautifully experimental short films and sketches and is one of the minds behind Viceland documentary series The Creator's Project. With a natural curiosity that makes her such a compelling host and performer, Ramirez is creating her own personal brand of brightly funny, personality-driven performance.
Matt Rogers and Bowen Yang
Twitter: @mattrogerstho and @bowenyang
Location: New York
When "I DON'T THINK SO HONEY!" — the popular segment and phrase from Bowen and Matt's hit podcast Las Culturistas — becomes a rallying cry on the internet and IRL during the 2020 election, you can thank the duo appropriately. Individually, Rogers and Yang are LGBTQ comedy royalty, especially since Yang now writes on SNL and Rogers is an accomplished comedy multi-hyphenate in his own right between the gay-trivia-for-straights game show Gayme Show and being involved in several decorated sketch teams in NYC. Together, their unapologetic takes on pop culture via Las Culturistas (as well as the live showcases and tournaments of the "I Don't Think So Honey!" rant segment that even got featured on Fallon) have elevated their status in podcasting, pop-culture criticism, and generally taking anything down several notches. After all, there's very good reason that Vulture went to them for recaps of RuPaul's Drag Race.
Brendan Scannell
Twitter: @BrendanScanell
Location: Los Angeles
A longtime staple on L.A.'s underground sketch and stand-up scenes, and already a familiar face from appearances on Funny or Die, CollegeHumor, and Super Deluxe, Brendan Scannell is on everyone's radar these days thanks to the Paramount Network's recently released reboot of '80s teen hit Heathers. Scannell is earning scores of new fans with his bitingly hilarious portrayal of Heather Duke, the titular clique's token gay friend — plus, his recent spot on Lip Sync Battle basically electrified the internet. With the accolades he's racking up for the role (and growing anticipation for his starring turn in Bonding, a darkly comic web series slated for release early next year), Scannell proves he's a master at delivering endearingly biting witticisms both onstage and onscreen.
Sarah Squirm (a.k.a. Sarah Sherman)
Twitter: @sarahsquirm
Location: Chicago
Sarah Squirm's comedy is on a never-ending mission to find and celebrate the beauty of the grotesque and weird. She is the latest Chicago export who's getting national attention via the horror-comedy troupe that she is the ringleader of, Helltrap Nightmare. Squirm and her cohorts have toured the country annually since last year, putting on a multimedia, DIY, goofy hellscape-ish variety show that specifically keys on body image and identity, complete with wonderfully gross costumes, videos, and decorations. Sarah herself and her own stand-up have a joyfully self-deprecating vibe, but done in a way that ends up being kind of celebratory and life-affirming. It'd be hard to imagine Sarah not having her own show or special somewhere in the not so distant future.
Three Busy Debras
Twitter: @threebusydebras
Location: New York
While playing Carnegie Hall seems like a somewhat regular occurrence for comedians these days, it wasn't too far back that it was a very rare honor, especially if you were an artsy feminist comedy trio that wasn't yet a household name. Still, Mitra Jouhari, Sandy Honig, and Alyssa Stonoha accomplished the feat via a Kickstarter to play the hallowed venue, albeit at one of the smaller rooms. That type of daring comes through in their sketches, which push an art-house aesthetic and vibe, but still are blisteringly funny. Adult Swim took note and very smartly ordered a pilot from the Three Busy Debras this year.
Daniel Rugg Webb
Twitter: @thedanielwebb
Location: Los Angeles
There's something special about the comedy that has been coming out of Austin over the last couple of years. Case in point, the originally Austin, Texas–based Daniel Rugg Webb, who is currently taking his new home of L.A. by storm. Webb's comedy is a great mixture of peppiness and throwing the starkest of shade, potentially a Joan Rivers for the 2020s. This makes him a versatile stand-up who can play any sort of room no matter how weird or mainstream it may be. Being a queer comedian from Texas makes Webb even more of an interesting voice in 2018 and going forward, which is why him appearing on Wanda Sykes's Unprotected Sets is probably just the beginning of Webb's ascent. On top of all of that, he is more than handy on a piano, has a fully formed drag character Toyota Lopez, and has a wonderful Instagram @miffmcconnell where he paints GOP politicians photos as drag queens.
White Women
Twitter: @swwagcomedy
Location: Los Angeles
Sketch and improv team White Women — whose seven members are all, incidentally, men of color — basically doubles as a supergroup of some of L.A.'s most compelling performers: Zeke Nicholson, Carl Tart, Ify Nwadiwe, Lamar Woods, Ronnie Adrian, and Ishmel Sahid. Between them boasting credits on everything from Comedy Bang! Bang! to Key & Peele to Jimmy Kimmel Live!, it's no surprise White Women has earned a reputation for consistently creating lineups of unfailingly smart, subversively funny sketches for their monthly UCB show (which garners such glowing reviews that there are constant rumors flying of bigger projects to come for the team). Tackling hot topics with the same cheekiness as their choice of name suggests, White Women's scenes explore the world through the eyes of seven very different comics whose varied energies come together in perfect harmony onstage.