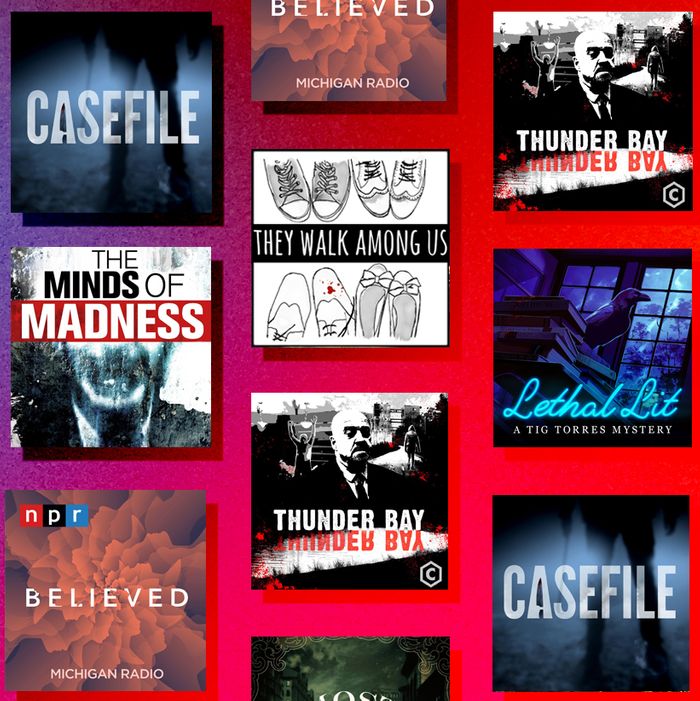 The true-crime podcast universe is ever expanding. We're here to make it a bit smaller, a bit more manageable. There are a lot of great shows and each has a lot of great episodes, so we want to highlight the exceptional, the noteworthy. Each week, our crack team of podcast enthusiasts and specialists will pick their favorites. To read last week's edition, click here.
Most Notorious! A True Crime History Podcast: "1923 Chicago's Accused Murderess Sabella Nitti with Emilie Le Beau Lucchesi"
You'll never think of "Cell Block Tango" quite the same way after listening to this week's episode of Most Notorious! Host Erik Rivenes welcomes guest Dr. Emilie Le Beau Lucchesi, whose book Ugly Prey: An Innocent Woman and the Death Sentence That Scandalized Jazz Age Chicago chronicles the case of Italian immigrant Sabella Nitti, who was wrongfully convicted of murdering her missing husband in 1923 and sentenced to death. Remanded to a Chicago jail, Nitti was housed alongside accused murderesses Beulah Annan and Belva Gaertner, who would serve as the inspiration for Roxie Hart and Velma Kelly in Chicago. (For her part, Nitti would be portrayed as an innocent Hungarian ballerina in the musical.) Nitti was eventually granted a retrial, and many credit a savvy makeover (the power of a good bob!) with helping her garner favor in the courts and among the public. With little real evidence against her, the charges were later dropped all together. Though the story has a mostly happy ending, there's no denying the racist and sexist overtones of the 1920s echo a little too loudly today. — Amy Wilkinson
Listen: Spotify | Apple | Website
The Minds of Madness: True Crime Stories: "The Devil Made Me Do It Case"
David Glatzel was only 11 years old when he started exhibiting some pretty strange behavior, like growling and speaking of visions of what he referred to as the "Beast Man." Naturally, his parents brought in some priests and Ed and Lorraine Warren (see also: The Conjuring, Annabelle, etc.) instead of a shrink. During one of the exorcisms performed on David, his sister's boyfriend, Arne Johnson, pulled a Zak Bagans and was like, "Come at me, bro!" Everyone thought that was a pretty bad idea, but it came in handy when Johnson murdered his landlord less than a year later and his lawyer used it as a legal defense. The Minds of Madness delves into the whole mishegoss with the Warrens, the details of Glatzel's possession, lots of audio clips, and so much more — it's a meaty episode that's worth a listen. — Jenni Miller
Listen: Spotify | Apple | Website
Believed: "The Good Guy" & "How He Got Away"
At first blush, the idea of listening to an investigative podcast about a convicted serial child molester sounds dreadful, or at least like the kind of heady journalism I often pretend to enjoy but instead force myself to ingest like a spoonful of sour intellectual medicine. Believed is neither of those things, managing to tell a very difficult story in a way that's both deeply listenable and deeply relatable. The podcast looks at Larry Nassar, the convicted pedophile accused of molesting hundreds of girls in his work as a doctor, including the most famous Olympic gymnasts of this generation. Hosted with a big dose of realness by reporters Kate Wells and Lindsey Smith, Believed devotes its first episode, "The Good Guy," to answering a question many who followed Nassar's story asked: Didn't this guy come off as a creep? No, we learn, he wasn't a creep, at least not on the surface. He was just … Larry. In "How He Got Away," the story goes deeper — and it also gets explicit in its details about Nassar's M.O. But most fascinating to hear is how Nassar was able to gaslight everyone for so long — not just his victims, but also their parents, coaches, and the police. In the end, it's clear that if Nassar had been a part of my life, there's a good chance he would have fooled me, too. — Rebecca Lavoie
Thunder Bay: "Deathly Low Priority"
The first episode starts out with a clip of a school official at Dennis Franklin Cromarty High School in Thunder Bay, Ontario, welcoming students to the school. It's the normal rigamarole until he warns them that some of the students don't ever make it home at all. Thunder Bay is the murder capital of Canada, and many — too many — of the victims are indigenous. Ryan McMahon, a self-identified Anishinaabe, takes a deep and dangerous dive into the systemic racism of the region — apparently a fun game for the locals is to toss drunk indigenous teens into the river? — but there's also some weird local politics at play, involving a sexually abusive, alcoholic lawyer, his questionable relationship with the mayor and his wife, a police chief with a big mouth, extortion, and a seriously bizarro cell phone video. Thunder Bay, however, is more than just another cool new true-crime podcast: The plight of missing and murdered indigenous women in Canada is a serious one, and hopefully this will make more people aware of and active around the issue on an international level. — Jenni Miller
Casefile: "The Pillow Pyro"
You know you're a real true crime aficionado when you begin developing your own file of favorite cases — ones that, for whatever reason, have struck a chord and inspired hours of obsessive Googling or binge sessions of every relevant Forensic Files, Dateline, and 48 Hours episode, just to see how each tells the story. One such case for me is that of the "Pillow Pyro," an arsonist responsible for an estimated 2,000 blazes throughout Southern California during the '80s and '90s. Don't let that cheeky nickname fool you, either: Several of those fires had deadly consequences. To tell you any more would spoil the WTF third-act twist, so my lips are sealed. I suggest you just press play. — Amy Wilkinson
Listen: Spotify | Apple | Website
They Walk Among Us: "Season 3, Episode 18"
Widden Hall Farm in Bristol, England, sounds pretty darn idyllic, but all of those adorable small English village vibes disappeared the day a car bomb went off in Margaret Backhouse's Volvo. Margaret survived, but questions loomed, especially since her husband Graham had found an alarming note stuck inside of an actual decapitated sheep's head not too long before that. A former hairdresser-turned-farmer, Graham hadn't given up his womanizing ways once he got married or relocated, but he had been doing kind of a crap job at running a farm, which means losing money, which means … a new insurance policy for Margaret! Spoiler alert? Nah, the husband (almost) always did it. — Jenni Miller
Listen: Spotify | Apple | Website
Lethal Lit: "A Tig Torres Mystery"
Lethal Lit isn't technically true crime. But that doesn't mean you shouldn't give it a listen. Following on the heels of successful scripted podcast series like Limetown and The Black Tapes Podcast, this show is a fresh take on one of my favorite YA genres: teen detective noir. Our protagonist is Tig Torres, a character who combines the spunk of Veronica Mars with the truth-seeking instincts of, well, Veronica Mars. The conceit is also familiar (in a good way): Tig has returned to her small-town high school after a few years away, and she's got a Big Problem. Her aunt was a notorious serial killer, which puts her squarely on the outs with the popular kids. But of course Tig believes her aunt was innocent, darn it, and she's out to prove it! And who's going to help her? The scrappy kids who run the school newspaper, of course! Produced by iHeart Radio and Einhorn's Epic Productions, Lethal Lit boasts high production values, solid performances, and the kind of snap-crackle writing that can turn a show for made teens into the best kind of adult guilty pleasure. — Rebecca Lavoie
Listen: Spotify | Apple | Website
This week's reviewers: Rebecca Lavoie, Jenni Miller, and Amy Wilkinson.