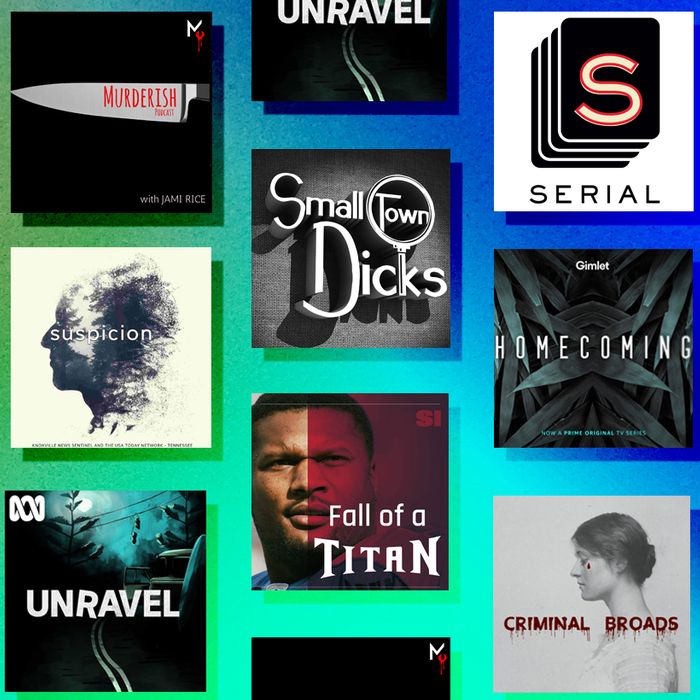 The true-crime podcast universe is ever expanding. We're here to make it a bit smaller, a bit more manageable. There are a lot of great shows and each has a lot of great episodes, so we want to highlight the exceptional, the noteworthy. Each week, our crack team of podcast enthusiasts and specialists will pick their favorites. To read last week's edition, click here.
Suspicion: "Three Shots on Solway Road"
"Three trials. Two husbands. One woman." That's the unofficial tagline for the new podcast Suspicion, which centers on 70-year-old Raynella Dossett Leath, a twice-widowed woman living just outside of Knoxville, Tennessee. Is Leath simply a victim of unimaginable circumstances? Or is there something more sinister at play? That's what this co-production from the Knoxville News Sentinel and the USA Today Network Tennessee hopes to uncover in its investigation of the two deaths. And if, like me, you don't believe in coincidences (at least when it comes to multiple dead bodies), you'll definitely want to give this one a listen. —Amy Wilkinson
Fall of a Titan: "The Bodyguard"
On July 4, 2009 Steve McNair and his mistress Sahel "Jenni" Kazemi were found dead. That's about where things end in terms of what everyone can agree on. From the Nashville police to the media to the friends and families of the victims, there are questions about what actually went down. According to the police, Kazemi killed McNair and then herself. But according to everyone else, it doesn't seem that cut and dry. Sport's Illustrated's Fall of a Titan reexamines the case and explores the questions so many have had: Did Jenny really kill Steve? You don't have to be a sports fan to get wrapped up in this case; it is broadly fascinating, and you won't be able to stop thinking about it. Last night, I echoed one of the most pressing questions from the podcast: "Where would Jenny have stashed a gun at a Dave and Busters?" —Hillary Nelson
Serial: "A Madman's Vacation"
In season three's penultimate episode, "A Madman's Vacation," Serial host Sarah Koenig looks at a largely underreported spoke in the wheel of the criminal-justice system — the institutions in charge of juvenile offenders. The story unfolds through the cautionary tale of Joshua, a teenager who did exactly what countless law-enforcement types told Koenig people should do: testified against his fellow gang members, helped the cops make cases, and gave prosecutors a broader understanding of the gang's hierarchy. But this is Serial, so of course all's well that ends well isn't the case here. Instead, we learn Joshua has become yet another afterthought of the system, being thrown away by prosecutors once he's done testifying and repeatedly assaulted with the consent (and at the behest!) of the guards in charge. This season of Serial has been uneven, often feeling more like a series of one-off episodes than, well, a serial. But "A Madman's Vacation" is a highlight, a standalone piece of journalism that's a worthwhile journey in itself. —Rebecca Lavoie
Criminal Broads: "Jim Jones' Right-Hand Woman: Carolyn Layton (feat. Laura Elizabeth Woollett)"
Tori Telfer welcomes writer Laura Elizabeth Woollett on as a special guest to discuss an oft-overlooked figure in the Jonestown Massacre, Carolyn Layton. Layton was a complicated figure — a pacifist who began to arm herself at the behest of her increasingly paranoid lover; a longtime girlfriend of a married womanizer; a cold-blooded organizer who made sure all of Jonestown's documents were in order before drinking the proverbial Kool-Aid herself. Woollett's book Beautiful Revolutionary is based on Layton and her relationship with Jones, and her 2016 book, The Love of a Bad Man, explored similar relationship dynamics. Obviously, I am reading them ASAP. —Jenni Miller
Hostage: "Bobby Greenlease Jr. Pt. 2: False Ransom"
Hostage is a fairly new true-crime podcast (it debuted in October), but when its debut episodes were about Patty Hearst, I knew this would become one of my new favorites. This week they're covering the case of Bobby Greenlease, a 6-year-old boy who was kidnapped in 1953 on his way to school. Greenlease was the son of a multi-millionaire automobile dealer and this led to a $600,000 ransom request. The series highlights the tactics used by law enforcement, families, and life-saving techniques, which are all compelling — as are the moments when everything goes wrong. —Hillary Nelson
You're Wrong About: "Lorena Bobbitt"
Our hosts Michael Hobbes and Sarah Marshall go way back in time to 1993, when John and Lorena Bobbitt's marital problems reached new heights (or depths, depending on your take on the matter) when the latter took a steak knife to the former's member. Behind the childish chortles of a nation titillated by the ignominy of having one's penis cut off, stowed away in a 7-11 Big Bite container, and reattached after a lengthy surgery was a story about marital rape and a tabloid culture that concern-trolled the nation about angry wives with steak knives just waiting for their husbands to fall asleep. Then there's John Bobbitt's Mr. Magoo–like ability to turn his misfortune into an opportunity for self-promotion, including an appearance in a porno with Ron Jeremy, with a cameo by Lemmy of Motorhead. Come for the theories on heterosexual relationship dynamics and why Lorena Bobbitt is a complicated figure, stay for when Marshall describes Alan Dershowitz as "a big balloon of AM radio." —Jenni Miller
Small Town Dicks: "Hubris"
This podcast has everything: suburban paranoia, funky noir beats, narration by Lisa Simpson, and crime-fighting twin detectives. Yes, Small Town Dicks — hosted by actresses Yeardley Smith (The Simpsons) and Zibby Allen (Grey's Anatomy) and featuring brothers Detective Dan and Detective Dave — walks listeners through a new small-town crime each week, welcoming the detective who cracked the case to tell his or her story. This week's tale is particularly intriguing given that it features one of the dumbest habitual offenders I've ever heard of. Detailing the case is Detective Jay, who in 2016 unexpectedly inherited an attempted rape case from a colleague about to retire. As Detective Jay begins to look into the incident, he discovers a connection to another sexual assault dating all the way back to the '80s. I'll leave Detective Jay to fill in how he eventually apprehended his suspect, a man named Nick, but suffice to say if Nick's crimes weren't so menacing, they'd be downright comical in their ineptitude. —Amy Wilkinson
Unravel: "Christmas Tree Hill"
"Christmas Tree Hill" is the final-for-now episode about the 1978 disappearance of Trudie Adams from Australia's Barrenjoey Road, which I previously wrote in October. Journalists Ruby Jones and Neil Mercer have done an impressive amount of boots-on-the-ground reporting for this story, which seems to point towards a larger police conspiracy surrounding at least one vile local character. It's not until the very end that Jones and Mercer stumble upon a truly bizarre clue involving a guy named Guido whose alias is the "Chicken Wire Man" for reasons that shall be left to the reader's imagination. Anyone with a lead is urged to contact ABC. If Jones and Mercer get more information, more episodes are sure to follow. —Jenni Miller
Time to relisten to: Homecoming, Season 1
If we learned anything from the glut of audio dramas that dropped in the wake of Serial, it's that there's a fine line between lovable low-budget guilty pleasures like The Black Tapes and the uncanny valley of overcooked productions like Limetown. It's as though fiction podcasts face a sort of trap: It's very easy to sound old-timey hokey, and even easier when you try very hard not to. But then we got Homecoming. Gimlet Media's 2017 foray into fiction seemed to fulfill its aspiration of becoming the "HBO of podcasts." With a Hollywood cast led by the uber-talented Catherine Keener and Oscar Isaac, the mystery podcast's six-episode first season is close to perfect, skewering the notion that audio dramas have to lean in to being kitschy in order to be good. Homecoming leans far in the other direction, with a tight plot, outstanding acting, and sound design that walks an impossible high wire between high drama and low-key realism. I wasn't a bit surprised when Homecoming got adapted for the small screen, mostly because of its timely, government conspiracy story line. But while I'd recommend binging the quite good Amazon series starring Julia Roberts, I'd more heartily suggest you check out its source material — the first truly great fiction series of podcasting's golden age. —Rebecca Lavoie
This week's reviewers: Rebecca Lavoie, Jenni Miller, Hillary Nelson, and Amy Wilkinson.