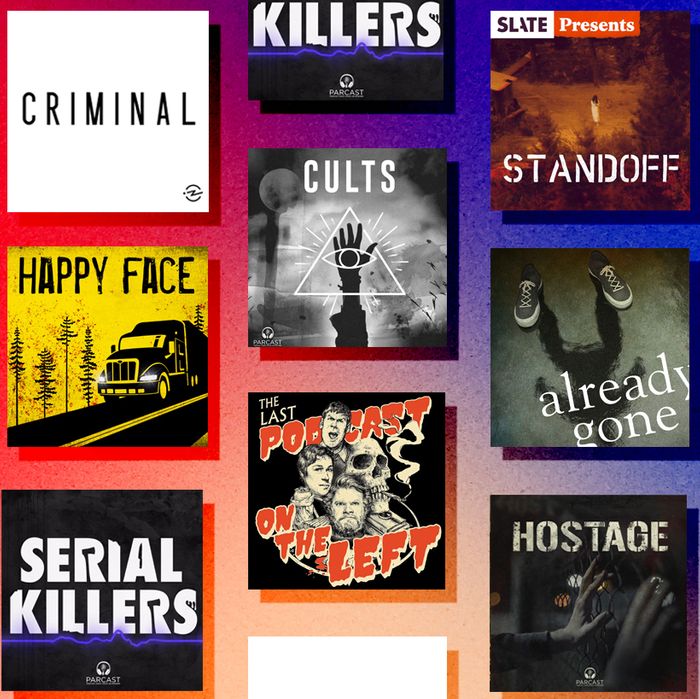 The true-crime podcast universe is ever expanding. We're here to make it a bit smaller, a bit more manageable. There are a lot of great shows and each has a lot of great episodes, so we want to highlight the exceptional, the noteworthy. Each week, our crack team of podcast enthusiasts and specialists will pick their favorites. To read last week's edition, click here.
Standoff: What Happened at Ruby Ridge?: "Two Shotguns"
While 1992 seems like a long time ago given the whiplash speed of today's news cycle, it's not hard to connect the standoff between the ATF and the Weaver family and the current strain of white nationalism that's no longer afraid to rear its ugly head across America. How did a simple bench warrant trigger events that resulted in an 11-day siege between federal agencies and a reclusive family obsessed with the coming apocalypse? So far, Slate's deep dive is both fascinating and scary, because we know how the Weavers' story ends and what comes next — the horrific Oklahoma City bombing for starters, since Timothy McVeigh was inspired by the Weavers and the massive cluster eff in Waco the next year, but also current events. We only have to look at the self-styled militias heading south to "protect" us from the caravan of women and children coming across the border to see how far we haven't come. —Jenni Miller
Serial Killers: "'Killer Caregiver' — Beverley Allitt"
If, like me, you watched the HBO documentary Mommy Dead and Dearest — about a woman suffering from Munchausen syndrome and the pain she inflicted on her daughter — with rapt attention, you'll want to add the latest episode of Serial Killers (the first of a two-parter) to your queue. The episode centers on nurse Beverley Allitt, who over the course of 59 days in 1991, grievously injured 13 children (four of whom died) under her care at Grantham and Kesteven Hospital in Lincolnshire, England. Making her crimes even more dastardly (if that's possible) was her tendency to befriend the parents after the fact, earning their trust and currying sympathy. (In one case, she even went so far as to become the godmother to one of her survivors!) Hosts Greg Polcyn and Vanessa Richardson spend much of this first episode exploring Allitt's backstory and the factors that may have driven her deadly deeds. It's an interesting listen, but I do have one quibble — the hosts make a point of repeatedly mentioning that Allitt made it to the ripe old age of 16 without ever having a boyfriend, which may have alienated her from her peers. No need for the shade! —Amy Wilkinson
Already Gone: "104 The Murder of Becky Stowe"
When Becky Stowe disappeared without a trace from her friends house in July 1993, her family and community gathered together to search for her. But it was two years before any useful information would come to light that led to finding Becky and her murderer. This story is absolutely heartbreaking, and kept making me sigh with frustration at how this poor girl's case was treated. As a whole, Already Gone is a great podcast that focuses on cases that go cold for many years and how they're eventually solved, and Becky's case is a prime example of the frustrations felt by so many people when dealing with an unsolved case. —Hillary Nelson
Happy Face: "Leroy"
As the daughter of Keith Jesperson, a.k.a. the Happy Face Killer, Melissa Moore has made it her life's mission to figure out what it means to be related to a serial killer, and this episode where she finally meets with the son of her father's last victim is absolutely wrenching. For years, Don Findlay had resolutely refused to be on Moore's show Monster in My Family, and according to Moore, he told a TV producer he'd like to do to her what her father did to his mother, Julie Ann Winningham. Their meeting is touch-and-go at first, but Findlay opens up about his late mother and the effect her brutal murder has had on his life, and comes to a better understanding of how Moore's life was also upended. It makes you hope that some healing is possible. —Jenni Miller
Last Podcast on the Left: "Peter Kürten Part 1: Papa Denke"
Peter Kürten, a.k.a. the Vampire of The Vampire of Düsseldorf, is the sort of serial killer whose crimes are almost too gruesome to be believed, ranging from offenses against animals, children, and adults dead and alive in almost every manner you could imagine. He's sort of the perfect killer for LPotL to cover since the podcast's style is if snuff films (if they were real) had an MST3K chorus; it's a style that you either love or you hate, but it can also depend on the subject matter, which they admit they themselves often find disturbing. If you really want to feel like a good Silkwood shower, check out the episodes on the Toy Box Killer or the conspiracies about the Franklin Credit Union. This episode also touches on other murderous monsters from this era, like cannibal Karl Denke. Animal lovers will want to skip this one. —Jenni Miller
Criminal: "Episode 102: Ride-Along"
Host Phoebe Judge does something a little different this week, buckling herself into the passenger seat of a police cruiser for a ride-along in Austin, Texas. After a humorous opener in which the usually unflappable Judge finds herself anxiously locked out of the police precinct in the early-morning, pre-dawn hours, we finally meet her police escort, Officer Edward Ruff, and the two are off. Their first stop? Beto O'Rourke campaign headquarters, where someone has staked a severed pig's head with a note that reads "Down with imperialist pigs." (Texas, man.) Once that bit of business is cleaned up, the two spend the rest of the day chasing down mostly quiet cases — everything from a Chihuahua on the loose to a parole violation. Between incidents, Judge peppers Officer Ruff with questions about his day-to-day work and perceptions of the police force at large. It's clear that Officer Ruff is a bit uncomfortable serving as mouthpiece for his brothers and sisters in blue, but as an officer of color, he has a worldview that's important to hear. Though the episode may lack dramatic shootouts or frenetic high-speed chases, it's a vital reminder of the often-dangerous and under-valued work that goes on behind the scenes of our criminal justice system. —Amy Wilkinson
Cults: "Church of Satan - Anton LaVey"
Why does it seem that so many cult leaders also wanted to be musicians? This is a question I often ask myself while listening to Cults and if you know the answer, I'd really love to have a chat. This week's episode dives into Anton LaVey, the founder of the Church of Satan. LaVey is an incredibly interesting, horrible, and fascinating human and just so happens to look exactly like what you imagine Satan might like. Also? He was a fairly prolific musician. —Hillary Nelson
This week's reviewers: Jenni Miller, Hillary Nelson, and Amy Wilkinson.