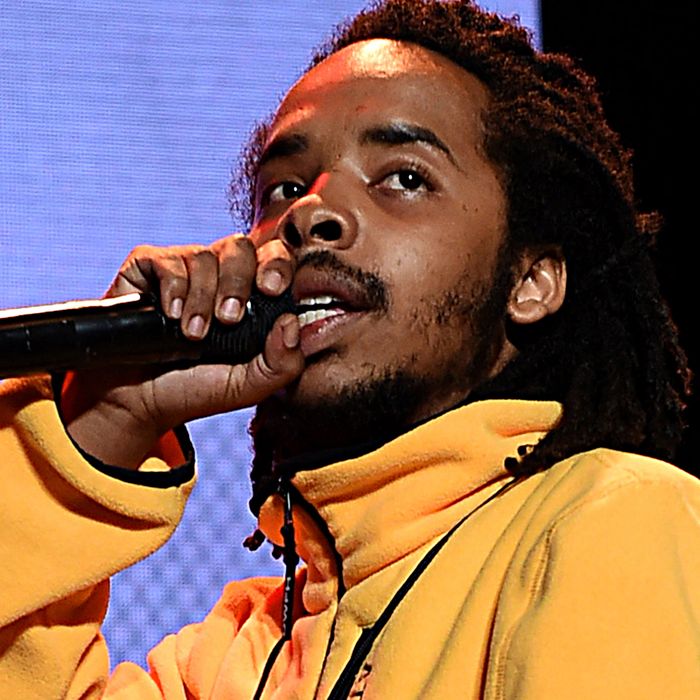 Photo: Kevin Winter/Getty Images
Every Wednesday, Vulture runs through the best, most interesting, and sometimes most confusing rap releases of the week. In this installment: Earl Sweatshirt breaks boundaries with his upcoming Some Rap Songs, Boosie ditches the "blues-adjacent" aspect of his music and goes full blues, Buffalo's own Benny the Butcher makes bone-chilling wintertime throwback rap, J.I.D wows with wild flows, Dipset returns, Black Thought goes in over an EP's worth of Salaam Remi beats, and Memphis's Key Glock sneers out of the sun roof.
Earl Sweatshirt, Some Rap Songs
For as long as he's been under the public gaze, Earl Sweatshirt's music has been colored by the meta-narrative that's going on just offstage. It's a testament to his overwhelming talent that the work itself was never swallowed whole. His friends in Odd Future became stars and pariahs and idols to young kids in pastel, while Earl was biding his time in the far reaches of the Pacific; when Earl reemerged, he tried to tease out what he was feeling on record. He didn't cast himself as a conquering hero or threaten to go on a scorched-earth tear. He sounded disillusioned and exhausted and, well, 19. When he was 21, Earl put out I Don't Like Shit, I Don't Go Outside, a universally acclaimed album that turned all his fear and hatred and self-hatred into something lean, laser-focused, and, in a roundabout sort of way, constructive.
And then he retreated, for almost four years, popping up occasionally online where he was quickly shouted down by fans who may or may not have shed the pastel and who were quick to demand new records, as if from a vending machine. To read Earl's Twitter mentions is to see how the narratives around legendary, but not remotely prolific artists like Lauryn Hill and André 3000 are built. On "Veins," which comes near the end of Earl's new, extraordinary album, Some Rap Songs, he deadpans: "It's been a minute since I heard applause."
On the very next track, Earl's father, the South African poet laureate Keorapetse Kgositsile, who died during the production of this record and with whom Earl had a complicated relationship that he alluded to often in his work, reads from one of his poems, "Anguish Longer Than Sorrow." There's the last line — "to have a home is not a favour" — and then a wall of applause. On the song that follows, "Peanut," Earl is droning, despondent, the gaze turned back on himself: "Family saw you on a stage / Left it not amazed."
And yet "Peanut" is not broadly representative of Some Rap Songs. The album is not a focused act of fury, or even of sadness; it's patient and exploratory, and when it lashes out, it does so in fits before retreating into sealed apartments with fish tanks full of gin. It resists easy resolutions and moral clarity because neither of those things exist.
Earl at this point seems most spiritually aligned with the rappers that make up New York's middle-aged cutting edge. He's publicly professed his admiration for Ka, the reclusive minimalist auteur, and tweeted Armand Hammer videos. Last year, he produced a record, Fete des Morts AKA Dia de Los Muertos EP, for Mach-Hommy, whose music is purposefully lo-fi and extremely expensive, and which lapses into absurd fantasies of luxury, grave threats, and barbs for the 20th century's Haitian bourgeoisie. Some Rap Songs could be a Mach-Hommy record, with jagged-edged and exposed seams. That sensibility is mirrored in the writing, which is comfortable being oblique, self-referential, and a little bit schizophrenic.
This album will not be as immediately arresting to as wide an audience as the somewhat inaccessible Outside was, but what Earl's pulling off here is more difficult, and more rewarding. It's a sort of mining of one's own psyche to figure out where the gears and levers are. His technical faculties as a rapper have always dazzled fans and critics, but here he exerts a new kind of control over them; on songs like "Veins" and "Cold Summer," syllables come falling over each bar break like a cascade, but each line is packed with new, vital information in a way that it might not have on Earl. From "Cold Summers":
We roam tundras
The boy been gone a few summers
too long, from road running, trunk full of old hundreds
Of course my old lover was scorned
We grow from it
Don't tell me they don't hunt us for sport
I chose substances
The best song on the album is "December24," which is difficult to pull quotes from because every shard adds up to something confounding but fluid, skipping from smoking ribs to tight-lipped police targets, from ailing grandmothers to small resurrections, from bad acid trips to those vats of gin. Each phrase is evocative and rendered beautifully, but the effect you're left with is Earl's sense of rhythm — his ability, which at this point is nearly peerless, to build musical arcs and natural shapes into what would, in clumsier hands, be a flat wall of a thousand syllables.
He's also doing something interesting with repetition. Earl slips into a few different vocal tones throughout the album, but the repeated phrases aren't a showcase for vocal dexterity, like they sometimes were for, say, Wayne. Instead, they seem like chants. "Red Water," the second song on the album, sounds like scraps from other monologues arranged into a prayer, with slight variations on each run-through. There are also repeating images and flash points throughout the album, like the blood from "Red Water," "On the Way," and "Shattered Dreams" — or like his father.
Of course, there has never been a point in human history when "Anguish Longer Than Sorrow" would not be relevant. This week, the poem feels painfully on the nose:
Refugee is an ominous load
even for a child to carry
for some children
words like home
could not carry any possible meaning
but
displaced
border
refugee
must carry dimensions of brutality and terror
past the most hideous nightmare
anyone could experience or imagine
In the last stanzas, Kgositsile writes about forces outside of their control ripping from young people the hope and optimism that should be their defining characteristics. "Peanut" is morose, dead-eyed; you think of Earl's work as being in conversation with his father's, with worldviews that compete and sometimes overlap but where one was shaped in part by the other. And then you think that this sort of extratextual psych reading is probably exactly the kind of thing that drives Earl from the public eye for years at a time.
"Riot!" is the only song that comes after "Peanut." It's an instrumental track so bright as to be redemptive. But by then Earl is already gone.
Boosie Badazz, Boosie Blues Cafe
Setting aside the fact that every Boosie album is a blues album, Blues Cafe is a novel and rewarding tangent in the Baton Rouge native's career. He has one of rap's most interesting voices, and the format here lends it a strange levity without compromising any of the heartache.
Benny the Butcher, Tana Talk 3
Benny is not as specific a stylist as his peers from Buffalo, but he's a focused, dogged counterpoint to Westside Gunn's relative weightlessness — and, like Boosie, he's blessed with an all-world voice. At its infrequent worst, Tana Talk 3 is slightly indistinct street rap that feels misplaced in time; for the bulk of its running time, it's bone-chillingly effective.
J.I.D, DiCaprio 2
The first thing J.I.D does on DiCaprio 2 is a painfully faithful Kendrick Lamar impression. But the Atlantan, who was previously boxed in as a sort of true-school counterpoint to that city's bigger contemporary stars, has evolved into a thoughtful writer and an adept stylist. He works best when he has a foil with a gruffer voice, like A$AP Ferg, who appears here on "Westbrook," or like Method Man, who sounds again like the world's best natural rapper.
Dipset, Diplomatic Ties
I'm more bullish on late-period Cam than most — I think a song like "U Wasn't There" is essential in his catalogue — but there's no questioning that, for example, a second song called "Dipset Forever" was not necessary. That said, the Juelz Santana verse on that song is the most harrowing moment on Diplomatic Ties, which is nostalgic but only intermittently effective: It's the youngest member of the crew, whose identity was inextricable from his being tagged as the next up, rapping about the career that barely was — in past tense.
Key Glock, Glockoma
For all the havoc that streaming and, like, late capitalism as a whole have wrought on rap, fans in this era are blessed to see such a spotlight shining on Memphis. Key Glock is bright and chameleonic, channeling the Grinch and sneering out the sunroof.
Black Thought, Streams of Thought Vol. 2
If you take off your industry prospector monocle and stop worrying about the viability or vitality of the music he makes, the Roots' Black Thought is still what he's always been: a virtuoso, a joy to listen to, able to dive headlong into dense worlds and drag you with him. Here, Salaam Remi (of mid-period Nas fame) frees him of the tight NPR collar of some of those late Roots albums.