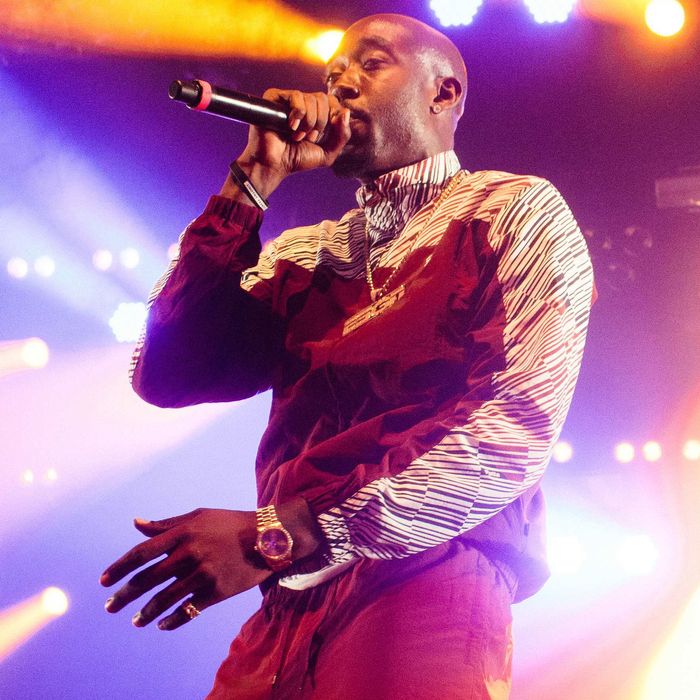 Freddie Gibbs Gets It
Photo: PYMCA/UIG via Getty Images
Every Wednesday, Vulture runs through the best, most interesting, and sometimes most confusing rap releases of the week. In this installment: '70s noir from Freddie Gibbs, Curren$y and Alchemist, a lean and brutal new album from Vince Staples, Action Bronson gets extra vivid, Metro Boomin brings out the best from his collaborators, and Swizz Beatz refines the concept of the producer-led album.
Vince Staples, FM!
Vince Staples has cultivated a reputation as someone who's impervious to criticism, and to the whims of fans and rap critics. That's consistent with his on-record (and on-Twitter, -camera, -etc.) identity, but it's not exactly reflected in the music. The first song on his first LP for Def Jam, "Lift Me Up," wrestles with how Vince is seen by the white people in his life: the festival crowds who paid to see him, the Uber driver who looks like Jeffrey Dahmer but is scared to drop Vince off at his destination.
The video for "FUN!", a single from Vince's lean, careening FM!, repeats a trick he first pulled in the clip for "Senorita," from 2015 — footage from Vince's life in Long Beach, which includes brushes with death and with a brutal police force, is eventually revealed to be entertainment consumed by white people in the comfort of suburban homes or museums. That engagement with the white gaze that has dogged rap since its late-'80s commercial breakthroughs is one of Vince's wheelhouses as a songwriter, and allows him to contrast his real experience, with its flesh wounds and lingering horrors, with the sellable, scalable version of it that is easily consumed.
FM! returns to that ground, including and especially on its remarkable closing track "Tweakin." But the 22-minute dart is in conversation with Vince's audience in another, key way: It sounds like a self-conscious course correction from last year's Big Fish Theory, which was intermittently successful but got a lukewarm reception from fans due to its murkier, more experimental electronic arrangements. The production here, which comes mostly from the red-hot Kenny Beats, is loose and fast and fun, designed to rattle trunks and snap necks. And the album's framing device — it's supposed to be an episode of Big Boy's Neighborhood, complete with call-in games, teasers for Kehlani tickets, and cameos by Earl Sweatshirt and Tyga — makes it feel distinct to L.A. County where Big Fish was alien.
Swizz Beatz, Poison
There was a moment when Swizz Beatz had a corner of rap all to himself. It was a lucrative corner — not international art dealer lucrative, but those Ruff Ryders jackets are aging well. Poison is unique among producer albums in that it doesn't attempt to reaffirm Swizz's dominance over the charts or streets; nor does it try to dazzle simply by trotting out an interminable list of guests pulled from his A&R's Rolodex. Instead, in ten tracks and 33 minutes, Swizz argues for himself as a smart, restrained stage manager, calling on a small coterie of his best collaborators from the Clinton years and from the present to deliver a sleek, stunningly good LP.
The Nas song, "Echo," is jarring and welcome reversal from June's insipid Nasir; on "25 Soldiers," Young Thug is at his most linear and thoroughly edited. That Nas and Thug both exist comfortably in the world Poison renders is a testament to Swizz's focus in the control room. Jadakiss and Styles P sound reinvigorated alongside Kendrick Lamar, and Lil Wayne's "Pistol on My Side" is the sort of circular, magnetic training exercise that the Louisianan used to reveal to the public on a regular basis.
Action Bronson, White Bronco
There's a headline on CNN's website that reads, in full: "Dead brothel owner wins Nevada state assembly seat." I'm confident Action Bronson would do exactly four bars on him. The thing with the Ghostface comparisons was always that Ghost's writing, at least until the Iraq War started, had a tendency to unspool: into dreamscapes, into fragments, into a sort of logical and linguistic limbo that was impossible for the outside world to access. Bronson, by contrast, presents absurd images and ideas in a pretty deliberate, linear progression. (And, yes, in that nasal whine.)
Bronson is a reliably funny, reliably surprising stylist — no one else's new shit swings like Tiger at the Masters, no one else crashes more Benzes than when they practice with the dummies. White Bronco, his 26-minute record from this week, trades the sprawl and digital static of his signature Blue Chips mixtapes for something lusher and a little more psychedelic. The title track and the opener, "Dr. Kimble" — where he shows up drunk at the car dealer and casually mentions that he could have made the Pittsburgh Steelers — are especially potent.
Freddie Gibbs & Curren$y, Fetti
The kinds of rap fans who are deeply invested in Freddie Gibbs and/or Madlib often wax romantically about forgotten (and sometimes imagined) eras in the genre's history, but their remarkable 2014 collaboration, Pinata, could only have existed in the age of Dropbox. Gibbs, the unflinching rapper from Gary, Indiana, combed through hard drives' worth of Madlib beats by himself, picking the most difficult ones to rap on — a move that surprised the producer when he heard the demos weeks later. Since then, Gibbs, always a sound technician, has become superb, rapping athletically over beats both in and out of vogue. On Fetti, a smartly conceived, 23-minute sprint with the New Orleans workhorse Curren$y, the pair sink into producer Alchemist's lush, silky backdrops, which imagine a pulpy 1970s, dusted with coke and drenched in prop blood. The chemistry between the three principals is exceptional, but the standout song is the mesmerizing, menacing Gibbs solo cut "Willie Lloyd."
Metro Boomin, Not All Heroes Wear Capes
Unlike Swizz Beatz, Metro Boomin is only a year or so removed from having mainstream rap in his vice grip; unlike Poison, Not All Heroes Wear Capes sputters and sprawls in anticlimactic, often unsatisfying ways. His production, which once stripped trap to bizarrely skeletal extremes or built it up to its maximalist conclusions, here lacks the verve and swing that defines the moment's most exciting rap records. Fortunately, a pair of Wizkid collaborations ("Borrowed Love," which also features Swae Lee; "Only You," Offset and J Balvin) suggest an interesting new direction. And while 21 Savage's whispering on "Don't Come Out the House" garnered some early buzz, the Atlantan actually runs away with the album's title belt on the stunning "10 Freaky Girls."