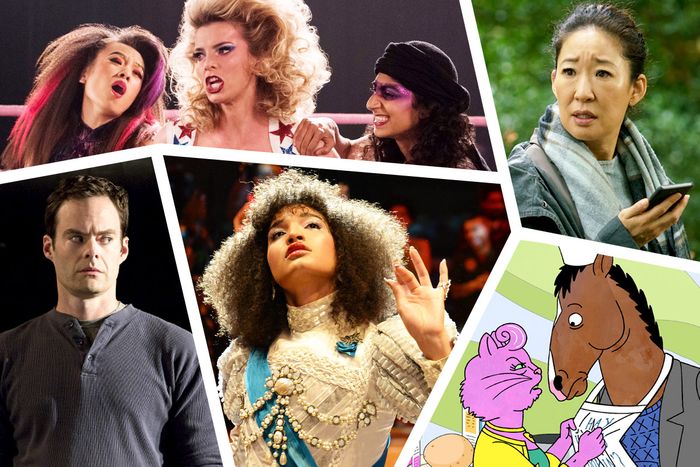 Photo: HBO/Netflix/BBC America/FX
This list has been updated to include October releases.
The fall TV season has officially arrived, and here are Vulture's picks for the best TV shows of 2018 so far. We've continually updated this list from January to October on a monthly basis, both as a service to readers and also to help us keep our TV clutter properly organized. (The shows that don't "spark joy," Marie Kondo–like? Those don't make the cut.)
A quick note about our selection methodology: Nonfiction and scripted series are both eligible, but only after a season has aired in its entirety. Because the focus is on this calendar year, shows that debuted in 2017 and ran into this year were ruled out if more than half of the season's episodes debuted prior to January 1. This is a consensus list by both Jen Chaney and Matt Zoller Seitz, whose individual lists at the end of this year may differ.
A musical satirical fable for all ages, Adventure Time finished its amazing eight-year run with one of the most ambitious and fully realized finales in a year filled with many competitors for that title, a 44-minute epic that showcased an eye-popping dreamscape in the spirit of Yellow Submarine and Fantasia. Utopian in the purest sense of the word, the show envisioned a more empathetic world in which people listen to each other, care about each other, and strive to be better. —Matt Zoller Seitz
Rather than go out with a blaze of glory, Joe Weisberg and Joel Fields's drama about Russian spies hiding out in 1980s Washington, D.C., ended with a bittersweet chapter that derived most of its power from its understanding of the main characters' fears and desires. But the rest of the season was no mere setup to that great payoff: It showed married KGB agents Elizabeth and Philip Jennings (Keri Russell and Matthew Rhys), their children Paige and Henry (Holly Taylor and Keidrich Sellati), FBI agent Stan Beeman (Noah Emmerich) and former KGB operative Oleg Burov (Costa Ronin) struggling to come to terms with a world that was changing so fast that nothing made sense to them anymore. The key to the show's peculiar magic was its refusal to offer viewers subtext on a silver platter, lit with a tiny spotlight, as so many post-Sopranos dramas tend to do. —MZS
Donald Glover's half-hour comedy-drama was more surprising, beautiful, and mysterious in its second season than in its first — a remarkable achievement considering how boldly that first batch of episodes advanced the form. Largely avoiding situations that would bring the show's ensemble together for a single event or plotline, Atlanta Robbin' Season scattered them to the four winds, the better to allow each to go on a self-contained adventure that was shaped as elegantly as a postmodern short story and revealed character mainly through incidents. Even more daringly, the main character in each episode was often placed in a reactive position, encountering a series of bizarre or terrifying characters that became the de facto lead for that week's tale; "Teddy Perkins," a miniature horror-psychodrama starring Lakeith Stanfield's Darius, and "Woods," which sent Brian Tyree Henry's Alfred on an odyssey through what felt like a cursed fairy-tale forest, were the most vivid examples, but they all had a touch of this quality. Every one raised powerful questions simply by presenting a series of indelible images: Rorschach tests for viewers. —MZS
Producer-director Ryan Murphy's most uncompromising, mysterious, off-putting, ultimately devastating mini-series is the story of an assassin's journey through misery and derangement that doubles as an expose of American homophobia in the 1990s. The most daring thing about it is its structure, which starts with the killing of Gianni Versace and works its way gradually backward through time, a gambit that cements a feeling of awful inevitability even as it explores cultural root causes. —MZS
One of the strongest new shows of 2018 is this wild mix of action, crime, comedy, and Hollywood satire carried by an outstanding lead performance by Bill Hader. As Barry, Hader is a hit man so anesthetized to the grotesque nature of his job that he has practically forgotten how to have emotions. Which is why he's surprised when an accidental visit to an acting class — taught by Gene Cousineau, who's played with endearing arrogance by Henry Winkler — gives him the ol' theater bug. When genuine feelings of guilt and grief eventually spill out of Barry at an unexpected time, it's extraordinary to behold. —Jen Chaney
The mirroring of Better Call Saul and Breaking Bad really bloomed in the former's fourth season, which saw disgraced attorney "Slippin' Jimmy" McGill (Bob Odenkirk) growing more hardened and corrupt, finally adopting his identity as Saul Goodman in a closing scene that was breathtaking in its sadness. The story was mirrored by the moral dissolution of cop turned fixer Mike Ehrmantraut (Jonathan Banks), who supervised the construction of a drug lab and learned a harsh lesson about half-measures when one of the team jeopardized the operation's security. Only Jimmy's attorney and life partner Kim Wexler (Rhea Seehorn) seemed to escape the show's ominous undertow of moral compromise, though not without difficulty. Peter Gould and Vince Gilligan's crime series becomes more agonizing by the season because you know this story can't end happily, but there's so much suspense, humor, and eccentric regional detail that the result feels more like an American tall tale than a moral fable. —MZS
The first season of Big Mouth established this animated series as a funny, surprisingly poignant portrait of the harrowing process of going through puberty. The second, which deals with body positivity, slut shaming, and unrequited love, and once again features an all-star cast of voice talent, confirms that it deserves a spot in the Coming of Sexual Age Hall of Fame right next to Judy Blume books and every incarnation of Degrassi. —JC
The continued artistic development of this series about New York money and the government servants who try to regulate it has been thrilling to behold. Content early on to be perceived as an unusually eloquent dick-measuring contest, the series eventually revealed itself as a critique of machismo, set in a world where men who typically haven't been in a real fight since childhood use the language of barbarian conquerors to describe pushing electronic funds around. And yet, series creators Brian Koppelman and David Levien and their collaborators have created characters that are fully dimensional people that you feel for, ones you laugh with as well as at.
This season doubled down on the tactical maneuvers as well as the armchair psychoanalysis and pathos, and the result was the show's best consecutive run of episodes to date. —MZS
The most upsettingly charming series on television, BoJack Horseman's fifth season made it feel even more like the continuation of Mad Men by other means. But in detailing the traumas and mistakes of its major characters, BoJack in particular, it turned even more meta than it's been in the past, asking if a television series that repeatedly invites audiences to understand and sympathize with shitty men risks becoming part of the problem, even as it strives to be part of the solution. —MZS
We never talked about Casual enough. The Hulu series about the relationship missteps taken by dysfunctional L.A. siblings Val (Michaela Watkins) and Alex (Tommy Dewey) as well as Val's daughter Laura (Tara Lynne Barr) debuted on the platform during the ascendancy of the Silver Lake dramedy. Other shows that fit under that "Funny Yet Sad in Southern California" umbrella — like Transparent and You're the Worst — tended to suck up more attention and oxygen, while Casual just kept on doing its subtle, observational thing. Its final eight episodes, which time jump roughly four or five years into the future, complete with subtle technological advancements to match, stand as one last reminder that this series deserves to be noticed. It is beautifully acted, written with detail-oriented humor and humanity, and cynical but with just enough optimistic grace notes to avoid sinking into darkness. It's the kind of family drama/romantic comedy that a sentimental realist and a Pollyanna with a sarcastic streak can comfortably appreciate together. I'm sad to be saying good-bye. —JC
Lena Waithe's drama about a working-class, predominantly black Chicago neighborhood is the kind of drama that's barely made anymore. Taking its cues from Robert Altman, Spike Lee, and such life-of-the-city ensembles as The Wire and Treme, it is driven almost entirely by characterization and atmosphere, interlinking narratives by theme and feeling and not solely by the whims of plot. —MZS
Justin Simien's literary-flavored, seriocomic account of life on a racially mixed college campus pulled off a miraculous evolution in its second season. Right out of the gate, it had improved on its source material — Simien's same-titled feature film — by giving the main characters more breathing space and the narrative more nooks and crannies. The show's sophomore outing was more structurally and aesthetically daring, with long dream sequences, moments of surreal psychedelia, and an entire episode staged as a two-character play and unfolding within the confines of a campus radio station. The photography, direction, music supervision, and editing seemed to be having as much fun as the ensemble cast, trying out bold ideas to see if they'd play (they nearly always did), digging deep into the history of the university and the nation that surrounded it, and ending with a cliffhanger so unexpected that it made you laugh out loud at the show's gleeful audacity. —MZS
After a patience-trying first season, Divorce returned for its sophomore year with Jenny Bicks, formerly of Sex and the City, as showrunner; central couple Frances (Sarah Jessica Parker) and Robert (Thomas Haden Church) officially divorced and trying to co-parent while pursuing new romances; and a lighter, funnier touch that didn't shy away from how complicated it is to undo an "I do." Divorce may be about a marriage that can't be salvaged, but as a series, it has patched things up quite nicely. —JC
Cinematographers Zackary Canepari, Jessica Dimmock, and Drea Cooper spent a year embedded with the police department of Flint, Michigan, but what they ended up with was deeper and more delicate than a portrait of a town shattered by water pollution, governmental incompetence, and financial neglect, as valuable as that would've been on its own. Charting the everyday effects of politics on everyday citizens (including police officers who are more often asked to be social worker than enforcers), this docuseries is a straightforward portrait of how race and class affect our perceptions of everything from mundane traffic stops and delinquency to police brutality. —MZS
This is a special gem, but to explain why would ruin the surprise. And surprise is a big part of the appeal of this Amazon dramedy, created by Alan Yang and Matt Hubbard and starring Maya Rudolph and Fred Armisen as a married couple struggling with how to keep things fresh in their relationship. You may think you know what this show is about midway through the first episode, but trust me, you don't. It keeps switching things up on its characters, shaking them out of their comfort zones and, in the process, happily doing the same thing for its audience. —JC
GLOW (Netflix)
The second season of the Netflix series about the Gorgeous Ladies of Wrestling is even better than its first. By reckoning with sexual harassment and the indignities of playing racial stereotypes for comedy, this dramedy highlights what was so problematic about the original GLOW and reveals what we didn't see back in the 1980s: how all of those issues may have affected the pile-driving stars behind the scenes. While the show gains heft and substance this season, it does so without sacrificing its sense of humor. There is still a goofy, infectious energy generated by these shiny-leotarded women, played by Alison Brie, Betty Gilpin, and a large, very game ensemble, not to mention some quality jokes rooted in the spirit of the era it's set in. If you hear a more off-kilter and genuinely inspired description of the show Cheers than the one that Sheila the She Dog (Gayle Rankin) offers in episode one, give me a call — on your absolutely gigantic brick of a mobile phone, of course. —JC
The fourth season of Jane the Virgin continued to do all the things that the CW series has done well all along. It riffed on the telenovela genre in increasingly clever ways, it showed us a Latinx family living in a heightened form of reality but still dealing with real problems (like money problems and school boundary issues), and it enabled its star, the buoyant Gina Rodriguez, to shine. But this season also gave us so much more: Alba (Ivonne Coll), Jane's abuela, sought citizenship in a story line that tapped into current politics without getting too preachy; Xo (Andrea Navedo) dealt with a breast cancer diagnosis and treatment in a moving series of episodes; and, most of all, we got one hell of a twist in the season finale. More than any other show on television, Jane the Virgin runs deep, but knows how to keep things light at the same time. —JC
Just try watching this staging of Andrew Lloyd Webber and Tim Rice's musical without getting the images as well as the music stuck in your head. The sheer energy of this production, co-directed by Alex Rudzinski and David Leveaux, would've been arresting on its own — sung-through musicals might be better suited for live television than ones with a book, though it's not always easy to tell because of all the commercial breaks — but the scrupulous attention paid to camera movement, lighting, and staging puts it over the top. John Legend's Jesus, Brandon Victor Dixon's Judas, Sara Bareilles's Mary Magdalene, Norm Lewis's Caiphas, and Jin Ha's Annas round out a multicultural cast of lead actors with matinee-idol quality. The climactic image of the crucified Jesus disappearing into the cosmos, his departure matted by a cross made from slowly converging rectangles, is a stunner. —MZS
Killing Eve is the most immediately enticing, delicious surprise of the year. A cat-and-mouse thriller with a distinctively feminine sensibility and a darkly playful tone, the series, developed and largely written by Phoebe Waller-Bridge, pits driven MI5 officer Eve (Sandra Oh, spiking her dogged determination with wry humor) against wily Russian assassin Villanelle (a revelatory Jodie Comer) as the two inch closer and closer into each other's magnetic fields. It's sexy, it's funny, it's suspenseful, it's compelling from the first minute, and it's also got Fiona Shaw. Not sure what else one could ask for, really. —JC
One of the most delightful TV surprises of the year, Lodge 49 tells the story of a group of economic casualties in Long Beach, California, bonding through their membership in a local fraternal lodge while struggling to make ends meet in the wreckage of the late-capitalist economy. (And yes, the show uses that very terminology — few scripted series are as conscious of what bills and debts do to people's psyches.) This shambling, seriocomic ensemble piece evokes the wry fiction of Charles Portis novels like True Grit and Norwood, though the periodic eruptions of genuine pain prevent it from feeling like a cutesy diversion. The final episode of season one is a knockout, retrospectively unifying the entire story and reconciling the hard reality of the characters' lives with the continual possibility of magic and revelation that hovered around the edges of each new interaction. —MZS
Who needs chicken soup when we've got DIY reality television for the soul? Hosted and executive produced by former Parks and Rec co-stars Amy Poehler and Nick Offerman, Making It is a competition show that features a group of master crafters and builders participating in a series of challenges until a winner is finally crowned. What distinguishes it from other competition shows? The participants are not only creative, but decent and generous to each other. "Life is stressful enough," Poehler says in the introduction to the first episode. "Let's make a show that makes you feel good." —JC
This Netflix limited series is an experimental story about a dodgy experiment: a pharmaceutical study in which a series of drugs are given to subjects, with the expectation that the treatment will cure any and all mental-health issues. Two of the subjects in that study are Annie (Emma Stone) and Owen (Jonah Hill), who find themselves sharing space in their psyches every time they take a pill and drift off into a dreamscape where their traumas are explored in often fantastical contexts. (If you ever wished that Emma Stone appeared in a Lord of the Rings movie, there's at least one episode of this show that you will just love.) Created by Leftovers alum Patrick Somerville and directed by Cary Joji Fukunaga, it's a wild ride, thoroughly bingeable, and funny in the most cockeyed, unexpected ways. —JC
The revamped Norman Lear comedy continues to set a reboot gold standard at a moment when we're swimming in reincarnated TV shows. Like season one, the second season uses the traditional sitcom format to explore everyday problems (teaching kids the value of a dollar) as well as more serious social ones, like gun control and the stigma around mental health. Every episode is funny and warm, but never feels as though the material is being dumbed down for mass consumption. It's the rare show that's simultaneously comforting and challenging. It also has a great cast, including the legendary Rita Moreno — come on, it gets no better than that! — and a season finale that will crack your heart in two, then sew it back together again. —JC
It's rare that you encounter a situation comedy that feels as wholly new as On My Block, created by Awkward's Lauren Iungerich, along with Eddie Gonzalez and Jeremy Haft. Set in a South Central Los Angeles neighborhood and starring a cast of young actors of color, this uncategorizable and very addictive series somehow manages to combine the madcap energy of Seinfeld and Malcolm in the Middle with a gritty, tender strain of urban melodrama. The core cast might be the next-generation, multicultural answer to Freaks and Geeks. —MZS
A series revolving around the 1980s drag scene, Pose is radical in concept but executed with an old-fashioned eye for sentiment. Co-created by Ryan Murphy, Brad Falchuk, and Steven Canals, it has what The Wire used to call "the Dickensian aspect," contrasting the lives of haves and have-nots in Reagan-era New York City and showing how they intersect in the bedroom, whether the straight world realizes it or not. Both the cast and the writers room are filled with trans people, including writer-director-producer Janet Mock, Transparent alumna Our Lady J, and co-executive producer Silas Howard, and stars Dominique Jackson, Mj Rodriguez, and Indya Moore, and the ultimate message is a devastating, socially leveling one. Every character on Pose is united by a desire to be accepted for who they are, and a key motif throughout season one is the construction of new families to supplant both the biological family and the official state family that have repeatedly failed the people who needed them most. The series is also an invaluable addition to Murphy's growing library of productions dealing with the devastation of the AIDS epidemic, and unflinchingly depicts its effect on people who can barely scrape by as it is. —MZS
Ava Duvernay's Louisiana family saga is both excellent and beloved because it really sees people, rather than being content just to show them. Entrusting its stories to a multicultural crew of writers and an all-woman lineup of directors, the series has a unique pace and tone, intriguingly attuned to the sticky, laid-back vibe of greater New Orleans, yet never allowing its vision of a postindustrial new South to overwhelm the family dynamics and the emphasis on a black perspective. —MZS
Is the updated version of the Bravo reality series intentionally manipulative? Yes. Does that make it less enjoyable or heartening to watch the five new Queer Eye experts help men become their better selves while accepting gay men into their lives? For the most part, no. This socially conscious–lite makeover show wants you to cry, and it's so charming and heartfelt in its intentions and execution that you do, without hesitation. One could argue that a divided America needed Queer Eye to prove that conservatives and progressive can bridge the gulfs between them, and maybe that's true. I'd also argue we needed a series that forced us to have both an intense discussion about culinary expert Antoni Porowski and that answered the question, "Is it possible that a firefighter who looks like a cross between Chris Hemsworth and Smith Jerrod from Sex and the City actually works in the small town of Covington, Georgia?" with a resounding yes. —JC
This short-lived crime drama from The Killing creator Veena Sud is about the effect of one death on a community, but it's suffused with the sort of workaday grit and attention to social reality that evoked Sidney Lumet thrillers about civic corruption like Prince of the City, The Verdict, and Q&A. The storytelling balances elements of the police procedural, the panoramic 19th-century novel, and the '40s movie melodrama, and the whole comes together beautifully in an ending that offers some measure of redress for grieving people but also an awareness that problems that have been festering in the body politic for generations can't be waved away. The entire cast is impressive, and Regina King's turn as the mother of a boy killed in a hit-and-run accident is a standout. —MZS
A seductively miserable memory piece as well as an empathetic portrait of trauma and denial, this adaptation of Gillian Flynn's novel didn't do anything the way you might've expected it to. The exceptional cast (headed by Amy Adams) and the Proustian editing will rake in awards if there's any justice. Special kudos to Patricia Clarkson for inhabiting a wry yet domineering mother worthy of the most delicious southern-gothic fiction. —MZS
This drama from playwright Kit Steinkellner observed the fallout from the death of one man, Matt (Mamoudou Athie) — the husband of heroine Leigh Shaw (Elizabeth Olsen) and the only brother of Danny (Jovan Adepo) — and showed how it rippled outward, affecting their extended family and friends. But the sneakily brilliant thing about this series is how it analyzes grief as a response to all sorts of loss, not just the death of a partner or family member. Divorce, depression, and other origin points of unhappiness are likewise placed under the microscope, then situated within the wider mundane world of work and everyday chores. The result is a genuinely therapeutic experience that speaks to anyone who's felt shattered by life at one point or another and worried that nobody really understood what they were going through. —MZS
Toward the end of July, it felt like everyone — or at least everyone on social media — received the same alert telling them to watch HBO's Succession. It's the only way to explain why, more than midway through the season, people seemed to suddenly realize that the Jesse Armstrong–created HBO dramedy was must-see TV. And it was: partly because of its dark, droll depiction of the rivalries among the children of a crusty media mogul (Brian Cox), partly because its inept, self-involved characters had an odd way of growing on you (love you, cousin Greg!), and partly because Kieran Culkin is so damn good at playing snarky A-holes. In real life, most people loathe entitled, wealthy pricks. But when they're created with such specific, salty-tongued detail and thrust into such inherently suspenseful, unpredictable situations — I still haven't fully recovered from Kendall's (Jeremy Strong) mad dash through lower Manhattan to reach an important board-of-directors vote — it's hard to look away. —JC
Adapted from Dan Simmons's acclaimed historical novel and executive-produced by Ridley Scott, this account of a British nautical expedition gone wrong had the look and sound of a classic horror movie, essentially a haunted-house flick set on creaky wooden boats in the icy Arctic. But the longer it went on, the more it felt like a torture device in the form of a TV show, cataloguing all the different ways in which a person can violently die, from accidents and illness to drowning, exposure, and animal attack. There's no reason why such a relentless, grim, and unpleasant series should be watchable, yet this was perversely enticing, maybe because it had such a deep understanding of human psychology pushed to the limits of endurance, and a sense of how far to push thematically and symbolically freighted situations while still making it seem as if it were just telling the story of a bunch of guys who'd gotten in way over their heads without realizing it. —MZS
An under-the-radar charmer, This Close is a romantic dramedy whose most important relationship is the platonic one between best friends Kate (Shoshannah Stern), who's engaged to a guy that may not be right for her, and Michael (Josh Feldman), who is gay and struggling with a recent breakup. What makes it groundbreaking is the fact that both characters are deaf, a fact that defines how they relate to each other and the world around them, but also is just one of many adjectives that could be used to describe these multifaceted characters. This Close is observant, well-acted, and, in what really counts as high praise given the persistence these days of TV bloat, a concise binge-watch that does precisely what it needs to do in just six 30-minute episodes. —JC
This limited series takes two excessively dissected murder cases and explores them in ways that are fresh, ambitious, and extremely attentive to detail. The friendship between Biggie (Wavyy Jonez) and Tupac (Marcc Rose) is part of the equation, but what makes Unsolved really compelling is its detailed revisiting of the Byzantine investigations into the deaths of two all-time great hip-hop artists, first in 1997 and then again in 2006. Jimmi Simpson is a particular standout as Russell Poole, an LAPD detective so obsessed with solving Biggie Smalls's murder that he essentially sacrifices his life for it. —Jen Chaney
The six-episode first season of this Starz series focused on a pair of Mexican-American sisters grappling with the death of their mother and the ramifications of deciding how to run the bar she left behind in a rapidly gentrifying section of East Los Angeles. It's the rare television show that comments directly on urban redevelopment, the marginalization of ethnic groups as well as the LGBTQ population, and the responsibility that comes with trying to maintain cultural traditions even as society tries to erase them. Vida does all of this without being overly didactic and by slowly immersing us in the lives of its characters, whose perspectives haven't often been represented in network or cable shows like this one. —JC
Toni Collette delivers a multilayered, luminous performance as Joy, a therapist who decides to turn her monogamous marriage into an open one, with mixed results. This drama, originally broadcast on the BBC then picked up by Netflix, traffics initially in the realm of sexy, amusing fantasy, but ultimately makes an impact because of the way it strips away Joy's defense mechanisms to reveal a woman carrying a reservoir of guilt and regret. —JC
They say that in art as well as life, the only way out is through. That's how Westworld, one of the most dour, self-aware, and self-regarding of science-fiction dramas, went from being a interesting but irritating show to a fascinating one: by boldly going straight into its own navel, it embraced its fundamental appeal as a source of bong-rip philosophy — as much a weekly collection of thought experiments as a sentimental and apocalyptic fable about humanity's ongoing attempts to play God for fun and profit. The finale is a head-scratcher for the ages, but so gleefully demented that it compels even less invested viewers to return for season three. And the episode with Peter Mullan as the endlessly rebooted asshole is one of the year's best stand-alones. —MZS
You've really got to cross a lot of hurdles to qualify as one of the more bonkers things on TV right now. But Wild Wild Country, a docuseries that dissects the bizarre tale of the clash between the Rajneeshees, members of a religious community that settled in Oregon in the 1980s, and the locals increasingly disturbed by their presence, more than leaps over them. If each episode were nothing more than just a basic recounting of the WTF moments in this saga — wait, Rajneeshee leaders contaminated local salad bars and poisoned well over 700 people in one of the largest bioterrorist attacks in U.S. history? — it would still be pretty absorbing to watch. But sibling directors Chapman and Maclain Way treat all of their subjects with respect, making the viewers constantly question their perspective on the villains and victims in this story. —JC
The best show on TV for book-publishing nerds, romance fans, and admirers of the tall drink of distinguished water that is Peter Hermann (yes, those groups do overlap), Younger is light escapist fare that never insults the intelligence. It's all pleasure with none of the guilt, and very good at continuing to push its central story line forward. In its fifth season, it ripped another layer off of Liza's ongoing deception — more people, most notably her publishing boss Charles (Hermann), realized that she's been fibbing about her age — while satisfying the audience's itch to see Liza and Charles give their romance a go. It also had the courage to end the season on a note of doubt, suggesting that even in a rom-com as delicious as this one, it's not necessarily possible for the protagonist to have it all. —JC
Overseen by writer-director Judd Apatow, one of countless artists mentored by the late Garry Shandling, Zen Diaries is no mere biography or delayed wake, but a consideration of what it means to commit to being a complex and ever-evolving artist, and a mensch on top of it all. Although the production is aided immensely by what looks like complete access to Shandling's professional and personal archives (including never-before-seen photos, home movies, letters and diary pages), it is ultimately Apatow's control of tone and rhythm that makes the entire thing sing. It's acerbic, compassionate, tough-minded and inquisitive — or maybe you could call it Shandlingeseque. —MZS
For more of the year in pop culture, don't miss Vulture's picks for the best TV shows of 2018, the best movies of 2018, and the best albums of 2018.