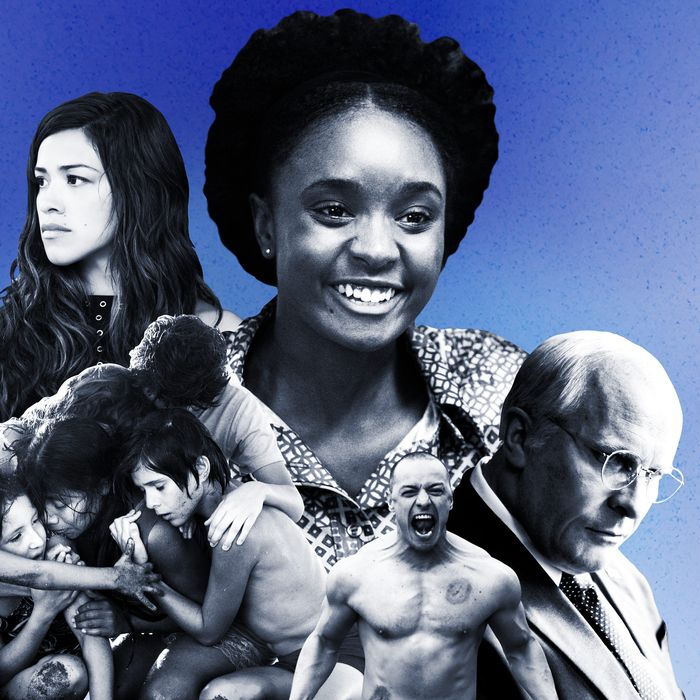 Photo: Maya Robinson/Vulture
Ah, wintertime, when the habitual moviegoer can rationalize their sedentary lifestyle as a retreat from the weather outside that's frightful. (At least until summer, when the excuse flips to A/C beating the heat.) From the tail end of the awards window to the no-man's-land of the post-holiday season, the next few months will deliver a host of wondrous, strange, challenging pictures — and a live-action Dumbo remake courtesy of Tim Burton. To each their own, and you can find your own in Vulture's comprehensive preview below:
Roma, November 21
Alfonso Cuarón's long-in-development masterpiece (the only kind of movie he knows how to make) comes to theaters for a brief run before appearing on Netflix December 14, and if at all possible, that's how you should see it. His loosely autobiographical account of two tumultuous years in the home shared by indigenous housekeeper Cleo (Yalitza Aparicio, a pillar of granite) and her Spanish-descended employer Sofia (Marina de Tavira) immerses the viewer in '70s Mexico with crisp black-and-white photography. Through passages of delicate intimacy and titanically scaled surrealism, Cuarón locates a hard-won common ground bridging a racial divide while at the same time charting its limits.
The Favourite, November 23
It's saying something that the most "mainstream" film from Greek imp Yorgos Lanthimos involves forced vomiting, duck races, bourgeois excesses, and the most unromantic hand job of the year. Royals relish the chance to behave a little badly in this satire of Queen Anne's final days, as two of her courtiers (Rachel Weisz and Emma Stone) jockey to assume her throne for the rest of the 18th century. Olivia Colman runs the show as the hysterical, paranoid, deluded, crumbling Anne, imbuing an out-and-out ridiculous character with a whisper of humanity that gradually grows in volume until it reaches a shriek. Let the opulent, bloody games begin.
The House That Jack Built, November 28
Nothing says "Thanksgiving" quite like a new Lars Von Trier movie! Pay no mind to the mass walkouts at the Cannes premiere, the whole family will love the heartwarming yarn of a chronically depressed serial killer (Matt Dillon) chasing inner peace through a gauntlet of imaginative, stomach-turning slayings. The complete and unexpurgated director's cut will run in all its glorious atrocity for one night only before it's banished to the streaming wilds, while an R-rated cut takes its place in theaters on December 14, so keep an eye out — it's really not the same movie without all of the mutilated flesh.
Vox Lux, December 7
Natalie Portman's late-in-the-game Oscar bid starts with this ambitious thesis on pop-stardom, public violence, and mass culture in the 21st century. In the second half of this bisected film, she plays Celeste, a Lady Gaga–ish Top 40 mainstay approaching a complete meltdown; the first tracks a 13-year-old Celeste (Raffey Cassidy) as she survives a national tragedy and experiences her first brushes with celebrity. Between the distinctly literary narration courtesy of Willem Dafoe, the lofty statement-making about modernity, and Portman's fever-pitch performance, director Brady Corbet took a big swing with his second feature. Festival audiences are still passionately debating over whether he connects.
If Beale Street Could Talk, December 14
It's been two years since Moonlight and the wounds in our hearts have just about healed over, which means Barry Jenkins has returned just in time to rip them open again. For his next work of emotional pulverization, the filmmaker tackles James Baldwin's 1974 novel about a black man imprisoned for a crime he didn't commit, racing to be free in time to see his wife give birth. (Stephan James and KiKi Layne portray the couple with shattering tenderness.) In the vividly realized Harlem they call home, Baldwin and Jenkins make room for empathy and intolerance, support and opposition, mercy and cruelty.
Vice, December 25
One of the last true question marks left on this year's movie calendar is Adam McKay's Dick Cheney movie, a tantalizing phrase that could go in any number of different directions. Christian Bale expanded his gut to a mighty paunch to play the former VP and distant nephew of Darth Vader, supported by a promising cast including Amy Adams as Lynne Cheney, Steve Carell as former secretary of Defense Donald Rumsfeld, and Sam Rockwell doing the most impeccable Dubya impression you've ever heard. However McKay decides to handle the material, rest assured that he's not going to play softball with the guy who shot his hunting buddy in the face.
Glass, January 18
M. Night Shyamalan goes franchise, stringing Unbreakable's David Dunn (Bruce Willis) and Mr. Glass (Samuel L. Jackson) together with Kevin (James McAvoy) of Split notoriety for a crossover throwdown. The three of them have been remanded to a mental institution and placed under the care of Dr. Ellie Staple (Sarah Paulson), but of course they can't stay cooped up for long. So the stage is set for a conflict of cataclysmic proportions, a superhero movie that hits a little harder than the usual output from primary-colored Marvel or po-faced D.C. And, if nothing else, McAvoy asking for a peanut-butter-and-jelly sandwich in his little-kid voice should probably be worth the price of admission.
Miss Bala, February 1
For fans of Sicario, here's another thriller entangling a reluctant woman in the drug trade south of the border. Gerardo Naranjo's 2011 film took a few liberties with the true story of a Mexican beauty queen who vanished, only to turn up months later as a member of a narco gang; in this English-language remake, Jane the Virgin star Gina Rodriguez assays the title role. As Gloria, she begins the film horrified by the brutality all around her, but she shocks herself with how quickly she gets acclimated to this new lifestyle. There's a little bit of The Godfather in the way she convinces herself to wield power for her own sake, and then allows herself to be consumed by it.
Us, March 15
Here's what's known about Jordan Peele's follow-up to Get Out: it is a "social-horror thriller," which means nothing, and it stars Lupita Nyong'o and Elisabeth Moss, which arguably means everything. They're joined by an eclectic lineup including Tim Heidecker, Winston Duke, and Anna Diop in a film shrouded in mystery, and hotly anticipated nonetheless. Peele showed serious skill as a director, screenwriter, and cultural critic in Get Out, and the real test will be whether he can pull it all off again.
The Beach Bum, March 22
Harmony Korine has been cooling his heels since scandalizing American moviegoers with Spring Breakers back in 2013: kickin' back, takin' it easy, maybe a few bong rips. Or perhaps I'm conflating him with Moondog (a thong-clad Matthew McConaughey), the perma-stoned hero of this shaggy-dog Florida story. His comic odyssey through a beach community of oddballs and lowlies acquaints him with a bizarrely curated cast of characters (Isla Fisher, Snoop Dogg, Zac Efron, Martin Lawrence, Jonah Hill, and as himself, Jimmy Buffett) looking to get paid, laid, or just a little high. That's not so tall of an order in the scuzzy, indulgent, and occasionally transcendent cinema de Korine.
The entire winter lineup
November
11/21
Creed II, Ralph Breaks the Internet, Robin Hood, Green Book, Second Act, Roma
11/23
The Favourite, Shoplifters
11/28
The House That Jack Built
11/29
Mowgli
11/30
The Possession of Hannah Grace, Anna and the Apocalypse, Happy as Lazzaro, Mirai
December
12/5
Tyrel
12/6
Clara's Ghost
12/7
Mary Queen of Scots; Asher; Ben Is Back; Dumplin'; Divide and Conquer: The Story of Roger Ailes; Vox Lux; Piercing
12/12
Once Upon a Deadpool
12/13
Bird Box
12/14
If Beale Street Could Talk, Capernaum, Mortal Engines, The Mule, Spider-Man: Into the Spider-Verse
12/19
Mary Poppins Returns
12/21
Second Act, Aquaman, Bumblebee, Welcome to Marwen, Cold War
12/25
Holmes and Watson, Vice, On the Basis of Sex, Destroyer
12/28
Stan and Ollie
January
1/4
Eli, Escape Room
1/11
A Dog's Way Home, Replicas, The Upside, Buffalo Boys, Perfect Strangers, The Untold Story
1/18
Glass, A Violent Man
1/25
The Kid Who Would Be King, Serenity, The Nightingale
February
2/1
Miss Bala, Three Seconds, Arctic
2/8
Everybody Knows, Cold Pursuit, The LEGO Movie 2, What Men Want, The Prodigy
2/13
Birds of Passage
2/14
Happy Death Day 2 U, Alita Battle Angel, Isn't It Romantic
2/22
How to Train Your Dragon: The Hidden World; The Rhythm Section; The Turning
March
3/1
Fighting With My Family, Chaos Walking
3/8
Captain Marvel, Gloria Bell
3/15
Us, Wonder Park, Ash Is Purest White, The Hummingbird Project
3/22
Where'd You Go Bernadette, Five Feet Apart, Greyhound, The Beach Bum
3/29
Captive State, Dumbo, The Translation of Wounds, Fast Color
Not yet set:
3 Faces, Climax, Asako I and II, The Wild Pear Tree, In Fabric, High Life, The Lighthouse