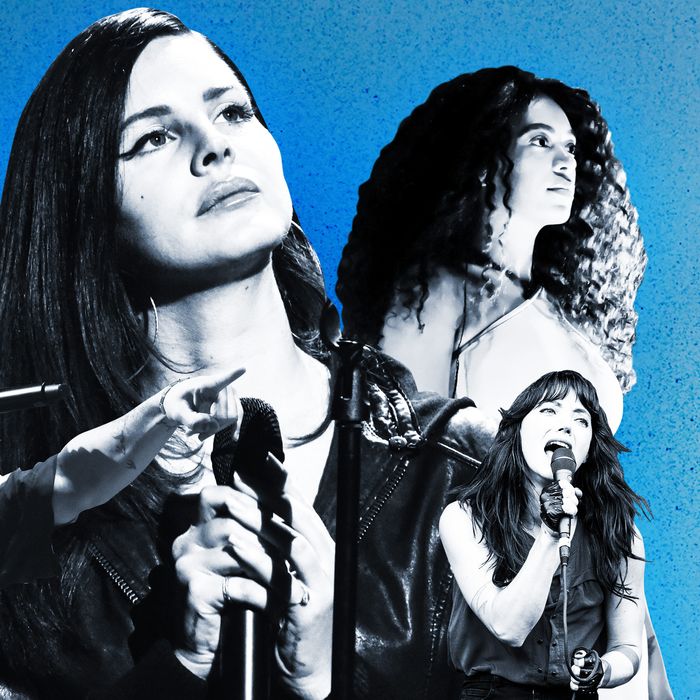 Photo: Maya Robinson/Vulture and Photo by Getty Images
Even though new music releases arrive more unexpectedly than ever these days, it's still possible to plan ahead for when some of the biggest and most promising artists are planning to drop a new project. Here's a comprehensive-as-possible guide to the records you should be keeping your eyes and ears out for over the next four months. Remember, it may be getting colder, but good new music can always keep you warm. (And always keep an eye out for those surprise releases! They happen all the time).
Mumford and Sons, Delta (November 16)
Fresh off a controversy involving a behind-the-scenes studio photo with junk-psychologist and misogynistic alt-right godhead Jordan Peterson, Marcus Mumford & Co. return with their fourth full-length album, moving further away from the rustic-folkie sound of their first two albums than ever. Jumping off from the streamlined rock of Wilder Mind from 2015, Delta boasts a new production collaborator with U.K. indie-guy and Adele cohort Paul Epworth in the booth, promising a new sonic direction for the band in its incorporation of electronic touches and spacey atmospherics.
Anderson .Paak, Oxnard (November 16)
Singer, rapper, and producer Anderson .Paak broke big with 2016's Malibu and the off-kilter Yes Lawd! under his and hip-hop producer Knxwledge's NxWorries project; for his proper Malibu follow-up, he's enlisted sometime mentor Dr. Dre as executive producer, with guest spots from Kendrick Lamar, Pusha T, Snoop Dogg, J. Cole, Q-Tip, and more. If you haven't heard the Kendrick-featuring "Tints" already, do so now — it's sleek disco-pop at its finest.
Mariah Carey, Caution (November 16)
The Elusive Chanteuse's first album since 2014's (wait for it) Me. I Am Mariah … the Elusive Chanteuse arrives with guest spots from the perpetually ubiquitous Ty Dolla $ign, Blood Orange, Gunna, and Slick Rick — sure signs that Caution will feature the melding of soaring R&B and contemporary hip-hop that Mariah's always been known for. On the production end, there's contributions from Drake collaborator Nineteen85, Timbaland, Justin Bieber associate Poo Bear, and Lido — who you might recognize under his more ridiculous EDM guise of Trippy Turtle. Mariah and Trippy Turtle: together at last!
Smashing Pumpkins, Shiny and Oh So Bright, Vol. 1/LP: No Past. No Future. No Sun. (November 16)
The original lineup of Billy Corgan's long-running alt-rock project returns … sort of: For this follow-up to 2014's Monuments to an Elegy, Jimmy Chamberlin and James Iha have rejoined Corgan's angsty, noisy fray (original bassist D'Arcy Wretzky, however, has not), with Rick Rubin manning the boards for this complicatedly titled album. It also counts as Corgan's latest release since the better-than-you-thought solo effort Ogilala from last year.
The Good, the Bad, and the Queen, Merrie Land (November 16)
It's been a busy year for side projects from the always busy Blur front man Damon Albarn: After releasing the lovely and overcast Gorillaz album The Now Now earlier in 2018, he's resurrected this supergroup featuring former Clash member Paul Simonon, the Verve keyboardist Simon Tong, and Afrobeat maestro Tony Allen. Merrie Land follows the Good, the Bad, and the Queen's eponymous 2007 debut — a long time in the making, indeed — and Simonon has described Merrie Land as "modern English folk music with a bit of rub-a-dub in it."
Jeff Tweedy, WARM (November 30)
The Wilco front man's memoir just hit shelves this week, and it's not the only thing he's putting out in November: This follow-up to last year's acoustic collection Together at Last was produced and recorded entirely by Tweedy at his own the Loft studio in Chicago, with assistance from Wilco drummer Glenn Kotche and Tweedy's son Spencer (aww). Featuring liner notes from author George Saunders, for all you literary nerds out there.
The 1975, A Brief Inquiry Into Online Relationships (November 30)
The bombastic U.K. pop-rockers' previous album, I Like It When You Sleep, for You Are So Beautiful Yet So Unaware of It, debuted at No. 1 on the Billboard 200 despite having an extremely long title that even superfans struggle to accurately remember. Will this more simply titled album find similar success? It remains to be seen — but the band's unbeatable string of 2018 singles (especially the "We Didn't Start the Fire"-esque "Love It If We Made It") suggests another bold blockbuster from Matty Healy and his genre-fluid cohorts.
Meek Mill, TBA (November 30)
There is not a ton of info about Meek's first record since being released from prison this past April; but according to Vogue, the forthcoming LP will focus on "his experiences and the issue of social justice." It will also assuredly contain a lot of loud-voiced rapping because Meek is very good at that.
Gucci Mane, Evil Genius (December 7)
The East Atlanta Santa's been operating at a steady clip since seeing release from jail in 2016; Gucci's follow-up to last year's El Gato: The Human Glacier is set to feature appearances from fellow Atlanta rap stars like 21 Savage and Quavo, as well as pop hit maker Bruno Mars, who throws in on the recent Kodak Black–featuring single "Wake Up in the Sky."
XXXTentacion, Skins (December 7)
Not a ton is known about the first posthumous release from the controversial rapper, who was murdered at the age of 20 earlier this year; there's a single out there — "BAD!" — along with some bare-bones cover art, and that's about it. XXX's history of violent and abusive criminal behavior has long been a topic of discussion surrounding his music, and it's assured that is not set to change anytime soon.
Offset, TBA (December 14)
Migos kicked off the year with a new album, Culture II, and they've been closing out 2018 with a string of solo releases: Quavo's debut Quavo Huncho came out in October, Takeoff's The Last Rocket dropped earlier this month, and we've been promised a to-be-detailed release from Offset next month too — all presumably to whet our collective appetite for Migos' Culture III, due out next year.
Bruce Springsteen, Springsteen on Broadway (December 15)
What's in a name? Well, when it comes to Bruce Springsteen's upcoming release, that's pretty much all you need to know about it. That's right — right as the Boss's much-ballyhooed Broadway stint comes to an end, this soundtrack recording from the show will hit stores and streaming services, along with an accompanying Netflix performance film that was captured during two shows in July of this year.
21 Savage, TBA (December 2018)
21 Savage definitely hasn't been in hiding, with his contributions on recent records from Travis Scott and Metro Boomin — and it also seems like we might get a follow-up to last year's Issa Album before the year's out, too. The Atlanta rapper recently tweeted "12-7-18," which seems like a pretty safe bet that we're going to get some new music from him in some form on that date. Clear your plans!
Solange, TBD (Late 2018/Early 2019)
Solange recently told the New York Times that the follow-up to her astounding 2016 LP A Seat at the Table was coming this fall — but, mysteriously, the bio for the Instagram page of her Saint Records label now says, "Prolly next year," suggesting that it'll be a bit more time before we get to hear it. Hurry up, Solange!
Lil Pump, Harverd Dropout (Late 2018/Early 2019)
What will the new album from SoundCloud rap extraordinaire Lil Pump sound like, exactly? Will it feature his recent (and quite odious) Kanye West collaboration "I Love It"? What about his Lil Uzi Vert–featuring single "Multi Millionaire"? Is Lil Pump actually a multi-millionaire? Hopefully, when Harverd Dropout finally, uh, drops, we'll get the answer to some of these questions, and more.
Earl Sweatshirt, TBD (Late 2018)
Are we getting new music from brainy rapper Earl Sweatshirt this year? It sure seems like it; he recently discussed the status of his first album since 2015's I Don't Like Shit, I Don't Go Outside with Beats 1 host Zane Lowe, and earlier this month, he released the glitchy single "Nowhere2Go," suggesting that the rapper is taking his sound to more abstract places than ever before. Keep your eyes out for this one, it could come any day now.
Ariana Grande, Thank U, Next (Late 2018)
The sublime Sweetener from this past summer was more than enough to tide fans over for a while, but apparently she's almost finished with another album and readying it for release before the year's out. You've heard the title track already; it's the No. 1 song in America, and it's awesome. Here's hoping the rest of the album is more of the same.
Deerhunter, Why Hasn't Everything Already Disappeared? (January 18)
Indie-rock provocateur Bradford Cox and his band used to release albums like free-flowing water, but the group's increasingly gotten used to taking their time. To wit: Their exquisitely titled eighth album is their first in four years, with co-production by Ben H. Allen (who helmed Animal Collective's classic Merriweather Post Pavilion, as well as Deerhunter's 2015 LP Fading Frontier) and abstract rocker Cate Le Bon. Cox is an expert stylist known to follow his creative muse anywhere it takes him, so expect the unexpected from this one.
Sharon Van Etten, Remind Me Tomorrow (January 18)
Fresh from her performance on last year's Twin Peaks: The Return (don't get trapped in the Black Lodge, Sharon!), the inimitable singer-songwriter returns with her fifth album. The first single, "Comeback Kid," suggests an electrified new direction for her sound, and the cover art suggests a very, very messy room.
Dawn, New Breed (January 25)
Former Danity Kane and Diddy–Dirty Money member Dawn Richard's been steadily building a profile for her strange and alluring take on R&B with every release, and her follow-up to 2016's Redemption is sure to be no exception. The record's mostly self-produced, along with contributions from folks like erstwhile Kanye West collaborator Hudson Mohawke and Cole M.G.N., formerly of indie-pop wackos Ariel Pink's Haunted Graffiti.
Girlpool, What Chaos Is Imaginary (February 1)
The Los Angeles indie-rock duo's 2017 LP Powerplant struck just the right amount of sweetness and static while evoking the best of 1990s indie — and there's no doubt they'll keep mining that sound for their second proper album recorded for ANTI-. We've already gotten three solid songs from What Chaos Is Imaginary, most recently the jangly and slightly wistful-sounding "Hire."
Beirut, Gallipoli (February 1)
Listening to Zach Condon's indie-pop project Beirut has often felt like shuffling through a series of postcards from another place and time; fittingly, his fifth album Gallipoli was named after the town that the title track was written in, with recording split between New York City and the Italian town of Guagnano. Beirut's last LP, 2015's No No No, found Condon trying a more miniature and synthetic sound for size; but the lush horns and sweep of Gallipoli's title track suggest that he's returning to the sound that many know and love.
Cass McCombs, Tip of the Sphere (February 8)
Elusive singer-songwriter Cass McCombs has spent much of his nearly two-decade career as the best-kept secret in indie — but since 2009's Catacombs, he's accrued more fans with every release, his spellbinding and truly quixotic tunes breaking past the shackles that a cult following typically entails. McCombs likes to keep details close to the vest sometimes, so there's not a ton out there about this one beyond the fact that engineering was handled by kindred spirit singer-songwriter Sam Evian — as well as the typically unspooling indie rock of first single "Sleeping Volcanoes."
Jessica Pratt, Quiet Signs (February 8)
This entrancing folk-indebted singer-songwriter is opening for select dates on indie-rock rambler Kurt Vile's current tour, so if you catch her set, you might get a sneak preview of some new songs from her follow-up to 2015's On Your Own Love Again. Her latest was co-produced by avant guy-in-demand Al Carlson, and first single "This Time Around" catches the same sunlit-yet-shadowy sound that's caused her to quickly ascend as one of the most fascinating songwriters in indie.
Panda Bear, Buoys (February 8)
The Animal Collective member's latest solo album follows 2015's trippy Panda Bear Meets the Grim Reaper, with another stylistic left turn: First Buoys single "Dolphin" suggests the presence of Auto-Tune on Noah Lennox's distinctive, bell-clear vocals, along with a more stripped-down structure than previous albums. Frequent AnCo collaborator Rusty Santos mans the boards here, alongside Lennox — the whole deal recorded in Lennox's home of Lisbon, Portugal.
Dido, Still on My Mind (March 8)
Dido's back! The English easy-listening singer returns with her first album in five years — and, perhaps more importantly, with the release of Still on My Mind comes her first touring dates in a whopping decade and a half. Pro tip: Don't request "Stan." You should know better than that.
Lana Del Rey, Norman Fucking Rockwell (Early 2019)
Modern pop goddess Lana's been in the studio with Jack Antonoff over the past year, which will either please or annoy people who respectively wish that Antonoff would work with more or fewer female artists. (Everyone has opinions!) Either way: It already seems like Norman Fucking Rockwell has the potential to be bonkers-level good beyond that incredible album title — the epic "Venice Bitch" is way better than any nine-minute Lana Del Rey song has the right to be, and it arrived right after the similarly sterling "Mariners Apartment Complex." Consider us fucking excited.
Rihanna (TBD)
What's better than one Rihanna album? How about two? The follow-up to 2016's ANTI (or, more accurately, follow-ups) are reportedly being worked on concurrently, with two drastically different approaches: One is a dancehall-oriented LP featuring contributions from the genre's heavyweights along with non-dancehallers Skrillex and Boi-1da, and the other focuses on the more traditional pop sound that some commonly associate with Rihanna. Who knows when they're coming out? Not us — but we can't wait regardless.