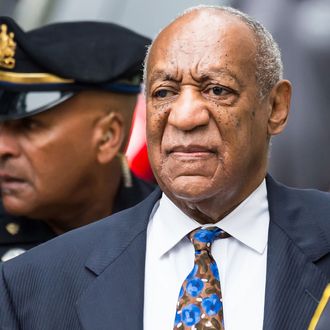 Bill Cosby.
Photo: Gilbert Carrasquillo/Getty Images
Bill Cosby is still trying to get a new trial after being convicted of three counts of aggravated indecent assault against former Temple University employee Andrea Constand, but it looks like his 2019 is already starting to get pretty booked up. According to Deadline, a Los Angeles Superior Court judge reportedly set a trial date Tuesday for a civil case lodged against the actor and comedian by accuser Judy Huth, who has been attempting to sue Cosby for sexual battery since 2015 after authorities declined to pursue a criminal charge against him.
According to Huth, Cosby allegedly molested her at the Playboy Mansion in 1974 when she was 15. While it's been 44 years since the purported sexual abuse occurred, the statue of limitations for civil lawsuits hasn't lapsed, as Huth was a minor at the time. Prior to this year, the courts had decided to essentially pause Judy Huth v. William Henry Cosby Jr. until Cosby's criminal trial had concluded, a precedent Harvey Weinstein is now apparently trying to leverage. Cosby is due in court to begin the Huth trial on October 7, 2019. As with all the allegations against him, Bill Cosby has denied any accusations of wrongdoing.