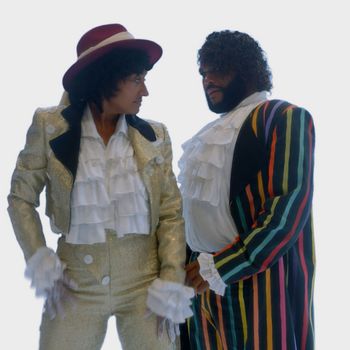 Tracee Ellis Ross and Anthony Anderson entering "Erotic City" in the Prince tribute episode of
Black-ish
.
Photo: ABC/ABC
On Tuesday night, Black-ish turned its 100th episode into a half-hour tribute to the music and legacy of Prince Rogers Nelson. In an installment called "Purple Rain," Dre (Anthony Anderson), Bow (Tracee Ellis Ross), and older members of the Johnson family attempt to school young twins Jack (Miles Brown) and Diane (Marsai Martin) on the significance of His Royal Badness and, in the process, stage musical performances that pay homage to his videos and films. Many of the greats — "Kiss," "Erotic City," "Sexy MF," "Purple Rain" — were brought back to life, Black-ish style, with Anderson, Ross, Yara Shahidi (whose father, Afshin Shahidi, was Prince's personal photographer), and Martin even dressing up like the late singer.
Ahead of the episode's airing, Black-ish showrunner Kenny Smith spoke to Vulture about how the milestone episode came about and what was involved in getting the rights to all those Prince songs.
How did the concept of a Prince episode first arise?
Over the summer, when we got together the first week [of the new season], Kenya [Barris] came in and told us this story about how he was at dinner with some friends and there was a guy in his twenties and they started playing Prince on the restaurant system. He was like, "Who is this?" Kenya was flabbergasted. "What do you mean, who is this? This is Prince."
I would have just thrown down my napkin and walked out of the restaurant.
[Laughs] Kenya actually gave him a list of songs he had to listen to. Later on the guy called him back — he went through Purple Rain and Sign o' the Times, and he was a huge Prince fan by the end. So Kenya said he wanted to do an episode where one of the kids didn't know who Prince was. We started developing it from there.
To do this, you obviously needed the permission to use all the Prince music that you use.
From the estate.
Right, from the estate. What was that process like? Was it difficult?
I believe Kenya and one of our music supervisors had a relationship with the estate. When they had the conversation, they thought it was a great fit for the show and for them, so they opened up the whole library to us, except for like a couple songs.
That's incredible. If Prince were still alive, do you think that you could have gotten that kind of permission? My guess is no.
You know what, I don't know. I know that he was a fan of Anthony's and he knew Tracee. And Kenya, he knows everybody. So I don't know.
And with Yara Shahidi's dad having been Prince's photographer, there's a lot of connections between him and the show. In terms of the writing process, did you choose the songs before working on the episode?
We spent an afternoon around the writers' table talking about which Prince songs we all loved. We started off with the ones that we had to have, the iconic ones like "Purple Rain" and "When Doves Cry." And then we went though the more obscure ones people loved, and we mocked them for that. But we had a great time.
We started breaking down the story — what moments would affect each person and how they connected to each song. It came down to the real thing of how much budget we had for the songs, so then we had to even tighten it up a little more. At one point, we just had them rattling off the names of Prince songs because we just wanted to get everything in.
Did you have to pay a certain amount and then you could use whatever you wanted from the library, or did the cost differ based on the song?
I don't know how the numbers worked, but I don't think we had to pay extra for this song or that song. Like, "Purple Rain" didn't cost more than "Sexy MF." I just knew we got the budget and it was impossible, so we had to cut another six songs out of it to make the budget.
So you were thinking of going with 12 or more songs?
Well, we were all Prince fans. We wanted to do as many as we could. We would have done 20 or 30 if we had the time. A funny story is we got down to the bare bones of what we could and couldn't do, and then Charlie's supposed to perform "Raspberry Beret" at the end and we did not have the money. So it became, Why doesn't he just describe the "Raspberry Beret" video? That could be funny. So we did that. That's the only reason Charlie isn't performing that song.
Deon Cole must have been so disappointed.
No, I think he enjoyed wearing the costume and acting it out.
How difficult was it to find that "Raspberry Beret" suit?
We have Michelle Cole, Emmy-nominated wardrobe designer, she and her team put those costumes together. They built some of those from scratch and they altered some other things to make it happen. Hair, make-up, wardrobe, and set dec, they really put their thing down on this one.
Did any of the actors try to call dibs on a particular song?
No one tried to put dibs on a song. They just loved the fact that we were doing it. I heard from Miles that he actually was a huge "Kiss" fan, so he was happy just to have his little moment with the song. Giving Yara "Sign o' the Times," we thought that was a good moment because [Zoey] is in college and a lot of college people have that fight the system [attitude]. We never got pushback from any of them. I'm sure they had their songs they love, but they all seemed happy with the songs we chose for them.
You're looking at different generations and their relationships to Prince's music, but you're also tracing the arc of his career at the same time and what he means to different people. I thought that was cool.
We actually got pushback from someone who was saying Pops probably wouldn't be into Prince because of his age. I was like, "No, my dad is older than Pops and when 'Adore' came out, my dad loved that song." We were having that conversation that Pops might respect Prince for pushing back on what was right as far as the business. When we found that song ["7"] to speak to his character, we thought, That's a good fit.
What was the vibe like on-set when you were making the remake of the "Kiss" video?
We actually went to a director we hadn't used before, Charles Stone, who primarily does features. Charles spent his own personal time prepping for this episode for weeks, making sure everything was perfect and the lighting was perfect and working with the actors to get the best performance that we can shoot. If you watch the show, it's amazingly directed. It's incredible.
As we were saying, several people on the show knew or had met Prince before. How did that affect how their performances and the episode?
I don't know if it affected their performances. Whether or not they had moments with Prince, we just love him. The opportunity to be on a show where we could express that and express it so creatively, everyone was just ready to give 100 percent. Also, I don't know how many shows have done this thing for him at this point. It felt like, If this is the only one, we have to deliver a great show. We can't drop the ball on this.
Once the episode was finished, did anyone from the estate see it?
Yeah, we had a screening on Saturday where four or five members of the estate came and previewed it with us. They seemed blown away and happy. I think that's the best feeling because they trusted us to do this. Prince music is starting to get out there a little more. I'm seeing it in commercials.
I have to say, every time I see that Capital One commercial with "Let's Go Crazy" I get so angry. It upsets me.
I know, but it's also a way to get it out there so the next generation can experience it. That was the whole point of the story. Dre wants to pass this on to the next generation. I feel like whether you agree it should be in Capital One or not, it's opening it up to a younger generation to say, "Oh, this is a great song." And maybe look up that song and hear other Prince music. Dre and Bow, that's all they wanted.
Can you imagine paying tribute to another artist in an episode, or is this a one-time thing?
I wouldn't say never. It was really supposed to be a one-time thing. The way it's been received so far, I wouldn't be mad at going down that road one more time. But it would have to be someone on Prince's level.
Maybe Aretha?
Maybe Aretha. We are using her music in a couple of episodes this season. With her passing, we've been playing it around the office. So it was like, we should find a moment in these scenes and honor her.
This interview has been edited and condensed.