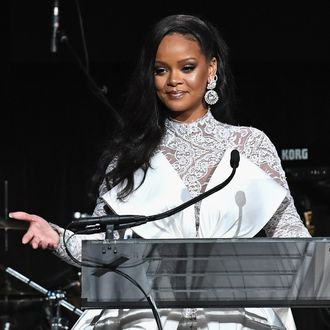 Rihanna.
Photo: Dimitrios Kambouris/Getty Images for Diamond Ball
If you've been going to Donald Trump's rallies just because they have a beat you can dance to, you might want to consider rescheduling. After Rihanna vowed to stop the president's use of her music at his rallies this week, the performing rights organization that licenses RiRi's work informed the Trump campaign that her music is no longer theirs to use.
According to Rolling Stone, Rihanna contacted Broadcast Music Incorporated to object to Trump's use of her work and asked that her music be removed from his campaign's blanket music licensing agreement. As a result, BMI sent a letter to Donald J. Trump for President Inc. that served "as notice that Rihanna's musical works are excluded from [an agreement between BMI and the Trump Campaign for song usage], and any performance of Rihanna's musical works by the Trump Campaign from this date forward is not authorized by BMI."
Prior to BMI's letter, Rihanna issued a cease-and-desist of her own earlier this week, making her one of many musicians who have rebuked Trump for playing their tunes. It's unclear what the repercussions would be if the president decides an unauthorized Rude Boy or Better Have My Money or even S&M is worth the risk, but if anyone can outmaneuver the Trump campaign, it would definitely be Rihanna. Fenty 2020.