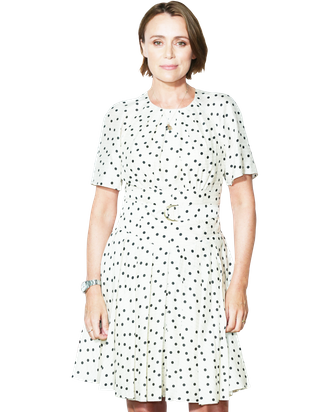 Keeley Hawes.
Photo: Getty Images
Spoilers below for Bodyguard and its ending.
Please don't ask Keeley Hawes if she's dead. The British actress is the star of Bodyguard — the BBC crime thriller that became a massive sensation in the U.K. before landing on Netflix last month — and if there's one thing that's "quite worrying" to her about the show's skyrocketing popularity, it's that question. "Let's get this into perspective, people," she says. "It's quite odd, because people keep asking me if I'm dead."
In the series, ex–Game of Thrones star Richard Madden serves as the stoic guardian to Hawes's conservative Home Secretary Julia Montague, up until the moment — again, spoilers! —when she gets blown up by a terrorist. Though Julia's death was a shock to everyone watching the show, Hawes promises that she knew it was going to happen ahead of time, and was excited about the idea. Julia Montague is definitely dead, but Keeley Hawes is very much alive, and she caught up with Vulture over the phone to talk about reuniting with Bodyguard creator Jed Mercurio after working together on the U.K. police procedural Line of Duty, how the show's French director helped her approach those intense sex scenes with Madden, and what it was like to watch Bodyguard become ridiculously popular.
We have to talk about this first: You die halfway through the show! Did you know that Julia Montague was going to die when you signed on?
Oh yes, I did. I did another show with Jed Mercurio called Line of Duty and he killed me in that, too. He's getting in the habit of that. I was only supposed to be in one [season] and then he asked me to go back. And I went back, but we didn't tell anybody, so it was a really great surprise. So I think people in this country thought, "Oh, he won't do that again."
It's a story about this bodyguard looking after this very powerful woman and it just pulls the rug out from the viewer. Then you don't know where you are because then nobody's safe. If one of your leads is blown up in front of you, then it makes for really compelling viewing. He takes risks, and there isn't really anybody else like him here. I love working with Jed and we had such a nice time. I happily would have worked with Richard forever, but, you know …
I kept thinking, "Oh, she can't be dead. I haven't seen the funeral yet. Maybe she'll come back." Did people ask you if it was a fake out as it aired in the UK?
Constantly. It was incredible. The reaction here was incredible. I personally haven't known anything else like it. It was just a really exciting thing to be part of. People were asking the prime minister her views on it. She was giving her view and it was like, Wow, this is extraordinary.
So yes, I was suddenly very, very popular. People asked me if I was really dead. It was quite worrying, "Is Keeley really dead?" No! Is Julia really dead? Let's get this into perspective, people. It's quite odd, because people keep asking me if I'm dead.
In those first few episodes, the relationship between Julia and David is so compelling. Julia is in control, but then she has to cede control to her bodyguard. And they're completely at odds politically. How did you two approach playing that?
We didn't do a chemistry read. I'd never met Richard until we arrived at the read-through. We were just thrown into this thing together. It couldn't have been better, as far as I'm concerned. We just got on so well. I would highly recommend working with Richard Madden.
We work in the same way, which is really helpful, in that we both take it seriously — yes, it's our job — but when you're working on something that can be very, very intense, it's great to keep it light on set. We laughed all the time. I think it always helps when you get on well with the people that you're working with, but especially for this relationship. You have to believe that they do have feelings for each other, that they're not just playing each other.
There's something so perfect about the way he says "Ma'am" to Julia.
It sounds like "Mum," doesn't it? In an American accent.
Yeah, it sort of becomes Freudian.
There's a whole other aspect that we have no idea about. It's so funny. There's a compilation with how many times he says "Ma'am." And it's something ridiculous — it goes into the hundreds or whatever. It's me with lots and lots of dialogue, and occasionally he would say, "Yes, Ma'am."
Julia has very hawkish political views, so how did you try to find sympathy for her?
It's such a difficult job. I don't envy any politicians in any country. It's so hard what they do, looking after the safety of the country. We keep up on the news and we think we know these politicians, but actually we don't know them. They all have lives and they all go home at night, and so, trying to make her as real as possible, rather than just this face that we always see. You know, the public image. I like her as a person. I don't share her views, but I am sympathetic to her. I think that helped, and the more intimate scenes, Richard was really helpful for that.
Speaking of those intimate scenes, a lot of character dynamics come into play when the characters have sex. Julia masturbates in front of him, for instance. How did you approach those scenes?
They are directed by a Frenchman [Thomas Vincent] and I think that comes across as well. The idea is just to make them as real as possible and intimate and feel real. And real isn't always as sexy as we'd like it, you know, Sex in the City. Because what looks good on camera is not necessarily real.
Especially amid the #MeToo movement, there's a greater push to ensure actors feel more comfortable filming sex on set. Did you talk about that?
It's funny, we're all fully clothed almost all the time — Richard might be less so — but even that was was very relaxed. Richard was very cool with it and nobody was doing anything they felt uncomfortable with. Those kind of things, they're just awkward. There's 15 people in the room. It's just part and parcel of the whole thing and important to tell the story.
Did you consult with any experts about the real dynamics between women politicians and their bodyguards?
We had people, yes. Jed uses a lot of experts. We had political advisors and people who had been bodyguards and that sort of thing.
Was there anything that surprised you?
No, but my husband was filming in New York and I finally had a week off, so I took my children to see him and I walked out of our hotel and there was a man standing outside like David Budd stands outside Julia's door. It was the first time I've ever seen it in the flesh. It was extraordinary. Filming it was very odd, always having somebody by your side, always having somebody there. To see it in action is really interesting.
Your husband Matthew Macfadyen was filming Succession, right? Have you watched it? Are you rooting for Tom Wambsgans?
Yeah, Tom Wambsgans is a really hot guy and I might the only person who thinks that. He's brilliant. The cast are uniformly excellent and the writing is just exquisite. We don't often sit and watch each other's shows, but I watched it and I couldn't stop. It's been a real hit over here.
One very important last question: How often do people sing "I Will Always Love You" to you because of Bodyguard?
I sing it a lot myself. It does follow me around, that's not a bad thing. Because it's great, isn't it?