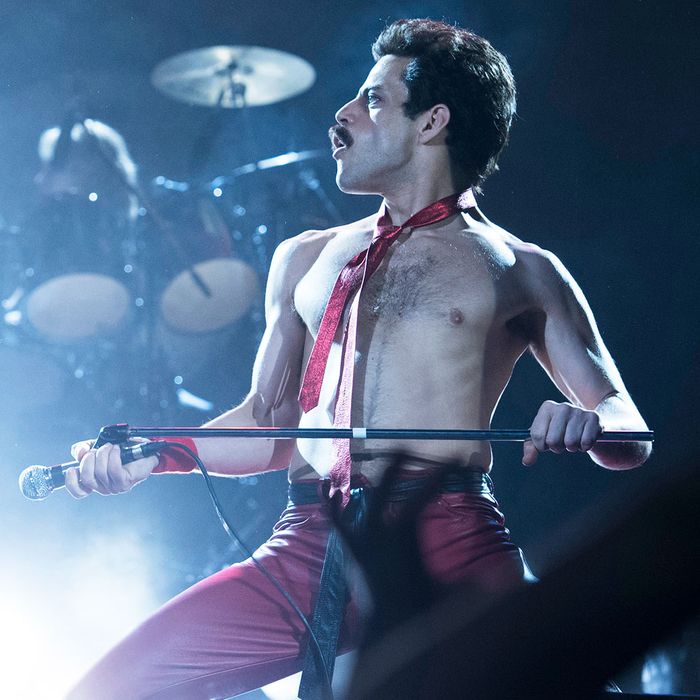 Photo: Alex Bailey/Twentieth Century Fox Film Corporation.
With the first exultant chords of the notoriously troubled Freddie Mercury biopic Bohemian Rhapsody and the first sight of the snake-hipped Rami Malek sashaying onto the stage of a roaring Wembley Stadium, it's clear that this movie itself will have to be very bad to lose us entirely — and it isn't and it doesn't. Part of this is simply due to the soundtrack. By hiring Queen's Brian May and Roger Taylor as "executive producers" — whatever that means — the filmmakers ensured that there would be no trouble with music rights (a constant variable in biopics), and they're happily promiscuous with their stash of hits. If you're immune to this music, I don't want to know you. If you're immune to Malek, there's no hope for you. The actor might not be as handsome as Mercury and might not do much actual singing (it's all Freddie), but he's nearly as magnetic, and he makes you believe that that voice is coming out of that body — an amazing feat.
The rest of Bohemian Rhapsody is more than adequate. Like most biopics, its trajectory is elided, its events are telescoped, and its supporting characters are mercilessly caricatured. Some of the liberties do Mercury and Queen an injustice, but most are harmless (if dim). A hundred small things wrong barely matter when there are one or two big things right.
Most right is Malek, who captures Freddie's mercurial oscillations between shyness and exhibitionism. After that opening at Wembley, the film flashes back to 1970, when poor Freddie (né Farrokh Bulsara) is working as a Heathrow baggage handler and gets dismayed when the yobs call him "Paki": He was born in British-ruled India and educated at a posh Bombay boarding school. Despite four supernumerary incisors that crowd the rest of his teeth to the forefront, he's a cutie when he sucks his cheeks in and parades around in skin-tight trousers and colorful ascots. His Freddie seizes the space and then seizes the mic when a band he has been following loses its lead singer. "Hello, all you beautiful people!" he calls from the stage. The murmurs of, "Who's the Paki?" soon yield to, "Hey, he's good!", etc. He's better than good, like a more fluid Jagger (Jagger without the judder), with an emotional purity that transcends camp. The only person who doesn't think he's good is his priggish father (Ace Bhatti), whose credo is, "Good thoughts, good words, good deeds." No wonder Freddie would go on to fuck anything that moved.
About that fucking: There have been charges that, for commercial reasons, the film downplays the amount of gay sex that Mercury had in his later years (he would die of AIDS-related pneumonia in 1991), but I think you get the thrust, as it were. In any case, there's no dispute that Freddie started out hetero and that the love of his life — first sexual, then familial — was Mary Austin (Lucy Boynton), whose role after they separated the film does in fact minimize. (Freddie left Mary the bulk of his fortune.) The irony is that if any director could have done justice to Mercury's wild promiscuity, it would have been Bryan Singer, famous for his own Hollywood pool parties featuring scores of so-called "twinks." Singer, of course, was forced to relinquish the reins mid-shoot in the wake of #MeToo, sullied both by unproven but compelling sexual assault allegations and perhaps also by the dark shadow of his sometime collaborator, Kevin Spacey. (The Brit Dexter Fletcher replaced Singer, who nevertheless gets sole credit per DGA rules.) The film approaches Freddie's sex life — he often had multiple partners a night — with caution, not so much eliminating the action as denaturing it. But what's most important — Freddie's neediness — comes through vividly. He never wanted to be alone.
The other members of Queen — Brian May (Gwilym Lee), Roger Taylor (Ben Hardy), and John Deacon (Joe Mazzello) — don't get a lot of time to establish themselves, but they're so visually right, you might think you're watching a documentary. Among the irresistible scenes is the one in which they record "Bohemian Rhapsody": The band is bewildered at having to screech, "Galileo, Galileo" in ever higher registers, while the audience — even with 20/20 hindsight — marvels at their willingness to go along with so bizarre an enterprise. In a bit of stunt casting, Mike Myers — who put "Bohemian Rhapsody" back on the charts with the riotous car scene in Wayne's World — shows up with a red beard that looks like glued-on pubes, as an EMI executive who thinks the whole opera angle is shite. Their manager, John Reid, supports the band but seems somehow untrustworthy. Perhaps that's because he's played by Aiden Gillen, who'd have to play Saint Francis of Assisi to get an audience to trust him again, and even then it would be an uphill climb.
Freddie Mercury lived for quite a few years after his AIDS diagnosis, but on the basis of Bohemian Rhapsody you'd think he keeled over upon exiting the stage of Live Aid in 1985. No matter: The last sequence at Wembley is absolutely spectacular: "Bohemian Rhapsody," "Radio Ga Ga," "Ay-Oh," "Hammer to Fall," and "We Are the Champions." We have seen Malek's Freddie laid low by his own freedom, but now we see that freedom's most magnificent legacy. He's part Bette Davis, part Montserrat Caballé (his favorite soprano). He's the cock of the walk. Malek does justice to Mercury's statement about when he could die happy: "When I know I'm exactly the person I've always meant to be."
Bohemian Rhapsody was nominated for five Oscars in 2019, including Best Picture, Best Actor, Best Film Editing, Best Sound Editing, and Best Sound Mixing.