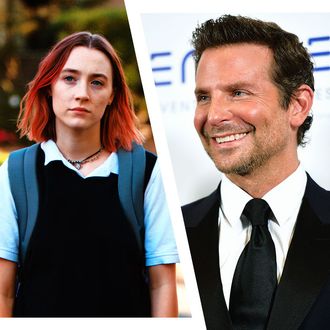 I have been found dead in a ditch!
Photo: A24, Getty Images
As the Oscar race is heating up, Bradley Cooper — writer, director, and star of A Star Is Born, the most important movie to ever exist about electrical-tape eyebrows and the word "fuck" — has done not one single Oscar-y trade magazine roundtable. He's eschewed most flashy magazine covers, skipped posting gratuitous behind-the-scenes snapshots from rehearsals. He has refused to break his silence on why Ramon was listening to "Yonkers" by Tyler, the Creator in his hotel room after the "Shallow" performance, or grow out his hair, or grow out his beard. But now that we're nearing the most important stretch of the long slog to the Academy Awards, Cooper has decided to burrow his way into your heart: He has finally broken his silence on the best movie of 2017, Lady Bird! Take a listen to the first track below:
Two minutes into Variety's Playback podcast, host Kris Tapley mentioned Greta Gerwig and Saoirse Ronan's interview in passing. Cooper gushed about Gerwig's directorial debut: "I love that movie. I voted for that movie. I love that movie. I really — that's like a perfect film," he says. "It is! It is a perfect movie. Every frame of that film, every character, every word. It's such a beautiful construction. [Greta] crushed that. I had the screenplay; it was incredible. Woo."
This image — Bradley Cooper patiently downloading Greta Gerwig's Lady Bird script so he could pore over every line of dialogue — has done more for A Star Is Born's Oscar campaign than any single magazine cover ever could. Just want to take another look at you, Bradley Cooper's love for Lady Bird!