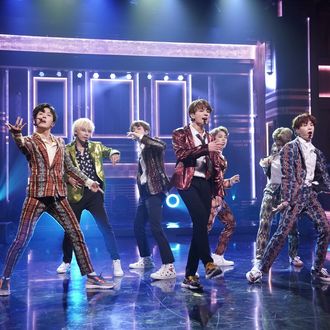 BTS.
Photo: NBC/NBCU Photo Bank via Getty Images
Following a rare week of controversies and unflattering press for K-pop's biggest name, BTS, their management company is now apologizing on their behalf. Last week, a BTS performance in Japan was canceled after photos resurfaced of member Jimin wearing a T-shirt with a photo of the atomic bomb over Hiroshima, which also featured Korean independence slogans on it. (The photo and shirt were meant to commemorate the liberation of Korea from Japan in 1945.) BTS issued a statement at the time apologizing for the cancellation, but did not mention the shirt. Now, the nonprofit Jewish rights group the Simon Wiesenthal Center has accused the band of anti-Semitism after another photo of BTS from a magazine shoot surfaced with a member wearing a hat featuring Nazi imagery. The SWC also alleged that the band has used flags at their concerts with symbols "eerily similar" to Nazi swastikas and is demanding an apology. Big Hit, the company which recently re-signed BTS for another seven years, has issued a lengthy statement in response, saying it does not hold BTS accountable for any of the controversial clothing items and that any offense was "in no way intentional."
Big Hit bears all responsibilities for not providing the necessary and careful support to our artist that may have prevented these issues, and we would like to make clear that our artists, especially due to their extensive schedules and the complexities of on-site conditions, are in no way responsible for any of the issues outlined above.
They claim the Nazi imagery was approved by the magazine BTS was shot for and that it was an oversight on Big Hit's part; they also say the allegedly Nazi-esque imagery featured at concerts is "in no way associated with National Socialism" and "was designed to direct criticism against these very elements of totalitarianism." The statement continues: "We would like to offer our sincere apologies for inadvertently inflicting pain and distress to anyone affected by totalitarian regimes in the past by failing to strictly review the clothing and accessories that our members were made to wear, as well as to anyone who may have experienced distress and discomfort by witnessing an association of our artists with imagery reminiscent of political extremism."
Big Hit says it has "contacted associations in Japan and Korea representing those affected by the atomic bombings to provide explanations and apologies to anyone who may have been distressed or in any way affected." It has also sent a letter to the Simon Wiesenthal Center "in order to offer explanations and apologies to anyone who may have been distressed or in any way affected."