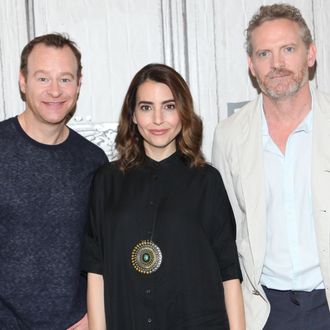 Hugh Davidson, Rachel Ramras, and Larry Dorf.
Photo: Steve Zak Photography/FilmMagic
Fox has put a new animated series in development, and it sounds super weird. According to the Wrap, the network has given a script commitment to a show from Hugh Davidson, Rachel Ramras, and Larry Dorf titled Buffalo Wings, which centers on so-called "immigrant refugee birds" from Canada who "do not follow the rest of their flock when they fly south" and instead make their way to Buffalo, New York. The series will reportedly explore "what it is to be a refugee and to fall in love with this country while pursuing the 'American Dream' from every possible angle."
Buffalo Wings isn't the only bizarre-sounding animated comedy announced this week. Syfy also ordered an animated late-night news show hosted by aliens (voiced by SNL's Will Forte and Heidi Gardner) titled Alien News Desk, which Lorne Michaels is executive producing. Prior to Buffalo Wings, Davidson, Ramras, and Dorf created and starred in the Melissa McCarthy and Ben Falcone–produced TV Land series Nobodies, which ran for two seasons before getting canceled earlier this year.