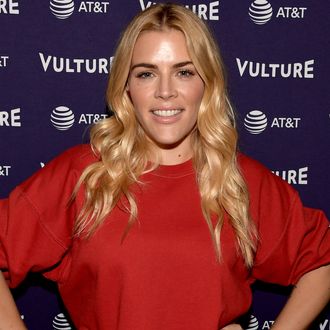 Busy Philipps.
Photo: Matt Winkelmeyer/Getty Images for New York Magazi
The facade of teen dreamboat Noah Centineo was cracked earlier this month when Busy Philipps, taking full advantage of The Late Late Show With James Corden's group couch set-up, teased fellow guest Centineo about ghosting her friend after they chatted for a while on a dating app — an anecdote that apparently worried Centineo's posse. At her panel at this year's Vulture Festival in Los Angeles, Philipps admitted she somewhat regrets poking fun at the Netflix golden boy about his Raya fling — but also let slip that the "girl" he was talking to was actually, well, double his age.
"It was very unplanned that I brought that up on Corden and I did feel bad because he is a child, but a child was fully hitting up my 40-year-old friend," she recalled. "On the show he was like, Oh yeah, you're right, I did that. He was very sweet about it, I just felt like it was very shitty of me."
The Centineo story opened up a larger conversation about Philipps's new talk show, Busy Tonight, and how she chooses to cover Hollywood's ever-churning gossip mill. The two things she'll refuse to discuss for laughs? Divorces and celebrity children — anything else dishy is up for grabs if it's discussed in a non-derogatory way. (An anti-People way, if you will. Philipps wants you to know she hates People's clickbait nonsense!) "I feel like you can talk about these stories and these things that people are interested in in ways that don't objectify the women involved," she explained. "We're not talking about their looks or their clothing choices or their bodies, but we could talk about questionable engagement choices. And I think when people fuck up it's okay to call them out on that."
Let's just say Pete Davidson should probably avoid the show for the next few weeks.