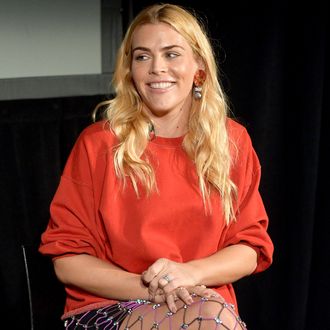 Busy Phillips.
Photo: Matt Winkelmeyer/Getty Images for New York Magazi
Few Hollywood junkies might be familiar with Busy Philipps' involvement in bringing 2007's Blades of Glory to the big screen — remember, Will Ferrell in ice-skates? — in that she had the initial idea that blossomed into the story penned by writing duo Jeff and Craig Cox. As she recalled in her new memoir This Will Only Hurt a Little, she and Craig, a friend from childhood, were watching a skating competition when she opined how terrific it would be to write a silly screenplay about the cutthroat world of men's skating, which subsequently got the Cox's creative juices flowing. However, in recent years, the brothers have minimized the contributions Philipps made for the film (she also helped flesh out the screenplay) which reached a new peak earlier this year when Nerdist published an oral history.
"As soon as I saw it, my heart sank, because I knew what was going to fucking happen," Philipps recalled at this year's Vulture Festival in Los Angeles. "I got panicky, PTSD panicky." As she anticipated, Craig fully attributed the idea of Blades of Glory to his brother Jeff, completely eliminating Philipps' contributions. "That's not what happened. I read that and I lost my shit," she continued. "I sent him some very intense text messages and we had an exchange and he profusely apologized and he got Nerdist to change it. I basically was like, 'You're basic, and you're dead to me, and have fun reading my fucking book, you motherfucker.'" Weeks later, Philipps also received an equally apologetic email from Jeff.
Sadly, this type of systemic pushback against women in Hollywood doesn't surprise Philipps, even after spending more than two decades in the industry — making her all the more grateful for her X-chromosome talk-show oasis on E!, Busy Tonight. "The importance of the story to me is historically this is a thing that happens," she concluded. "Women's ideas and creativity get taken by men who are near them, and used for their own personal gain. I was gaslit and made to feel crazy. I was really traumatized by it. I didn't trust myself or my instincts or my own abilities."