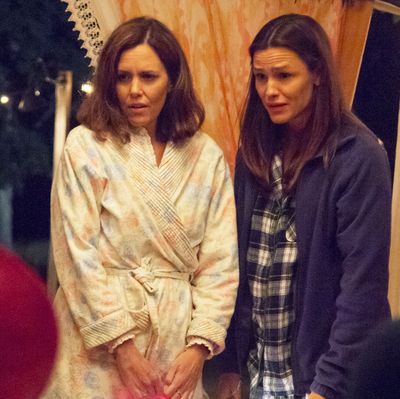 Hold on to your butts, people: Kathryn McSorley-Jodell is on Adderall. Is it hard to buy that Kathryn would ever just take a pill from anyone, let alone from Jandice? Definitely. Is it worth getting over that contrivance in order to enjoy what follows? Big time. Kathryn hopped up on Adderall is as cringe-worthy and as hysterical as you'd imagine. What's a little plot hole when you get to see Jennifer Garner do a horrible Jamaican accent or talk about "the most harrowing BM" of her life?
Kathryn and Walt are being kept up all night because of Miguel and Jandice's extremely loud sex. "I never notice sound when I'm making love," Jandice tells Kathryn when she goes to ask the two to keep it down. She quickly offers up an Ambien to quiet Kathryn's brain and help her get some rest. With very little prodding, Kathryn accepts the pill with a "what the fuck, right?" Here's the thing: Has Kathryn ever, in her entire life, said "what the fuck" to anything? She is not, nor has ever purported to be a "what the fuck" kind of girl. Yet, here we are. She takes the pill and not too long later, we realize Kathryn has not taken an Ambien—Jandice accidentally gave her an Adderall. The woman is wired. And for Kathryn McSorley-Jodell, that's saying something.
Meanwhile, Nina-Joy reams out George for picking a fight with Joe over the comment he made to her in the bar. It's a fight they've had hundreds of times—Nina-Joy does not want George fighting this or any battle for her, this is not about him—and Nina-Joy is over it. She takes off in the middle of night, needing to clear her head. Miraculously, she stumbles upon a gorgeous glamping set up and recognizes one of the women hanging out there—her friend, Alison (played by a perfect Busy Philipps).
Alison is there on her yearly slumming-it-in-the-woods tradition with gal pals Beth Anne (Nicole Richie, who should be in every comedy #IMissGreatNews), and Nia (Hari Nef, makes every line funny). The three play perfect send-ups of snobby Californian hipsters, vocal fry and all. When Nina-Joy remarks how much nicer their set up is (curtains and lights and comfy boho furniture!), Alison replies, "Your place must be garbage." Later, Alison is telling a story about how her husband wanted her to fly JetBlue and she responds, "I'm sorry, are we refugees now?" You get the picture. The three of them are terrible, but in a ridiculously delightful way—as opposed to Kathryn, who is terrible in an incredibly mean way. Why couldn't this show be about them?
As you can guess, Kathryn is so wired that she goes wandering out in the woods, in her plaid pajama set and headlight, and stumbles across Nina-Joy hanging out with the glamping crew. Okay, it's less "stumbles across" and more that she was having that aforementioned "harrowing BM," saw some squirrels, heard laughter, thought to herself, "Do squirrels laugh now?" and then followed the noise until she found them. Alison knows all about the force that is Kathryn McSorley-Jodell, so when Nina-Joy immediately leaves upon Kathryn's appearance, Alison isn't happy about being left to deal with this lady who very much wants in on their "cozy wine times."
Jennifer Garner is a joy to watch as Kathryn-on-drugs. She is unhinged, her freak flag is flying high, and Garner is game for it all. Kathryn wants to play games and talk in detail about her surgery and be so unregrettably mean that even the three out-of-touch glampers, who say things like how their "weekend nanny" can be a bit "cunty, but not in the good way," are aghast at what's coming out of Kathryn's mouth. And then Carleen shows up in her old lady nightgown, seemingly out of nowhere. Alison screams, "I legitimately thought you were a ghost in that nightgown." "Thank you," Carleen replies. You guys: I'm still laughing about that exchange. Remember when we decided Carleen was the best? That still stands.
If there's anyone Kathryn loves to be mean to, it's her sister. Now on drugs, she doesn't hold back (yes, she was "holding back" before). She talks about how Carleen's boyfriend is a drug addict, she is rude about Carleen never having children, and casually tells the whole group how Carleen "wasted a perfectly good uterus." Alison, Beth Anne, and Nia just watch Kathryn like some awful TV show they can't turn off because it is just so entertaining. Or they don't have the remote. Probably the latter.
Finally, in a self-imposed game of truth or dare, Kathryn blabs about Nina-Joy's affair and how Nina-Joy told her first—this must have something to do with the rift between them, right?—and it gets a little too icky, so the ladies, with the help of Carleen, try to make it clear that Kathryn needs to leave.
Though it seems impossible, Kathryn gets even meaner on the walk home. Carleen timidly brings up how wrong it was to say those things about her uterus, but Kathryn doesn't apologize—in fact, she clings to her righteousness even harder. She tries to tell Kathryn that she and Joe have to make a decision about marriage before she decides if she wants kids, but Kathryn blows it off. (I mean, Kathryn's right, Joe doesn't seem like he wants to ever marry her.) Carleen attempts to take the high road, and reminds Kathryn that instead of being awful, she should be grateful for the great life and wonderful family she has. "I mean, do you even look at my Instagram?" Kathryn replies to her sister, "Gratitude is my most frequently used hashtag." To continue to twist the knife, Kathryn drops a bomb: She just saw Joe and Jandice "pawing each other" in the woods. So yeah, she stands by her previous judgements on Carleen's life. Fighting with Kathryn will always be a losing battle—hasn't Carleen learned that by now?
Campfire Stories
• Carleen thinks it might be a good idea to leave early, since this environment isn't good for Joe. The conversation pisses Joe off enough that he goes wandering out in the woods so that he can drink beer in peace. He runs into Jandice, who sends mixed messages when she starts some flirty reiki healing on the guy. He goes in for the kiss, but gets denied. Poor Carleen!
• Apparently Sol is on a hunger strike? Joe brings her some food, but she just screams at him. Later that night, she goes into the food stash and gorges on, well, everything. I still don't get the point of this character at all. Why? WHY.
• Once Jandice starts going on about her and Miguel's wedding—"Don't you just want to fuck me on the beach in Mexico in my wedding dress?" she asks—Miguel comes clean about not really wanting to get married. It's the first time Jandice gets super angry and it's why she ends up in the woods in the middle of the night flirting with Joe.
• Has a man ever looked so content as Walt Jodell does after he rips up one of Kathryn's stolen mattresses and she comes back and complains about one being missing and it being uncomfortable? The answer is no.
• Kathryn forces the ladies to play "Two Truths and a Lie" and her "lie" is that she's a spy. But guys! It's not a lie! Hi, Sydney Bristow! We miss you SO MUCH.
• Bless Nia: "I'm literally laughing at you right now for having kids."