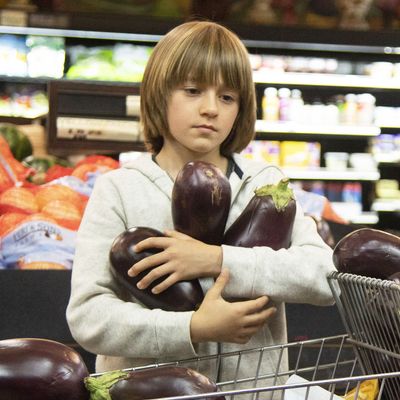 It seems pretty normal that a few days into a camping trip, people might start to get a little uncomfortable, a little over it. I mean, you're stuck with the same people for four days straight, with very few amenities, things probably smell, and Lord, I can only imagine the itching. Here's the thing: Imagine suffering the usual inconveniences of a camping trip with people you like and know to varying degrees, but then add to that the fact that you are out in the middle of nowhere with Kathryn McSorley-Jodell. Scary!
It's no wonder that everyone on Kathryn's camping trip has reached their boiling point, by now — and that includes Kathryn. She wakes up in her post-Adderall haze, completely livid that everyone else on this trip seems to be ignoring her well-thought-out itinerary. Worse still, when she makes it clear that she's angry about this — there are a lot of "fuck offs" and middle fingers being thrown around — no one seems to care. The whole crew is having what looks to be a nice breakfast gathering, but Kathryn saunters up, fresh from her "rage walk", announces that the "omelet jam" is cancelled ("Ya dumb fuck," she adds, for emphasis), and also that an animal has gotten to their food supply (we know it's Sol) and they need to go shopping. Kathryn McSorley-Jodell even takes the fun out of food shopping.
Kathryn, Walt, Carleen, Joe, and Sol head into town to buy provisions. The entire time, Kathryn keeps repeating that no, she doesn't care. She doesn't care what people buy, she doesn't care that there's no plan for meals, she just doesn't care anymore. But here's the thing: She totally cares. It's impossible for her not to care. She still micromanages everything, even demoting Carleen from being in charge of the carbs to the dessert. She reams out Walt when she finds him with three different pickle jars in his shopping cart. Kathryn leaves Joe alone for the most part, as he goes off to get the ingredients for his burgers and also have yet another curse-laden argument with Sol (I still do not get the purpose of this character — anyone?) in the back of the grocery store. As usual, it's Walt and Carleen who take the brunt of Kathryn's unpredictable anger — but this time, they've had enough.
The two have a little chitchat about how demanding and exhausting Kathryn is without ever having to use those words — but it's clear that these two get each other. They've faced the same wrath time and time again. For some reason (maybe it's the haircut?) Carleen feels different this time. "Is this what rage tastes like?" she asks Walt. Carleen isn't just fired up over her sister — she's also upset with Joe, who, you may remember, was spotted "pawing around" with Jandice in the woods by Kathryn. She confronts him: She can tolerate a lot, but she doesn't want to be made a fool of. He swears he isn't cheating, they were drunk and just talking about business ideas. ("Was it a business idea for a kissing machine?" Classic Carleen.) It's nice to see Carleen standing up for herself. Cher would be proud!
It feels even better when Carleen's sudden urge to be respected gets turned on her sister. After they return to the campsite, Kathryn starts badgering Carleen over her choice of dessert and instead of just taking it, Carleen stops her. She thinks Kathryn needs to be more respectful when she speaks to both her and to Walt, and then she walks off. Kathryn is unbelievably offended, and she and Joe have it out over who treats Carleen worse. But it's Walt who makes Carleen's feelings super clear. She's mad at everyone! She's been bottling it up and a person can only bottle up that amount of anger for so long! Sometimes a person just. Gets. Mad.
It is abundantly clear that he's not talking about Carleen anymore. He's talking about himself.
It's like, just let the man have pickles on his birthday weekend, ya know?
Campfire Stories:
• Everyone's having a terrible time! Jandice begrudgingly goes into town with Miguel (she forces him to wear the lederhosen she stole for him as a trade-off), but it doesn't help the tension in their relationship. Jandice wants to go back to Los Angeles. She's not into this trip, and she's not even into Miguel that much anymore. He'll do anything to keep her, so he lets her snort coke off his dick.
• Nina-Joy and George have a shouting match in the woods that goes on for way too long and is full of way too many metaphors. They have a lot of lingering feelings regarding Nina-Joy's affair. When the argument escalates, they decide to smoke some weed to mellow out and Nina-Joy gives George a pity blow job. But George wants more than that: He wants to sleep with someone else, and he wants to do it on this camping trip. Oh, this is not going to end well. For anyone.
• Carleen is still a gift: "Mom said I was like a spaniel, always ready for a walk, a nap, or a snack.
• A grocery store employee helping Carleen find the nonpareils: "Did you check the beef jerky aisle?" Carleen: "That's the first place I looked!"
• Get you a man who loves you as fiercely as Walt clings to his freedom to purchase three types of pickles.
• "I get that you met the Goo Goo Dolls, but nobody cares!"