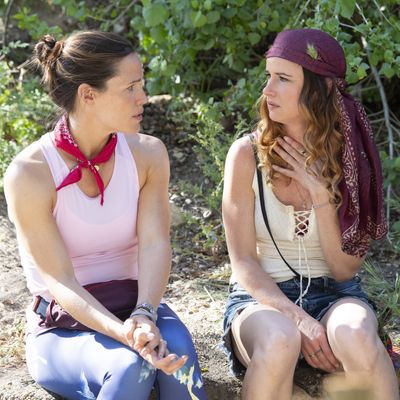 Carleen is missing. On one hand, this is a tragedy: Carleen brings endless delight. On the other, this new crisis brings back what is undoubtedly the greatest pairing on this show: Harry and Walt. But the true miracle of this episode is that for one short minute, Kathryn McSorley-Jodell seems like an actual human being. They said it couldn't happen, folks, but "Carleen?!" proves otherwise.
Most of the crew doesn't seem the least bit worried when Kathryn realizes Carleen isn't in her tent, ready to do her assigned chore: Open-Faced Sandwich Lunch clean-up. Even when Sol notes that she hasn't seen her since she stormed off post-grocery store that morning, no one jumps into action. "She does seem like she likes to talk to squirrels and stuff," Jandice notes.
There is only one person who truly sees this as a problem: Walt. He decides to visit Harry, seeking to get a Forest Ranger involved. Harry, who we find alone in her camper, crying — her wife left her the night before, we'll learn, after Harry announced she wanted kids — informs Walt that he's just found one. Well, sort of. "I lost my badge, but not my honor," she tells him before appointing him her deputy and getting them both suited up in proper uniforms.
It seems like Harry is the only person who Walt can really talk to, the only person who really sees his situation. Watching them become buddies in the hospital waiting room was a treat, but at the time I didn't know I could dream so big as to have David Tennant and Bridget Everett having heart-to-hearts while hanging out in lookout trees. Now I'd like this and only this, forever and ever.
It doesn't take long for Harry and Walt to get onto the subject of Walt's marriage. Harry points out what everyone else is thinking: Kathryn has some mental issues. When Walt admits that her "illness is her favorite hobby," that's not exactly discrediting Harry's observation. She can see Walt is suffering silently — being the caretaker is hard, especially when the person you're trying to manage most definitely thinks she's the caretaker. But Harry gives Walt some words of advice: he needs to stop asking Kathryn for permission and start giving himself some. Anyway, Harry's kind of the best.
Believe it or not, while Harry and Walt are opening up to each other emotionally, which is probably not in the Forest Ranger handbook, they do find a Carleen clue. One of her slippers is out in the woods. When Walt and Harry bring it back to Joe — who has not gone out looking for his girlfriend and is instead sipping on a beer at camp — he erupts into tears. What are we to make of this emotional outburst? Do we even care?
Harry and Walt aren't the only people on the hunt for Carleen. After Kathryn vehemently refuses to go looking for Carleen with Walt because she's sure it's just Carleen looking for attention, Jandice ends up changing her mind. Yes, that's right: Kathryn and Jandice head out into the woods together in search of Carleen.
In the previous episode, Jandice made it pretty clear to Miguel that she wanted out of this camping trip early, but here she seems to be attempting to bond with Kathryn in any way possible — even if it is by making up an entire history with an imaginary sister in order to seem relatable. Whether or not Jandice is simply messing with Kathryn and her entire weekend remains to be seen, but even if she is truly attempting to mend fences, Jandice is a master manipulator. She starts by telling Kathryn exactly what she wants to hear: that Kathryn is the doer in this group, that she makes things happen, and that she is being disrespected by her so-called friends.
Feeding Kathryn's ego helps bring her walls down a bit. So when Jandice asks how she met Walt, Kathryn pretty easily tells a very nice story about her days in the roller derby as a 24-year-old (her derby name was "Wrath of Kath." Doesn't this all make so much sense?), and taking a very shy Walt skating around the rink for the first time. She seems human! And like she actually likes her husband! It's all very strange.
The ladies start to get along so much that they actually have a dance break. This is not a typo! Apparently not even Kathryn McSorley-Jodell can resist the power of Taylor Dayne's "Tell It To My Heart." As fun as it is to see these two fully rocking it out, it should come as no surprise that the bond between Kathryn and Jandice easily comes undone.
It starts with Jandice asking about Kathryn's lack of sex drive. When Kathryn blurts out that she actually does not want to have sex with her husband (poor Walt!) Jandice immediately suggests Kathryn sleeps with someone she's attracted to — someone like Miguel. She assures her it's fine, she and Miguel will be over in a week, and it's clear she has a thing for him. Kathryn is put off by the mere suggestion, and almost immediately the two return to their antagonistic relationship. They end up getting completely lost, and when Jandice hitchhikes her way toward camp in a passing truck, Kathryn refuses to join. She's walking out of spite.
And while the mystery of where Carleen got off to remains to be solved, we've now had two episodes in which people bring up sleeping with someone other than the person they showed up with — something tells me this conversation isn't over.
Campfire Stories
• When Kathryn wonders how no one could've realized Carleen didn't come to lunch, the response is, "She's a notoriously quiet eater." It is perfectly Carleen.
• Kathryn's "guilty pleasure food" is a big bowl of raisins, because of course it is.
• Harry's beaming pride when she tells Walt, "Good job, little buddy," after he finds Carleen's slipper, is honestly the only earnest thing that's happened on this show. Harry & Walt 4Eva.
• "I'm such a big advocate of releasing primal urges." Writing Jandice must have been so much fun.
• Jandice making the case for Kathryn's sleeping with Miguel: "That man is a tripod, you're gonna want to get into that."
• I almost felt bad for Kathryn when she wonders how she "went from being the life of the party to uninvited," but then I remember the disgusted look she gives Walt when he says that finding Carleen is more important than his birthday. Yeah, that seems more like it.
• "Lost and sober? That's the worst."