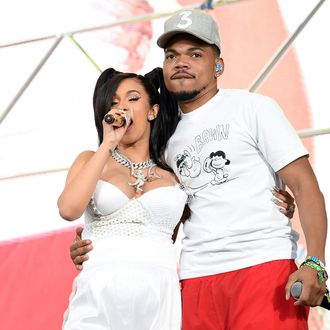 Cardi B and Chance the Rapper.
Photo: Kevin Winter/Getty Images for Coachella
If there are any two people you'd love to destroy your dreams to your face, it's probably Chance the Rapper and Cardi B. Chance, because he seems so nice. Cardi, because before she blew up as a rapper, she was one of the funniest human beings on Instagram, and your mediocre performance should absolutely be her new material. Luckily, Netflix is setting up its first competition show Rhythm + Flow for as much success as possible by bringing in Cardi B, Chance the Rapper, and T.I. to "search for the next breakout hip-hop star."
The trio will serve as main judges on the streaming platform's ten-episode order of Rhythm + Flow, produced by John Legend. The series, which will debut in fall 2019, will hold what sound like American Idol–style auditions across the United States. And in case you are actually a talented unsigned artist, but you're on the fence about subjecting yourself to reality TV, let Cardi convince you to just do it already.