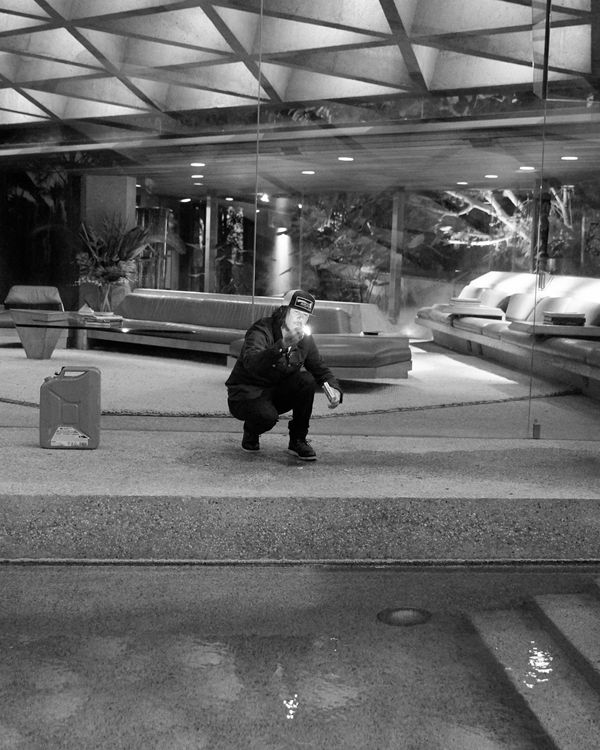 Catherine Opie, Sheats-Goldstein #3 (
The Modernist
), 2016.
Photo: © Catherine Opie. Courtesy Regen Projects; Los Angeles and Lehmann Maupin; New York; Hong Kong; and Seoul.
The week before the midterms, with the slaughter in Pittsburgh and the pipe bombs fresh in her mind, Catherine Opie has had it with the hate, lies, homophobia, transphobia, xenophobia — basically, all the phobias — racism, sexism, corruption. It's the whole "kitchen sink," as she puts it.
"Am I disillusioned right now and heartbroken and totally freaked out? Yeah," she says, taking a break from installing her new show at Lehmann Maupin gallery in Chelsea. As an artist whose work has always pointed out society's blind spots, her response has been to burn it all down, metaphorically speaking. The Modernist, her first art film, now on view at the gallery with a companion series of photographs, tracks a protagonist who douses Los Angeles's icons of modernity — gleaming glass and concrete houses by the likes of Neutra, Schindler and Lautner — in gasoline and sets them ablaze, sending the 20th century's utopian ideals up in smoke.
Opie, a Midwestern-born, Los Angeles-based lesbian from a conservative Republican family, has built an oeuvre on the idea of American democracy and community as only an outsider can. Her photographs read like a meditative investigation into what makes people come together and adhere: surfers, high school football players, freeways and, in the portraits that first gained Opie notice in the early 1990s, L.A.'s leather-dyke crowd. Using DIY press badges, she even infiltrated Tea Party rallies. "I have a laminator," she says simply. "I've always been interested in how to be invisible in crowds and just react to those moments."
Opie began thinking about making The Modernist more than 20 years ago but didn't begin production until the country was in the thick of the 2016 election. "I've always been an incredibly political person, and I never saw such a fractured country, which was just incredibly disheartening because it was based on real racism and fascism and the things that we're still seeing as we talk this week of what just happened," says the 57-year-old Opie, who was inspired by La Jetée, Chris Marker's bleak 1962 film about nuclear obliteration.
Like La Jetée, The Modernist, which is about 22 minutes long, is a kind of a slide show, comprised of still photographs, in this case 852 black-and-white images paced between one-half and four seconds apart. The only sound is a single match striking. The film stars transgender artist Pig Pen (aka Stosh Fila, who uses both names — and he/she/they pronouns — interchangeably), Opie's friend and frequent subject for more than 25 years, as a character who, after drawing his favorite architectural landmarks engulfed in flames, decides to light them on fire for real. (The effect is produced digitally. "No modernist house was harmed in the making of this film," Opie assures me.) The protagonist is both destroyer and creator, using images of his arson to construct an artwork of his own: a collage of newspaper clippings documenting the destruction, which begins like a spark and gradually spreads to consume the entire wall. There is no dialogue in the film, only headlines, which are a mashup of real Los Angeles Times news stories, like Hillary Clinton's historic nomination, and fictional accounts of the fires.
The Modernist operates on multiple levels. "It has almost too many metaphors in it for me!" Opie cracks. Since the act of arson could be viewed as just another part of the protagonist's practice, it's an allegory for artists stepping over the line. By laying waste to houses that are fetishized as multimillion-dollar collectors' items, the film is also a commentary on this epoch of stratospheric income inequality as well as, possibly the art world (for what it's worth, her gallery's new space is at the base of a fancy new glass condo by the High Line.) "It's about him destroying what he can't have," Opie says. "I mean, he sleeps on a couch. I've been one of the fortunate artists, but I'm also very aware as a professor who's teaching a younger generation of artists that they might be on a couch in their studio for years and that the homeless crisis just keeps getting worse in Los Angeles."
Perhaps most potently, the piece confronts our culture's blurred line between fame and infamy. "The main thing is about what it means to be celebrated in the newspaper, but at the same time it's nothing to be celebrated for," she says, lumping Trump in the same category as Charles Manson in that regard.
Opie does not let her audience off the hook easily. Her protagonist, though obviously an anti-hero, is not what she would call "evil" — "Mitch McConnell is evil" — and clearly loves that which he is burning. Opie's work has been described as being about "waiting," but "longing" may be more apt. The character's tiny apartment (Opie's former studio) is carefully furnished with midcentury modern design; when he arrives at his crime scenes, he pauses to take in the view. Pig Pen is gender-nonconforming, a fact that Opie says will be obvious to the LGBTQ community but will go right over the heads of many viewers, who will read him as a man, based on his mustache and flat chest but also owing to stereotypes about the maleness of violence. When people ask, "'Is that a boy or girl, Cathy?,' I'm like, 'What do you think? It's a human. That's what it is,'" Opie says with a deep-throated laugh.
That gender ambiguity underlines Opie's assault on lazy assumptions. "We always think about good versus evil," she says. "We often think about these really simple binaries, which doesn't really explore all the nuances of what it is to be a human."
In L.A., where she lives with her wife, painter Julie Burleigh, and 16-year-old son, Oliver, Opie has become a pillar of the art community, continuing to teach three days a week at UCLA, though she clearly doesn't need the paycheck anymore. (She plans to retire in 2022.) She also serves as an artist member of the board of the Museum of Contemporary Art, Los Angeles, which has had a rocky decade, with the last three directors all leaving on less than harmonious terms. Opie is passionate about the museum and its potential. She was so impatient with its direction under Jeffrey Deitch that she resigned her seat, then resumed it under Philippe Vergne. Although his decision to dismiss chief curator Helen Molesworth was not to her liking (she told the L.A. Times that she'd told Vergne "I think you have made a terrible mistake" by firing her.)
Vergne wasn't in that job much longer. She was deeply personally involved in the search that chose his successor, Klaus Biesenbach of MoMA and MoMA PS1, this past summer. "We voted for the best candidate who did the best interview," she says. And Biesenbach, despite not knowing much about Los Angeles (or for that matter being able to drive; the museum is having artists give him tours of their individual LAs), was the one they felt could bring life back to the museum. After the selection, Opie handed out buttons reading, "Aligned with Love," referencing something Biesenbach had said — that he would come only if the board was "aligned with love" — to the rest of the trustees. She seems optimistic. Hopefully the era of MoCA symbolically burning itself down is finally over.
Opie's art has been "about cameras" since she was nine, but with the Instagrammification of our visual culture nearly a fait accompli — she posts "like, nothing. Horrible. I apologize to all those who follow me" — she is exploring other artistic impulses. Lately, she's been preparing a collage project. Having cut out and saved every image from every L.A. Times since Trump was elected, plus magazines covering everything from guns to needlepoint, she plans to make a stop-motion animation about our current relationship to media.
She has spent a fair amount of time grappling with the root causes of Trumpism and lays much of the blame on what she deems the fundamentalist-led dumbing-down of public education. She notes that the religious right did an awfully good job of centralizing power in their churches. "But the left," she laments, "we don't gather."
Having been raised Republican in what Fox News types like to call the "real America" — as a fourth grader in Sandusky, Ohio, she made her father a pâpier-maché mask of Nixon — Opie has particular insight into the minds of conservatives, though her father, whose enormous collection of political memorabilia is now in the Smithsonian changed teams before his death: "On his walker he had the Obama sticker."
She's been asked if she'd photograph Trump rallies but is ambivalent. "I know that I can fit into that crowd completely. I'm a white woman who looks like a white woman from the Midwest, but I don't want to stand with them and have them think that I'm one of them," Opie says. "I don't know if I want to give voice to [them]. I have my limits bearing witness, it seems."