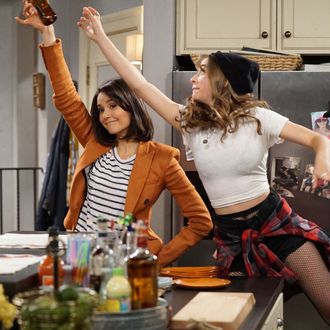 CBS's
Fam.
Photo: Sonja Flemming/CBS
CBS just announced winter premiere dates for two comedy series — one new and one returning — in early 2019.
First up is new comedy Fam, which will debut on CBS Thursday, January 10, at 9:30 p.m. after The Big Bang Theory at 8, Young Sheldon at 8:30, and Mom at 9. Originally ordered as a pilot back in March, Fam stars Nina Dobrev and Tone Bell and centers on a woman "whose vision of a perfect life with her adoring fiancé and his wonderful parents is radically altered when her 16-year-old, out-of-control half-sister unexpectedly comes to live with her. As the family Clem (Dobrev) chose and the family she has blend, Clem realizes that this new happy fam may be the perfection she's always been seeking." The show also stars Odessa Adlon, Brian Stokes Mitchell, and Sheryl Lee Ralph.
Next up is the season-three premiere date of Man With a Plan starring Matt LeBlanc, which will air Monday, February 4, at 8:30 p.m. after The Neighborhood starring Max Greenfield and Cedric the Entertainer at 8 p.m. Man With a Plan earned a season-three renewal back in May as the second season was airing on the network.
Both Fam and Man With a Plan will fill up CBS's comedy schedule after the Murphy Brown revival and Happy Together wrap up their 13-episode fall runs. It's unclear if Happy Together will return for another season; as for Murphy Brown, ending the revival season after 13 episodes has long been the plan, with series creator Diane English noting in September, "We're only doing 13 episodes, and we wanted to make a little bit of noise with each."
An earlier version of this story incorrectly said that Murphy Brown would end after its current season. In fact, the show has not been cancelled.