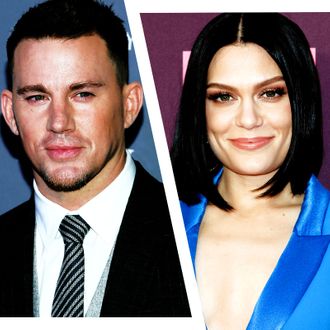 Channing Tatum and Jessie J.
Photo: Getty Images
Channing Tatum and Jessie J have entered into the openly-posting-on-social-media phase of their relationship. After reports surfaced that the two have been mini-golf dating for a whole two months and no one even noticed, they've made it Instagram official. Over the weekend, Jessie snapped some footage on her Instagram Stories from the opening night of Magic Mike Live! in London, including exceptional use of the eggplant emoji and a message congratulating Tatum (whom she tagged, so you know it's real). Now, if you're wondering what's a Jessie J, Tatum has reciprocated her social-media humblebrag to reinform the public. While in London last night, he attended Jessie J's show at the Royal Albert Hall. Jessie J sings. She's a British singer — but also one of America's greatest singers. No, not Rita Ora — the other one! She sang "Bang Bang" with Ariana Grande once, don't you remember?
Anyhoo, Tatum praised her talents (she's good, really!) saying Jessie "poured her heart out," and "whoever was there got to witness something special. Wow." (She even got a tag, too.) Also a witness: Jessie J's mother, who reportedly sat far enough away from Tatum so as not to appear at future in-law distance, but close enough for us to get the idea. Tatum apparently "gave Jessie's mum a thumbs-up in greeting" — the universal last step before asking for her daughter's hand in marriage — and is Jessie J's "biggest fan," an absolutely believable fact.
You'll sadly recall that Tatum separated from his wife, Step Up co-star and soul mate of nine years Jenna Dewan, in April, saying that they are "on different paths for now." They filed for divorce last month citing "irreconcilable differences." The two share a daughter, Everly, whom Jessie J has reportedly met. But don't you dare pity Dewan. She's doing fine and has moved on with her own new man, Tony winner Steve Kazee from Once. Here they are making out in Palm Springs. And so life goes on.