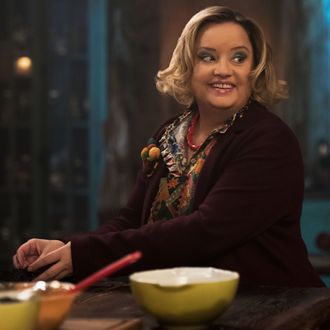 Aunt Hilda's already feeling the holiday spirit.
Photo: Dean Buscher/Netflix
Christmas is coming a little early for fans of Netflix's Chilling Adventures of Sabrina: The streamer will release a bonus holiday episode of the witchy teen on Dec. 14. Dubbed Chilling Adventures of Sabrina: A Midwinter's Tale, the special installment of the series will revolve around the Church of Night's annual celebration of the Winter Solstice when, per a Netflix press release, "families gather around the Yule Fire to sing pagan carols and tell ghost stories … [and] you never know what might come down the chimney." The Sabrina event will drop alongside a slew of sleigh-bell-centric specials, series, and movies slated to hit the streaming service over the next six or so weeks.
Highlights of the holiday push — which the streamer is bundling together under the banner of "It's Beginning to Look a Lot Like Netflix" — include a number of previously announced projects, some of which are just now getting launch dates. The much-anticipated The Great British Baking Show: Holidays hits Nov. 30, while Netflix's homegrown culinary competition series Nailed It! releases its yuletide season a week later, on Dec. 7. That same day also sees the arrival of Neo Yokio: Pink Christmas, featuring guest stars Jamie Foxx and Rashida Jones. And while Netflix had already said Fuller House would return for its fourth season on Dec. 14, the streamer announced today that the first episode of the new batch would be holiday-themed (title: "Oh My Santa"). Netflix's seasonal slate also includes several original holiday films, including the already unveiled The Princess Switch (bowing Friday), The Christmas Chronicles (Nov. 22) and A Christmas Prince: The Royal Wedding (Nov. 30), a sequel to last year's viral hit.
As for next month's Sabrina holiday episode, while it's being marketed as a special, it's technically the 11th of 20 episodes Netflix ordered when it first greenlit the series. The remaining nine episodes of season one are finishing up production now and are expected to be released sometime in 2019. Because of an accelerated production schedule, it's quite possible the second half of season one could debut in the first half of next year, shortening the usual one-year gap common for Netflix originals.