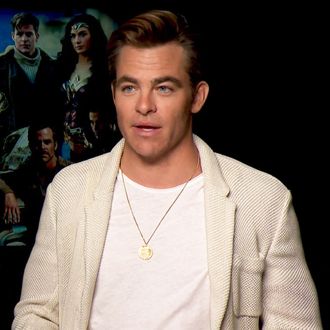 Dressed in all white like the angel he is!
Photo: BBC
Reigning Best Chris™ Chris Pine has a brief but notable nude scene in his new movie Outlaw King, about legendary warrior Robert the Bruce. In a BBC Radio 1 video, Pine recounts working on the Star Trek movies and Wonder Woman, and discusses the filming of the new Netflix historical epic (his big-screen debut in Princess Diaries 2: Royal Engagement somehow went undiscussed — journalistic malpractice if you ask me!) "A lot has been made about me being nude, and quite honestly, I'm only naked for — it's no Fassbender situation," Pine explained, referencing Michael Fassbender's famous nude scene in Steve McQueen's Shame. Pine is a gentleman, but he's not going to sell himself short: "I mean, I'd certainly match him."
See this Best Chris™ behavior: coyly playing into our thirst, but also dressing as a dapper white Jesus? Looks like our hands are tied, here … there's only one way to settle this … [redacted — and go vote!].